Unemployment soars as more local workers seek jobs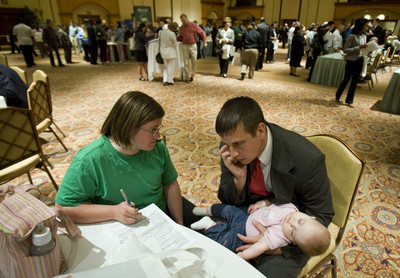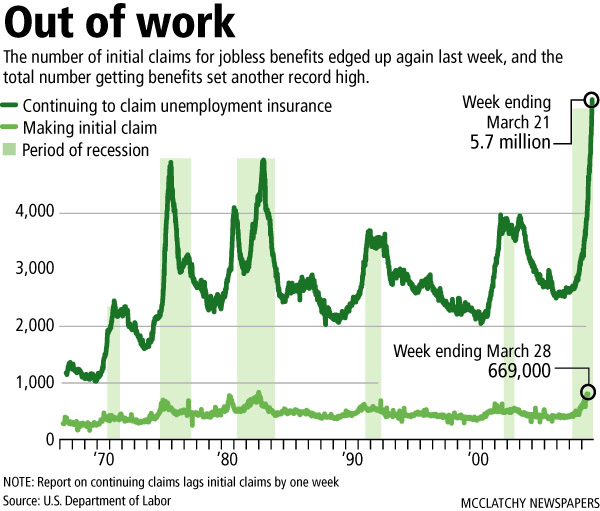 WASHINGTON — Unemployment zoomed to 8.5 percent last month, the highest in a quarter-century, as employers axed 663,000 more workers and pushed the nation's jobless ranks past 13 million. The hard times were only expected to get harder — a painful 10 percent jobless rate before long.
The current rate would be even higher — 15.6 percent — if it included laid-off workers who have given up looking for new jobs or have had to settle for part-time work because they can't do any better. That's the highest on record for that number in figures that go back to 1994.
"Even if the economy continues to show signs of improvement, businesses will cut jobs and trim fat to stay lean and mean," said Sung Won Sohn, economist at the Martin Smith School of Business at California State University, Channel Islands.
So far, the public has shown great hopes for the economic policies of President Barack Obama. But those could fade quickly with more months of layoffs. In Europe for an economic summit, Obama called Friday's unemployment report a "stark reminder" of a need for action at home and abroad.
The recession may well end later this year — Federal Reserve Chairman Ben Bernanke and many private analysts see that possibility — but rehiring historically doesn't get going until after an economic recovery is picking up steam. The jobless rate is expected to reach 10 percent by year's end.
The soft job market is not making life any easier for 26-year-old Jonathan Walker of Las Vegas. With a wife and 7-month-old daughter, he's ready and willing to take just about anything after jobs at a casino coffee shop and Sonic hamburger stand didn't work out.
"It's tough, especially with the way the economy is right now," said Walker, who attended a job fair Thursday at Texas Station. "It's just hard to come across anything right now. Most jobs, you have to have your own vehicle and I don't."
Walker said he applied with Big 5 Sporting Goods, which has a store near his home, and he's looking into joining the Nevada Army National Guard.
Iddo Gavish of Gavish Real Estate in Las Vegas said he put an employment advertisement online in the morning and had to take it off by noon, he was so swamped with responses.
"I had guys with MBAs calling. I said, 'You know what this job is?' They said, 'Yeah, I just need to work,'" Gavesh said.
But stocks offered a ray of hope. The stock market generally bottoms out before a recovery gets under way, too, and stocks now have risen for four straight weeks.
Small comfort to millions of laid-off workers. The Labor Department report underscored the recession's toll: a spike in the jobless rate from February's 8.1 percent and a net loss of 5.1 million jobs since December 2007, almost two-thirds of them in just the past five months. And economists say an additional 2.4 million jobs will disappear through the first quarter of next year.
As the downturn eats into companies' sales and profits, they are laying off workers and resorting to other cost-saving survival measures that also hit employees, the report showed. Those include holding down hours and freezing or cutting pay.
The average work week in March dropped to 33.2 hours, a record low. And nearly a quarter of the unemployed have been out of work for six months or more, the highest proportion since the steep 1981-82 recession.
And hundreds of thousands of out-of-work Americans soon will exhaust their unemployment benefits in the coming weeks. Congress extended benefits twice last year to a total of 46 to 59 weeks.
Many who have been lucky enough to keep their jobs are seeing their paychecks shrink.
Average weekly earnings declined to $614.20 in March from $615.05 in February. If earnings keep falling, that would give consumers another reason to pull back spending, which would further weaken the economy.
But there have been some positive economic signs recently. Orders placed with U.S. factories actually rose in February, ending six straight months of declines, the government reported Thursday. Earlier in the week, there were better-than-expected reports on construction spending and pending home sales.
And last week a report showed that consumer spending rose in February for the second month in a row after a half-year of declines.
In March, the number of unemployed people climbed to 13.2 million. The number of people forced to work part time for "economic reasons" rose by 423,000 to 9 million.
Most economists expect monthly job losses to continue for most if not all of this year.
However, they are expecting that reductions in the current quarter won't be as deep as the roughly 685,000 average monthly job losses in the January-March period.
Job losses were widespread last month. Construction companies cut 126,000. Factories axed 161,000. Retailers cut nearly 50,000. Professional and business services eliminated 133,000. Leisure and hospitality cut 40,000. Even the government cut 5,000 jobs.
Education and health care were among the few industries showing any job gains.
There was more bad news for workers in service industries — hotels, retail, health care and such. An index of services activity shrank for a sixth straight month, according to the Institute for Supply Management, a Tempe, Ariz.-based trade group of purchasing executives.
Bernanke said the recession could end later this year, setting the stage for recovery, if the government is successful in bolstering the banking system.
The Fed chief said Friday he expects to see a "gradual resumption of sustainable economic growth." But he didn't say when.
13.2 million — People unemployed in March 2009 — about the same as the entire population of Illinois
663,00 — Net loss of jobs in March 2009, about the same as the entire population of Baltimore
4.3% — Unemployment rate for college graduates
9% — Unemployment rate for people who graduated from high school but did not attend college
13.3% — Unemployment rate for those with no high school diploma