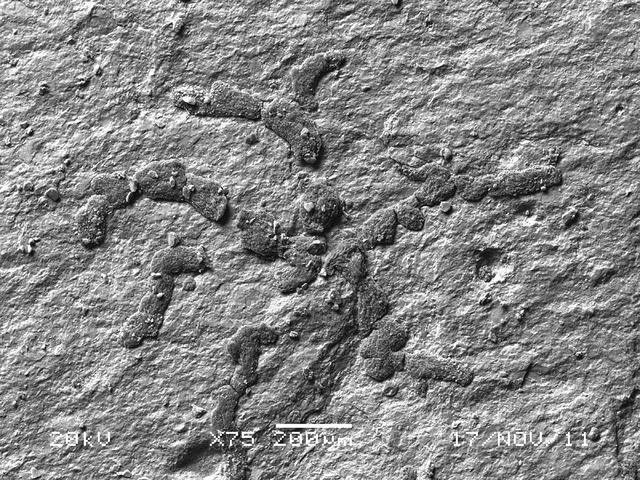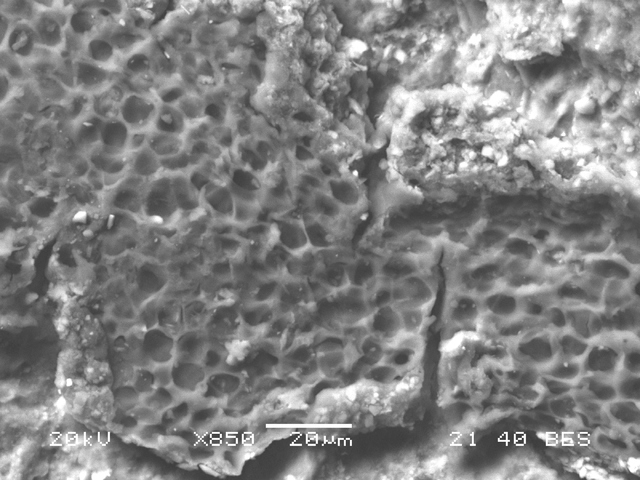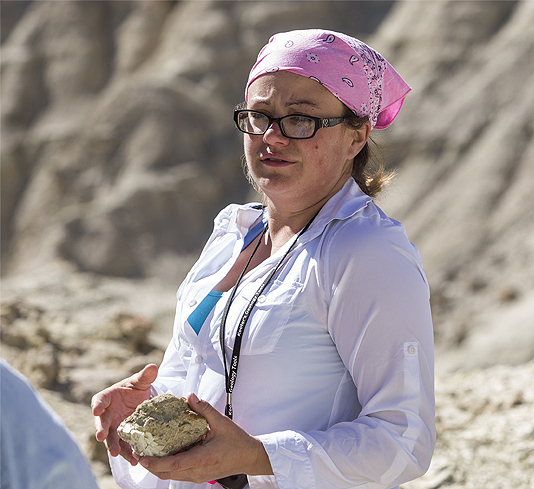 It resembles a speck of mud on a wafer of black shale, something you might be tempted to scrape off with your fingernail. But the latest discovery by UNLV researchers is no small thing.
When viewed through a scanning electron microscope, the speck blossoms into a spindly, starfish-shaped fossil formed roughly 560 million years ago, before the rise of complex, multicellular animals.
The specimen plucked from a mountainside in Esmeralda County is significant for several reasons, UNLV paleontologist Steve Rowland said: It represents a species of ancient algae never before described but remarkably well-preserved, despite its lack of bones or other hard tissue typically needed to form fossils. And it comes from a crucial but little-understood interval of geologic time, just before the so-called Cambrian explosion that produced most of the world's major animal groups.
"This is more exciting in the paleontology community than some new dinosaur or something," said Rowland, who co-authored a paper on the fossil that was published earlier this year in the Journal of Paleontology.
The tiny discovery was an even bigger deal for Margarita Rodriguez.
She was an undergraduate geology student waiting tables to put herself through UNLV in 2012 when she started working with Rowland in a one-credit independent study program.
The work took Rodriguez to Esmeralda County, where she helped collect samples from the Deep Springs Formation, a rock layer Rowland has been exploring for the past 40 years. Her discovery came in the lab as she examined more than 200 pieces of rock under a microscope in search of a different organism. On a jagged disk of shale no larger or thicker than a credit card, Rodriguez trained her lens on a spot about the size of a period drawn with a ballpoint pen.
"It was this weird, branching, gangly thing. We had no idea what it was … but the preservation was fantastic," she said. "I could see it with the naked eye because for some reason I'm good at seeing micro-fossils."
Two years later, the 30-year-old is the published author of a scientific paper about a new species she got to name: Elainabella deepspringensis.
Rodriguez said she named her discovery in honor of Elaine Hatch Sawyer, who took her under her wing when she was a troubled teenager and set her on the path to becoming a geologist.
At 17, Rodriguez moved by herself from Ohio to tiny Panguitch Lake, Utah, to work as a wrangler for a ranch that offered trail rides. She was miserable and alone until Sawyer began taking her on road trips to every beautiful spot within a day's drive. The woman and her husband eventually gave Rodriguez a place to live.
"I can't describe what she is to me. She saved my life at one point," Rodriguez said. "She's become blood family without the blood."
Now the 2012 graduate of UNLV is again living with Sawyer in Fredonia, Ariz., near the Utah border, helping her old friend through the last awful stages of cancer.
"She was my guardian angel, and now it's my turn," Rodriguez said.
The genus name Elainabella literally means "beautiful Elaine."
Rowland said it's rare for an undergraduate to make such a discovery, but Rodriguez was "quite a rare student."
He said her alga probably spent its life attached to a primitive, microbial reef beneath the shallow, tropical sea that covered much of what is now the West Coast at a time when North America straddled the equator.
He expects the area where it was found to yield more, perhaps larger treasures when his research team goes back with picks and shovels to dig a "proper quarry" near the almost-ghost town of Gold Point, 175 miles northwest of Las Vegas.
"So far all the collecting has been pretty casual," just picking up whatever pieces found on the surface, he said.
In the coming months, one of Rowland's doctoral students will search for fossils of a small wormlike creature that might be related to ones found in a similar rock strata in China.
Rowland said his student also will be trying to answer a broader question that has confounded geologists: "Why were these fossils preserved at all? They don't have hard parts. They don't have shells," he said.
In the meantime, the first — and so far only — specimen of Elainabella deepspringensis will be permanently housed in the research collection of the Nevada State Museum in Las Vegas, where it will be available for other researchers to study.
Contact Henry Brean at hbrean@reviewjournal.com or 702-383-0350. Follow @RefriedBrean on Twitter.