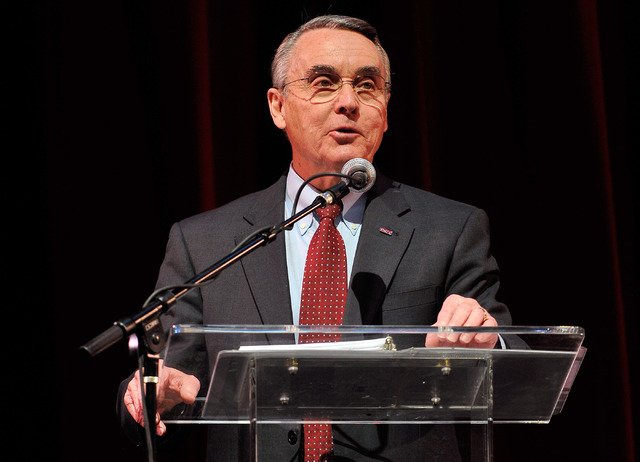 A new UNLV 50,000-seat, on-campus stadium would generate from $12 million to $13.9 million in annual profits if it was enclosed and $7 million to $8.3 million in profits if it was open air, according to a consultant's draft report presented at Thursday's stadium board meeting at the University of Nevada, Las Vegas.
An enclosed stadium would create $23.1 million to $26.3 million in total annual income, while total expenses to operate the retractable-roof or domed venue would be $11 million to $12.4 million, according to the draft prepared by Dallas-based consultant CSL.
Meanwhile, an open-air stadium would generate $15.9 million to $18.1 million in total annual income, while expenses would be $8.9 million to $9.9 million, according to the report.
Sponsorships, naming rights, premium seating, food and beverage and ticketing are five major money-makers for a potential UNLV stadium.
UNLV's three sports facilities — Thomas & Mack Center, Sam Boyd Stadium and Cox Pavilion — generate a net annual income of $3.2 million, according to CSL.
The consultant also tweaked the proposed costs for the retractable roof stadium, ratcheting it up to $714 million from a previous projected cost of $682 million.
"It's going to be more complex than we originally thought," Bill Rhoda, president of CSL, told the Review-Journal before Thursday's meeting. CSL is being paid a $325,000 consulting fee.
A proposed domed stadium cost also went up, now pegged at $664 million compared to a previous proposed cost of $632 million.
An open-air stadium with a shading system would cost $514 million, while an open-air venue would be $490 million.
Rhoda also updated the number of annual events that would be staged at the proposed UNLV stadium, tweaking the number to 44 events per year for an enclosed stadium and 34 events for an open-air venue. Those respective numbers of events includes 17 annual Major League Soccer regular-season games.
But Rhoda's revenue analysis did not consider the financial impact of those 17 MLS games. A retractable roof stadium would draw annual attendance of 1.435 million fans for the 44 events, but without a Major League Soccer team the new venue would draw 1.129 million fans, the report said.
Stadium board member Kirk Hendrick appecriated that Rhoda did not figure the 17 MLS home games into the revenue report because it's more accurate to have a more conservative revenue figure. Las Vegas is competing with several cities including Minneapolis, San Diego, Sacramento and San Antonio for the last Major League Soccer expansion team. MLS is expanding from 19-24 teams by 2020, and four cities have already been picked.
"It's nice to see that the (proposed UNLV) stadium is in the black." said Hendrick, chief legal officer for Ultimate Fighting Championship, the Las Vegas-based MMA fight show and promotion company. "Otherwise, it would be a short conversation."
Outside of the 17 MLS games, typical UNLV stadium events are UNLV football, rugby, motorsports, concerts, neutral college football, UFC and boxing.
On another stadium project in Las Vegas, the city is working with its development partner, The Cordish Cos., and Findlay Sports & Entertainment to recruit a Major League Soccer team to Las Vegas and to build a soccer stadium in downtown Symphony Park. The Cordish-Findlay partnership said drawing an MLS team and building a venue designed for soccer would cost about $300 million. The partnership has until Dec. 1 to get a MLS commitment for a team.
The 11-member UNLV stadium board is studying the cost, funding and feasibility of an on-campus stadium. The panel is required to submit a stadium report to the Nevada Legislature on Oct. 1.
The next stadium board meeting will be June 19, when Rhoda is scheduled to present funding methods.
Contact reporter Alan Snel at asnel@reviewjournal.com or 702-387-5273. Follow @BicycleManSnel on Twitter.