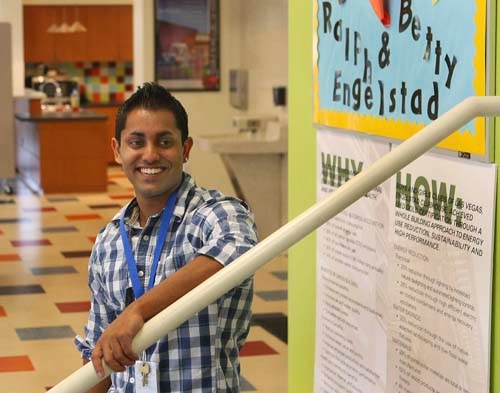 It used to be, Vick Roy was a little kid growing up in a bad neighborhood in Detroit. His dad died when he was 7 years old, and his mom struggled to keep the family going.
Roy's mother worked two jobs, at an antiques shop and at a supermarket. She couldn't be home with her only son, so she worried about him. She steered him toward the Boys & Girls Club.
After school he'd spend the day there, usually staying until his mom finished work at 7 or 8 p.m. He'd do his homework, play games, make friends.
That worked. Roy stayed out of trouble. The family moved to Las Vegas when Roy was 12, in search of opportunity. They settled in Summerlin, and Roy graduated from Palo Verde High School. Now studying biology at the University of Nevada, Las Vegas, he wants to be a doctor.
He no longer needs the Boys & Girls Club.
And yet, in a way, he does need the club.
Roy, 19, is one of 25 UNLV student recipients of a scholarship from the Engelstad Family Foundation, which last year donated $12.6 million for an endowment that will eventually fund as many as 100 scholarships a year.
But the money comes with one important caveat: Students must perform 100 hours of community service.
"It's working out exactly as we had hoped," UNLV President Neal Smatresk said.
Smatresk said it should be part of the university's mission to make the city around it a better place to live.
Engelstad scholarship recipients work with groups such as Three Square Food Bank; Goody Two Shoes, which helps poor children get new shoes; Opportunity Village; and the Boys & Girls Club. The university spent the past week emphasizing community service aspects of its programs to mark national Make a Difference Day, which was Saturday.
One group of students is delivering meals to homeless people. A group of dental school students is providing free health screening, fluoride varnishes and hygiene tips to children and senior citizens. Another group sponsored an event highlighting the problem of sexual and domestic violence.
With the Engelstad program, which makes awards largely on academics and financial need, students usually have a history with community groups similar to the ones they end up helping.
"This program really gives them the opportunity to attend school when they otherwise might not have," Smatresk said. "It makes them better members of our community."
Scholarship counselors inter­view students and try to place them with an organization matching their skills and background.
Such was the case with Steven "J.T." Washington, 19, who is studying political science and planning to go to law school.
Active in student government at Canyon Springs High School, he now helps a third-grade teacher at the Andre Agassi College Preparatory Academy with things such as grading papers and helping students.
Like Roy, Washington said the scholarship makes community service easy. The school and the organization take care of all the incidentals: paperwork, background checks, scheduling. All they have to do is show up.
Many of the kindergartners through sixth-graders Roy works with at the Boys & Girls Club remind him of himself.
"They're just regular kids, having fun, doing their homework, staying out of trouble," he said.
He said he'd probably volunteer there regardless of the scholarship requirements, but maybe not right now.
At first, he said, it was hard to coordinate school work and community service. But he's gotten used to it. More than that, it's made him a stronger student.
"I feel a lot better," he said. "I'm actually doing a lot better in my classes right now. You get to release a lot of that stress that builds up."
Contact reporter Richard Lake at rlake@reviewjournal.com or 702-383-0307.