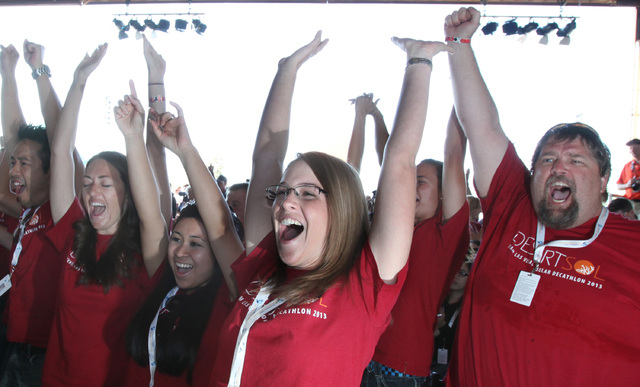 UNLV took second place in this year's solar decathlon in Irvine, Calif., by designing and building a cost- and energy-effective solar-powered house.
The results of the U.S. Department of Energy Solar Decathlon 2013 were announced Saturday.
Austria won, scoring 951.9 points out of 1,000. University of Nevada, Las Vegas students were close behind with 947.6 points, and the Czech Republic took third place with 945.1 points.
The scoring system was based on everyday activities in the houses, which were built over a span of two years, such as washing dishes and doing laundry. All of the houses built produced more energy than they consumed.
"The Solar Decathlon is inspiring and training the next generation of clean energy architects, engineers and entrepreneurs, and showing that affordable, clean energy technologies can help homeowners save money and energy today," said DOE Secretary Ernest Moniz.
UNLV also tied for third place in the competition's engineering contest with Austria and the University of North Carolina at Charlotte.
Contact reporter Annalise Porter at aporter@reviewjournal.com or 702-383-0264.