November 13, 2008 - 5:07 pm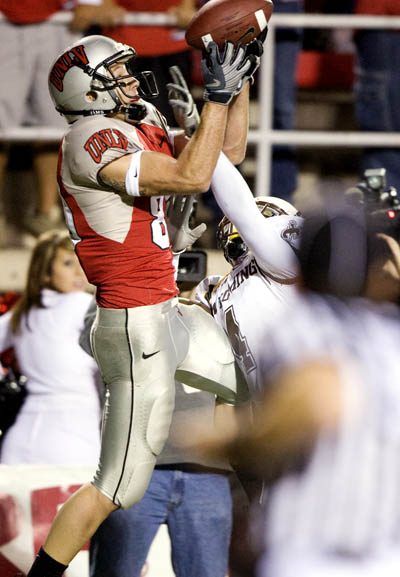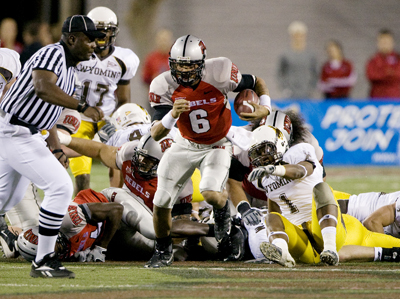 UNLV Sports Blog
UNLV 22, Wyoming 14, final score
The UNLV defense, which has been maligned most of the year, came through with two huge plays in the fourth quarter Thursday night, preserving the Rebels' 22-14 Mountain West Conference win over Wyoming at Sam Boyd Stadium and keeping the team's postseason hopes alive.
UNLV (5-6 overall, 2-5 MWC), can become bowl eligible with a win at San Diego State on Nov. 22. Rusty Worthen intercepted Wyoming quarterback Chris Stutzreim following Frank Summers' 1-yard touchdown run early in the fourth quarter to give UNLV possession at the Wyoming 24. The Rebels cashed in when Mike Clausen connected with Rodelin Anthony for a 21-yard touchdown pass.
The Cowboys (4-7, 1-6) were looking to pull within two when Stutzreim's pass attempt to David Leonard in the end zone was tipped by UNLV safety Daryl Forte and picked off by Quinton Pointer for a touchback. It was the first time UNLV has won consecutive games since Sept. 20 when it defeated Iowa State in overtime, 34-31, following a 23-20 overtime win at Arizona State on Sept. 13.
Wyoming 14, UNLV 9, third quarter report
A Chris Stutzriem pass to Chris Johnson 2:26 into the third quarter put Wyoming back on top of UNLV 14-9 at Sam Boyd Stadium. The pass play covered 28 yards and was Stutzriem's second TD throw of the night. The Rebels continue to have the edge in the stats with 267 total yards to the Cowboys' 242. But they have failed to reach the end zone. However, UNLV was driving and had a third-and-goal at the Wyoming 1 as the fourth quarter was set to get under way.
UNLV 3, Wyoming 0, end of first quarter report
UNLV used a 38-yard field goal from Kyle Watson to lead 3-0 after the first quarter Thursday night at Sam Boyd Stadium. The Rebels squandered an opportunity to add to their lead after stopping the Cowboys on fourth-and-2 at the UNLV 38. However, Watson's 37-yard field goal try was wide to the left. The Cowboys were driving inside the UNLV 5 at start of the second quarter.