VA surveillance video deleted
December 23, 2013 - 10:33 pm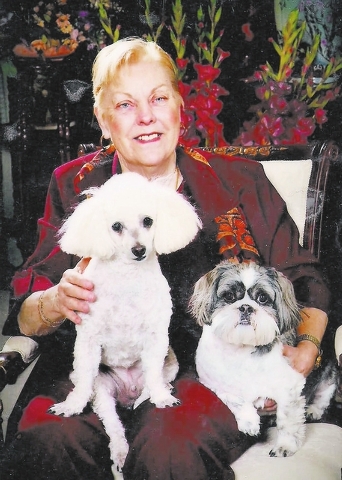 Surveillance video wanted by the House Veterans Affairs Committee for an inspector general's probe into the treatment of a blind Navy veteran in October during a lengthy emergency room wait at the North Las Vegas VA Medical Center has been deleted.
Isabel Duff, director of the VA Southern Nevada Healthcare System, made the revelation in a 50-minute interview with the Review-Journal, her first since taking the reins of the system and the $1 billion medical center in September.
When asked what the recordings show, Duff said Friday, "The videotapes are not available. There is an automatic deletion."
Sandra Niccum, a 78-year-old volunteer with 5,000 service hours at local VA facilities, died Nov. 15. Before she died in a local hospice after a bout with a colon disorder, she asked her neighbor, Dee Redwine, who escorted her to the VA Medical Center on Oct. 22 and again on Oct. 24, to write a chronology of her emergency room ordeals for the Review-Journal. Those included durations of six hours without pain medication.
House Veterans Affairs Committee Chairman Rep. Jeff Miller, R-Fla., said in a late November statement the committee "is investigating these disturbing allegations, and we will be asking the VA to provide copies of all applicable surveillance camera footage so we can examine the sequence of events in detail."
Duff didn't know the time frame for how long the digital footage is typically stored until it is deleted.
"What I did do, was when we couldn't retrieve them, we contacted the contractor to see if there was anything that they could do in order to recover them. And so the contractor came and tried to recover and that digital tape is no longer available," Duff said. "The contractor cannot retrieve them."
Anthony Torres, surveillance video project service manager for the contractor, Bergelectric, said Monday he was unable to comment on how the system at the VA Medical Center works or say how often footage is deleted. He said that he was contacted by VA Southern Nevada Healthcare System officials "a couple weeks or a month ago" to try to recover the deleted video.
On Dec. 12, the day of a memorial service for Niccum at the Southern Nevada Veterans Memorial Cemetery in Boulder City, Miller released a letter he sent to VA Inspector General George Opfer calling for an investigation into Niccum's experience at the VA Medical Center.
She "was made to wait six hours for emergency care and was repeatedly disrespected and mistreated by staff at the North Las Vegas VA Medical Center," read the letter Miller signed.
His letter asked Opfer "to open an investigation … and determine what further action should be taken."
Reached Monday, Joanne Moffett, a spokeswoman for the VA Office of Inspector General, said she wouldn't comment on Duff's revelation because the investigation is underway.
Rep. Dina Titus, D-Nev., a member of the House Veterans Affairs Committee, has sought a review by officials of the local VA hospital. She offered her reaction to the deleted surveillance video, saying in a statement, "The absence of video footage makes it even more critical that the working group thoroughly investigate the allegations surrounding the shocking treatment of one of Southern Nevada's heroes."
No other veteran should suffer a similar experience, Titus added.
Redwine reacted to Duff's revelation Monday, saying, "No surveillance? No backup? That's crazy.
"Last week our director said how efficiently they are maintaining the ongoing paperwork on our veterans. What about the real, live veterans who are mentally or physically ill and trying to maintain dignity while getting treatment? Shame on you, Nevada veterans' V.I.P. Shame on you," she said.
Redwine's comment came about an hour after she spoke with the team from the VA Office of Inspector General. She told them by phone she was eager to see the video because it would support her chronology of what Niccum experienced. A fragile diabetic, Niccum had cried for help and pounded her walking cane on the hospital floor in frustration when she was told by a VA worker that she couldn't curl up on two chairs in the empty waiting room. Instead, she was required to sit in her wheelchair for six hours until the hospital closed.
"I said I cannot wait to see the video because everything will be on there," Redwine told the team.
Duff said Niccum was having an evaluation completed on Oct. 22, "and that does entail waits for information to come back to provide the appropriate medical care." She said Niccum's "work-up" had begun 30 minutes after she arrived.
"It was a complicated work-up," she said.
Duff declined to say how many hours would be a reasonable time for a patient to wait for the results of a work-up before providing additional emergency room care.
Asked about what actions the VA takes to hold staff members accountable for their treatment of veterans, she said the majority of her 2,200 local employees who provide care for some 50,000 veterans do so the right way.
Duff also said there is a human resources process that is followed. "Many of our employees come from different backgrounds. Many are veterans. Many may not understand the culture that is expected here. And so we've put people through customer service training. We tell them what the expectations are here."
For the most part, she said the local VA medical facilities and staff provide care that "is very good. We want to get to excellent. Our goal is to reduce the risk for error."
Duff said she takes learning from mistakes seriously. When it was brought to her attention that a veteran who had surgery Dec. 4 was discharged and sent home with an intravenous needle still in his arm, she acknowledged that "if this happened, it shouldn't have happened. And there will be a follow up on that," she said. Her management staff is "already looking into this."
"For me the mettle of an organization is how does it respond when something goes wrong. … What I count on is that those safety nets don't allow it to continue," she said. "We are people taking care of people and things will happen. What is it that we do as an organization? How do we respond? That to me is critical."
Duff said that the existing emergency room facility that opened in 2012 can't handle the caseload and that she intends to seek funding to build a new one. She said the emergency room lacks a convenient location for dropping off patients and has too few beds for the number of veterans who use it daily.
"The current emergency room was built based on the workload and the funding that was available at the time," said VA spokesman Richard Beam, based in Long Beach, Calif. He said congressional sources were unavailable Monday to provide details on the number of emergency room beds that had been requested.
Contact reporter Keith Rogers at krogers@reviewjournal.com or 702-383-0308. Follow him on Twitter @KeithRogers2.