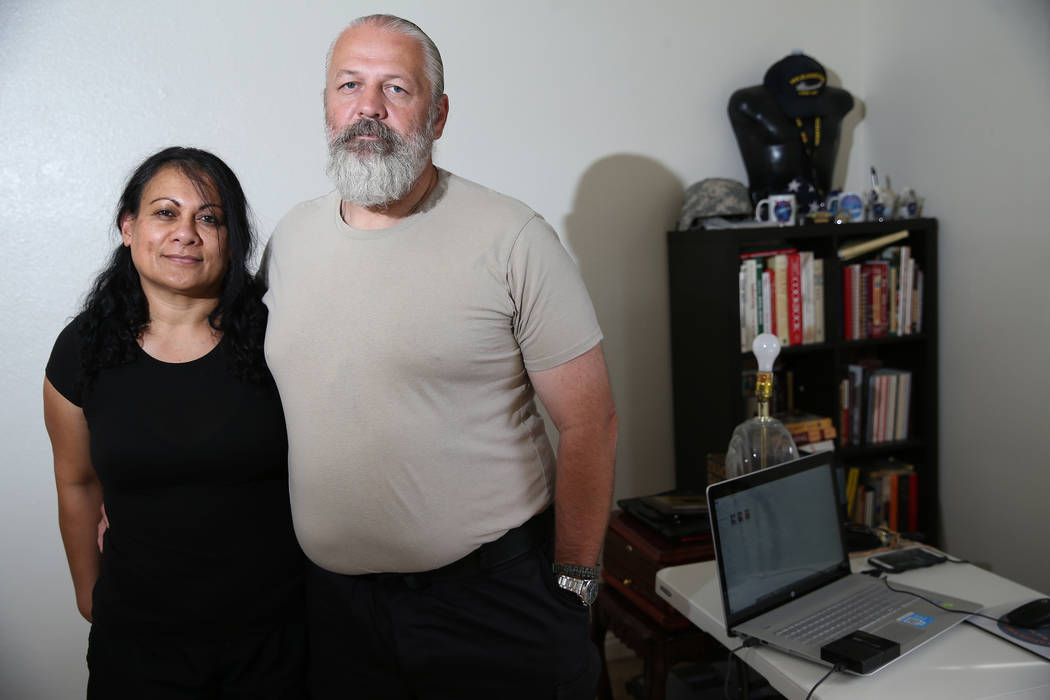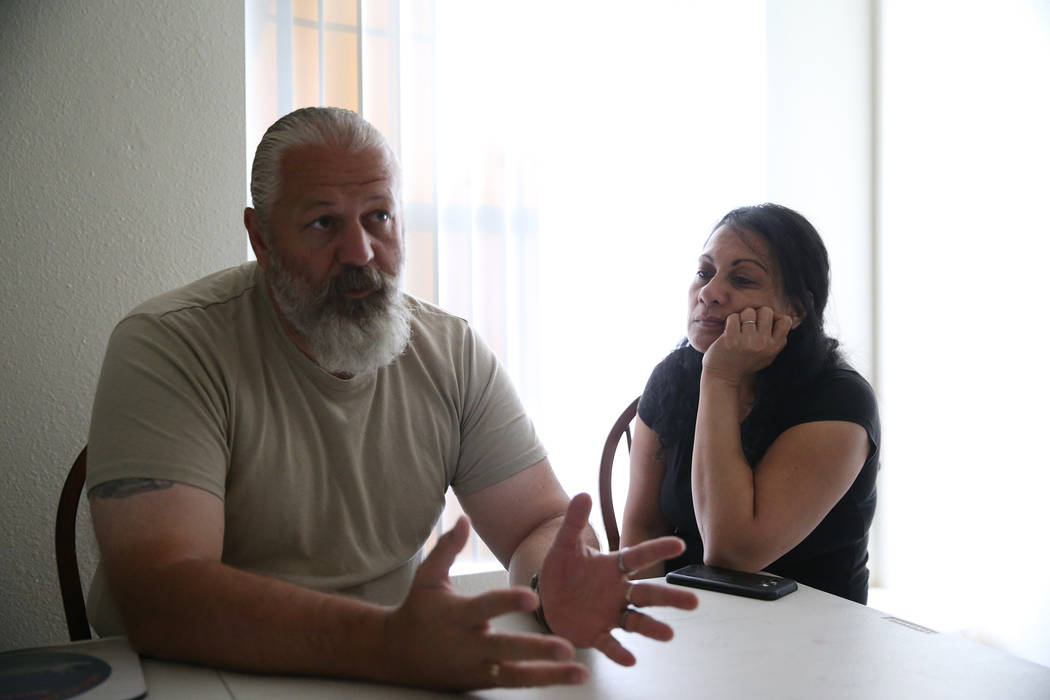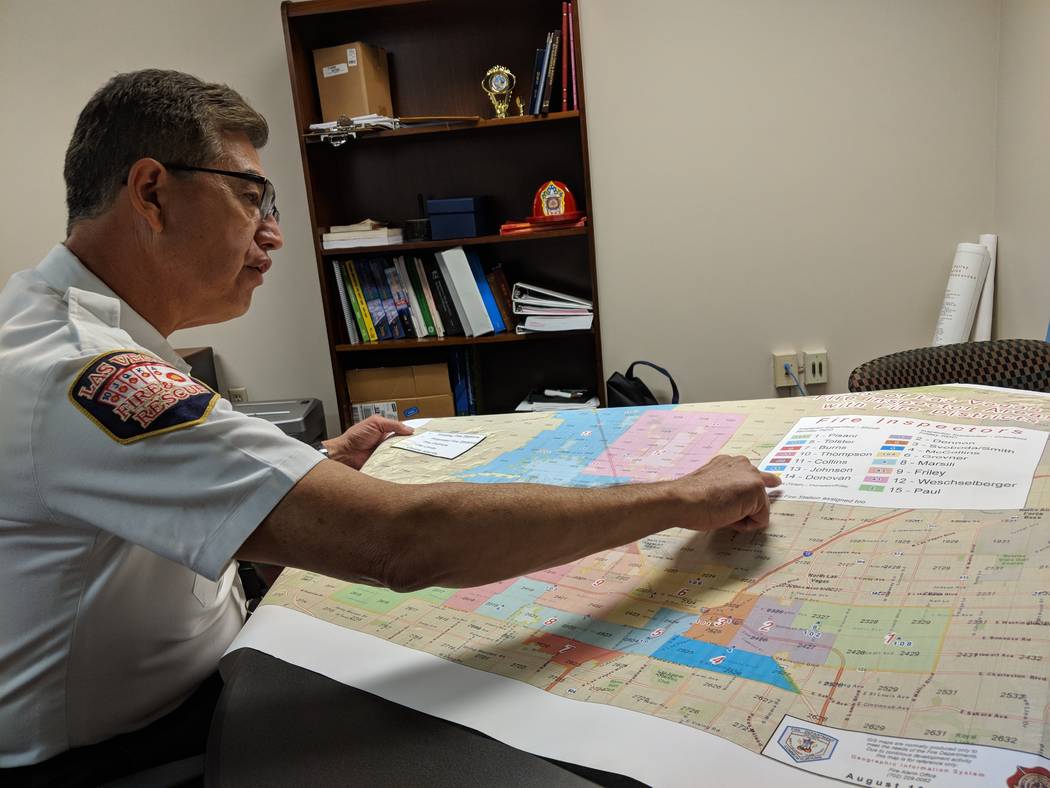 THE FIRE started in the attic and spread quickly through the wooden two-story apartment building.
By the time firefighters arrived at the central valley complex, the flames were too intense for them to enter the second floor.
They wouldn't find 26-year-old Myriam Hernandez Estrada until later, her burned body buried under debris.
The woman's death seemed preventable.
Since 2011, the Clark County Fire Department has responded to more than 50 fires at the Solaire Apartments complex on East Karen Avenue.
The Aug. 5 blaze that killed Estrada was one of three fires this year at the troubled complex near Sahara Avenue and Maryland Parkway, and it came after 14 fires in 2017.
"You go to sleep and never know if you're going to wake up," said resident Marion Robinson, 50, who has lived there since February. "You're playing with people's lives here."
Robinson is not the only one with reason to worry.
While hotels on the Strip have become fireproof fortresses and public and commercial buildings soak up most of the attention from understaffed inspection agencies, fire safety in the valley's urban core has been left behind, sometimes with deadly consequences.
You go to sleep and never know if you're going to wake up. You're playing with people's lives here.

Marion Robinson, 50, resident of the Solaire Apartments
A monthslong Las Vegas Review-Journal investigation found most deadly fires clustered in areas with older homes and apartments, where current safety measures like sprinklers and interconnected smoke alarms are not required.
Of the 41 fatal fires in the city of Las Vegas over the past decade, 35 occurred in the city's three oldest and most urban wards, leaving 38 people dead.
Older neighborhoods in unincorporated Clark County — with structures built between the 1960s and 1980s — also typically see more fires than areas with newer construction, Clark County spokesman Erik Pappa said.
Local governments have little power to force property owners to make safety upgrades to existing buildings beyond what codes required at the time they were built.
An aging complex
The Solaire apartment complex dates back to 1979 and includes more than 80 two-story buildings with wood siding.
Westland Real Estate Group, based in Southern California, owns the complex and more than 30 others in the Las Vegas Valley, marketing manager Dena Lerner said.
"In Las Vegas, we've had a couple fires here and there, but other than Solaire, there haven't been a lot," Lerner said. "We try to buy buildings that are brick, and I think that has something to do with it. Wood buildings have a propensity" to catch fire.
Clark County Fire Chief Greg Cassell said several of the recent fires at Solaire — including the deadly one in August — started in or burned through common attic space, which is open the length of an apartment building, allowing flames to spread rapidly.
This type of construction can be found in older buildings valleywide, Cassell said.
"Those apartments over on Karen, we've had many fires there over the years," he said. "It's problematic the way they were constructed, how they were built and what they were made out of many years ago. They're pretty tightly packed."
The exact cause of the fire that killed Estrada has not been determined. Investigators have returned to the complex "numerous times" since Aug. 5, once with an electrical engineer to scrutinize roof-mounted air conditioning units, according to Pappa, the county spokesman.
"We do know that the fire began in the attic space but are attempting to narrow that scope down," he said.
Deadly residential fires
Since 2008, 141 fires have killed 159 people in the Las Vegas Valley — a small fraction of the thousands of fires valley firefighters battle annually.
The vast majority of the deadly fires took place in single-family homes, apartments or mobile homes.
"People are at risk of a fire anywhere they live, work or recreate. But residential fires have accounted for almost all of the loss of life in our community," said Las Vegas Deputy Fire Chief and Fire Marshal Robert Nolan.
When a fire at the MGM Grand killed 85 people on Nov. 21, 1980, it led to hotel safety reform across the country. But fire suppression requirements in apartments and homes, especially older ones, remain far more lax than those for hotels, commercial buildings, schools and medical facilities.
People are at risk of a fire anywhere they live, work or recreate. But residential fires have accounted for almost all of the loss of life in our community.

Robert Nolan, Las Vegas Deputy Fire Chief and Fire Marshal
And residential fire hazards can go unchecked for years, as inspectors with heavy workloads are forced to focus their attention on the public and commercial spaces in their assigned areas first.
Nolan said city inspectors are doing what they can to change that by redoubling their efforts to root out hazards at older apartment developments.
"These are the buildings where people are dying," he said. "For us, it was unacceptable to have people dying at the rate they were dying."
Displaced by fire
No one was killed when Heath and Verginia Burkhalter's apartment at Solaire was destroyed by a fire that started in the building's common attic March 16, 2017.
Verginia Burkhalter and her daughter fled the flames through a second-story window.
The damage to the building was too extensive to pinpoint the exact cause, county officials said.
The Burkhalters now live in a complex not far from Solaire. Much of what they now own is the product of "a year and a half of people's charity," Heath Burkhalter said.
They still haven't been reunited with any belongings that might have survived the fire. Heath Burkhalter is hoping to recover his father's and grandfather's military burial flags.
"That is a burnt building they're holding ransom because we won't sign a document saying they're not liable," he said.
Lerner, in an email, attributed the delay to the building being unsafe. "We are not allowed to enter or allow residents to enter," the company said.
Another Westland-owned property, Villas at Desert Pointe Apartments, burned in May 2017, displacing about 80 people. Residents later voiced concerns about safety and the company's efforts to reunite displaced tenants with their belongings.
Out of date features
In wards 1, 3 and 5, the three parts of Las Vegas where officials have identified a greater risk of deadly fires, the majority of homes predate 1990, and many lack safety features now required in newer residences.
For example, current codes require smoke alarm systems to be interconnected, so if one goes off, they're all triggered.
And all new residential dwellings in Las Vegas and Henderson must be built with automatic fire sprinklers, which tamp down flames and give people more time to escape.
Henderson's sprinkler ordinance dates back to July 2011 and appears to be working as designed.
"I am not aware of a single incident in a sprinklered residence where we've had a loss of life," Henderson Fire Protection Engineer Lynn Nielson said.
State law requires landlords to provide smoke alarms for every apartment. They are not required to make safety upgrades when a new set of fire codes is adopted every three years. Unless they are doing a significant renovation project or the building is changing uses, they are free to keep the building in line with codes that were in place when it was constructed.
Michael Gentille, president of Las Vegas-based design and consulting firm PCNA Group, said fire safety retrofits are often high-dollar, labor-intensive undertakings, but money is not the only consideration.
"I think there are several factors," Gentille said. "It is cost in some cases, but equally it is often logistically not possible, the feasibility of doing all these upgrades."
The State Fire Marshal has oversight of schools, hospitals, nursing homes and correctional facilities, but "private residences" don't fall under the office's purview, Nevada Department of Public Safety spokeswoman Kim Smith said in an email.
If local governments in Nevada want to adopt safety requirements that are more stringent than state statutes, they must get approval from the State Board of Examiners.
Despite the bureaucratic stumbling blocks, Nolan said he is hopeful that Las Vegas officials can push for fire safety improvements in older apartments and homes.
"If we judiciously pick some of this and work with our partners, we could go back to some of the existing buildings and require better alarm systems," he said.
Lack of options
Fire inspectors also worry about about security bars on doors and windows — another feature disproportionately found at older homes in urban neighborhoods.
In 1994, three children died when security bars hampered their escape from a North Las Vegas house fire, but inspectors said they still frequently find bars on windows that can't be quickly opened from the inside.
"We try to educate people about the risks of doing that. Can you do this another way? Can you spend a little bit more and get a different kind of latch? Can you put a camera out there with a light?" said Nolan, the Las Vegas fire marshal. "But if the go-to is a chain and padlock, it's because that's what they've learned. And we try to get people out of that mentality."
Many Solaire residents have low incomes and live at the complex because they lack options, current and former tenants said.
Terrisha Toney has rented an apartment there for almost four years and remembers about six fires. Her son is a senior in high school, and if she moved, he wouldn't be able to stay at the same school. Once he graduates, she plans to find someplace else to live. She thinks her neighbors should do the same.
"If they don't have to be here, then I wouldn't make this my first choice," Toney said.
Clark County has issued a permit to restore one of the Solaire buildings that was damaged by fire.
The structure is grandfathered in so it could be rebuilt to the old standards, but Clark County Commissioner Chris Giunchigliani said Westland has agreed to bring it up to the current fire code.
"Unless it's totaled, we can't force them" to retrofit the building, Giunchigliani said. "They took some proactive measures, which I appreciate."
Review-Journal staff writers Blake Apgar and Michael Scott Davidson contributed to this report.
FIRE FACTS
In 2017, U.S. fire departments responded to 357,000 fires in home structures, which include one- and two-family homes, manufactured homes and apartments.
That year, 2,630 fire deaths occurred in homes.
Nationwide, a civilian died in a home fire every 3 hours and 20 minutes in 2017.
Source: National Fire Protection Association