Vegas man crashes two planes at same airport one year apart
January 7, 2013 - 6:06 pm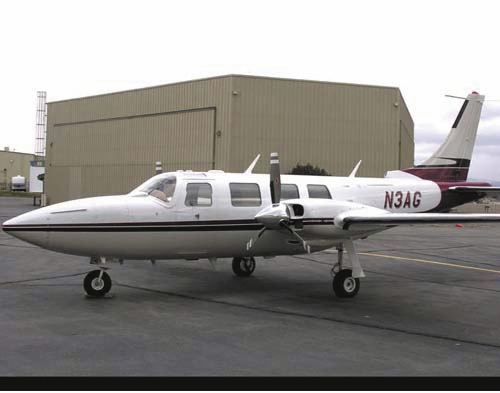 Norman B. Ivans might want to think twice before he tries to land another airplane at the North Las Vegas Airport during the first week of January – if the Federal Aviation Administration lets him fly at all.
Ivans was at the controls of the twin-engine Piper Aerostar that crash-landed and then burned Wednesday at Nevada's second-busiest airport .
He was flying a different twin-engine Piper Aerostar when it crash-landed at North Las Vegas on Jan. 5, 2012 – exactly 363 days from one crash to the next.
"That was me," Ivans confirmed Monday when asked whether he was at the controls Wednesday when the Aerostar with tail number N3AG skidded off the runway. He and his passenger, flight instructor Gary A. Marsh, escaped serious injury before flames engulfed the cabin.
The latest crash was strikingly similar to the 2012 accident. According to a National Transportation Safety Board preliminary report, Ivans was trying to land his Piper Aerostar, tail number N104RM, at about 4 p.m. at the North Las Vegas Airport.
"Shortly after touchdown, the airplane veered to the left and departed the runway. It then veered right, crossed the runway and came to rest adjacent to it," the report said.
"Both wing tips were bent up, the left wing's fuel tank was compromised, and the fuselage had several holes in it," according to the report by investigator-in-charge James F. Struhsaker.
Ivans was alone in the plane and was not injured in the 2012 crash. The report, updated on Jan. 17, 2012, was still listed as "preliminary" Monday on the safety board's website. No probable cause for the crash was listed.
The preliminary report on last week's accident was not yet posted late Monday.
Standing inside the front door of his home in northwest Las Vegas, Ivans said he has been flying "close to 40 years" and attributed last week's crash to "a mechanical failure." He declined further comment about that, saying he is "involved with litigation."
FAA records show Ivans held a private pilot certificate issued in 2006 for single- and multi-engine aircraft over land, with required corrective lenses.
Ivans said kept his private pilot's license after last year's crash, but it was restricted to student pilot privileges, meaning he isn't allowed to carry passengers other than a certified flight instructor. Marsh, the flight instructor on board Wednesday, didn't respond to a call requesting comment.
FAA spokesman Ian Gregor in an email said Ivans "physically turned in his private pilot certificate to the Las Vegas Flight Standards Office. He has a temporary, student certificate.
"As a result of the 2012 accident, we required Mr. Ivans to be re-examined by an FAA inspector to prove he is proficient at operating a Piper Aerostar."
How last week's crash will factor in the FAA's judgment remains to be seen. Calls to a National Transportation Safety Board investigator assigned to Wednesday's crash weren't returned Monday.
While no one was injured in either accident, crashing Piper Aerostars is expensive .
The six-seat plane destroyed last week was registered to Managed Aviation Inc., a Nevada corporation that lists Ivans as sole officer and director. Made in 1983, the Aerostar Superstar 700 model was offered for sale last year at $425,000 on an Aerostar aircraft website.
Contact reporter Keith Rogers at krogers@reviewjournal.com or 702-383-0308.