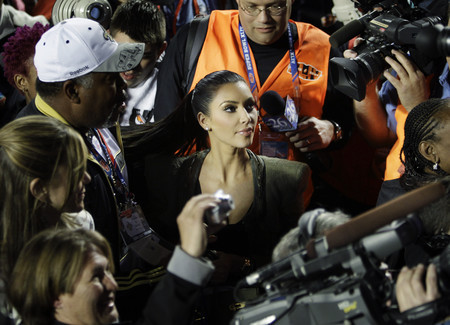 Hey Kim Kardashian, your man, Reggie Bush, just helped win the Super Bowl for the New Orleans Saints. Where are you going to celebrate?
"I'm excited to come to Vegas," she tells me.
Kardashian is hosting the Queen of Hearts Ball at Palazzo's club Lavo on Saturday night.
"I'm gonna be there with my boyfriend. It's a little Valentine's thing," she says.
Because I'm a Saints fan, I thanked her for being a good luck charm. I reminded her that Dallas Cowboys fans claimed Jessica Simpson was a bad luck charm when she dated Tony Romo.
"I think it's a little ridiculous when people give her such a hard time," Kardashian says. "It obviously has nothing to do with her. It's a team sport."
But she adds: "Thank God the Saints won a lot of games, or it could have been me, too!"
Kardashian and Bush arrive around 10 p.m.
A CLASS WITH KENDRA
This weekend is a battle of Super Bowl babes. Kendra "The Girls Next Door" Wilkinson (married to the Indianapolis Colts' Hank Baskett) rides the "Kendra Pole" at the Stripper 101 class at Planet Hollywood's V Theater at 3:30 p.m. Sunday.
Your $200 gets you a meet-and-greet, a photo with her and a pole to take home.
This week's most-read story at People.com is "Kendra Wilkinson: Why I Cried After the Super Bowl." You see, the Saints recovered their huge onside kick after the ball doinked off the helmet of Wilkinson's husband.
She tweeted that the media wouldn't leave her alone: "The paparazzi have no soul … we asked them to stop cuz of the baby n they were way too close n they didn't care at allllllll."
I wonder whether she's bringing the baby to "Kendra's Pole" on Sunday.
YOUR WEEKEND PLANNER
The USA Sevens International Rugby Tournament Saturday-Sunday at Sam Boyd Stadium; Garth Brooks tonight-Sunday at Wynn; Smokey Robinson on Saturday at Green Valley Ranch; Theory of a Deadman on Saturday at House of Blues; Ron White tonight-Sunday at The Mirage; and Lisa Lampanelli on Saturday at the Palms (read my interview with her in today's Neon section).
VALENTINE'S FOR CATS AND DOGS
From noon to 3:30 p.m. Saturday, the Las Vegas Valley Humane Society's doing a fundraiser luncheon called Hearts & Paws at Grape Street restaurant on West Lake Mead Boulevard (LVVHumane.org).
Doug Elfman's column appears Sundays, Mondays, Tuesdays and Fridays. E-mail him at delfman@reviewjournal.com. He blogs at reviewjournal.com/elfman.