Victims recount their losses as Pahrump developer sentenced for Ponzi scheme
January 15, 2014 - 5:42 pm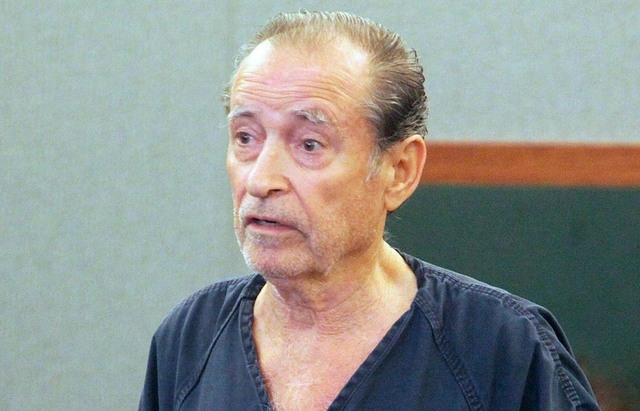 Hans Seibt, a Pahrump developer accused of bilking hundreds of aging investors out of their life savings in a Ponzi scheme, was sentenced to a maximum 10 years in prison Wednesday.
District Judge Kathleen Delaney also ordered Seibt to pay $1.3 million in restitution to some of his victims.
In all, Seibt's investors across the country lost millions of dollars in the scheme, which came to light in 2008 after Seibt filed for bankruptcy. The criminal case focused on only a handful of Nevada victims.
Nearly 20 victims were in court Wednesday and several tearfully testified how their lost investments drained them of their life savings and ruined their lives.
"Hell has special places for people like you," Kenneth Dombrowski told Seibt, as he walked passed him at the defense table after testifying how his dealings with the developer turned his life upside down.
Dombrowski, 56, is to receive $40,000 in restitution. He urged Delaney to sentence the 72-year-old Seibt to prison for the rest of his life.
Other victims also sought a tougher sentence for Seibt, but Delaney said the prison time she handed out was the maximum allowed under a plea agreement Seibt struck with the Nevada attorney general's office.
Delaney ordered Seibt immediately remanded into custody.
Seibt entered an Alford plea Sept. 11 to a single theft count in an amended indictment that led to the dismissal of 26 other theft and securities fraud charges. An Alford plea means a defendant does not admit guilt, but acknowledges prosecutors could prove their case at trial.
When given a chance to address the judge Wednesday, Seibt said he felt bad for his investors.
"I feel compassion," he said. "But I cannot turn the clock back."
His victims had trouble believing his remorse.
"He's a con artist, a liar and not an honest person," Sharon Cole said. "He knows how to play the system."
Cole, 67, testified that she rarely gets a good night's sleep because she's constantly thinking about the $500,000 she and her husband lost to Seibt.
She said she's convinced the German-born Seibt has money hidden away in other countries.
Dennis London, 60, retired from a career in information technology, said he suffers from depression and contemplated suicide several times over the $1.5 million in life savings he lost in Seibt's land deals.
"I was left broke, and I still am today," London said. "He has absolutely ruined my life."
Marilyn Benoit, 68, a retired school district librarian, told Delaney that she suffers from insomnia and "horrible feelings of despair" over the more than $500,000 she and her husband lost to the developer.
Seibt was indicted in 2011 following a three-year securities fraud investigation, which began after his September 2008 bankruptcy in the middle of the real estate downturn. He reported more than $70 million in debts.
The bankruptcy trustee in Seibt's case said he was unable to recover any assets from the developer to give back to investors.
Seibt contended in court Wednesday that he, too, was a victim in the collapse of his business operations. He said it left him with no money.
Officials described Seibt's dealings as a Ponzi scheme, in which older investors were paid off with money from new investors. Ponzi schemes usually collapse when the new investors dry up.
State prosecutors alleged Seibt used two of his companies, HSLV Development Corp. and Clark and Nye County Development Corp., to solicit investments of $10,000 or more in the land scheme.
He offered trust deeds, joint venture agreements and subscription agreements, all of which were supposed to be secured by parcels of land in Nye County. The value of the land, however, was grossly exaggerated, prosecutors alleged.
Seibt told investors they would receive a return of 10 percent to 12 percent on their investments but, instead of buying the land, Seibt used the cash for personal expenses and to pay off other investors, according to prosecutors.
Contact reporter Jeff German at jgerman@reviewjournal.com or 702-380-8135.