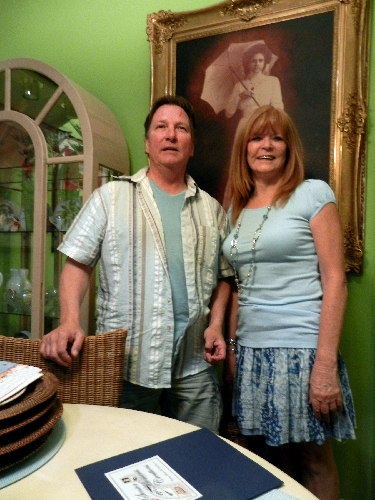 You can leave behind money. You can leave behind an estate. But there's something perhaps more precious to leave your heirs — the gift of you.
Senior Moments Creations video records people 55 or older as they talk about their lives, their loves and the times they'll never forget. The result is a Legacy Video, a professionally shot and edited CD or DVD to leave one's family.
Harriet Schilero, 83, taped her video in July. On it, she recalled her younger years, roller skating, riding bikes, taking a picnic to the beach. She also recalled the little moments with her late husband, Sam.
"He was the greatest … We could just go to McDonald's with the baby and be happy," she said.
Schilero's tape will one day be passed on to her daughter Diane and her 23-year-old granddaughter Mandi.
Jack McLaughlin of Reno also made a Legacy Video. He said the lights and camera made him feel like he was being interviewed for a Hollywood news show.
"I think you have to almost script this stuff beforehand," he said. "There was a lot of stuff I forgot to bring up."
Couples and individuals can be interviewed. For couples, a portion of the interview has them separated, then asked the same question for a sort of "Newlywed Game" approach. The answers are then edited together.
"You'll get a 'When Harry Met Sally' thing happening … they'll see it and go, 'You didn't tell me that,' " said Senior Moments Creations co-founder Jill Dolgner.
Clients are supplied with about 50 questions beforehand to help them prepare, but the "Newlywed Game" portion asks other questions for off-the-cuff responses.
Taping takes about three hours. Part of it is just getting the interview subject comfortable with being taped. Often the best remarks come at the end of the session.
"I'll keep the camera rolling because, a lot of the time, they'll say stuff when they don't think they're (being taped) … We get a lot of candid stuff," said Scott Bailey, co-founder.
He adds music and intersperses the video with still photographs.
Legacy Video packages start at $2,000. Siblings will often approach the company, pooling their money to cover the cost. Money can buy material items, Dolgner said, but it's the special moments in life that can't be purchased.
"You hear that MasterCard commercial all the time," she said. "But it is, it's priceless."
Another component of Senior Moments Creations offers photography "for kids over 55." Photos can be taken in the client's home or at a location of choice, such as the mountains. Mobile backdrops turn any setting into an instant photography studio.
The company was established in May, but Dolgner and Bailey have years of experience in everything from documentary production to baby photography. Dolgner owns her own studio.
Bailey's first career was singing in a barbershop quartet. He progressed into documentary film work but kept up his passion for music. The couple use their karaoke equipment for Senior Moments Creations' third, and newest, component, bringing karaoke to senior communities.
"There's no venue for seniors to sing," Bailey said. At karaoke places, "the young kids, they hog the mic or they sing something with obscene lyrics."
Senior Moments' bank of background music covers more than 2,000 songs, everything from Sinatra to the Village People's "YMCA." The couple are approaching senior centers and local restaurants to offer senior karaoke every week.
To learn where Senior Moments Creations karaoke will be available, visit seniormomentscreations.com.
Contact Summerlin/Summerlin South View reporter Jan Hogan at jhogan@viewnews.com or 387-2949.