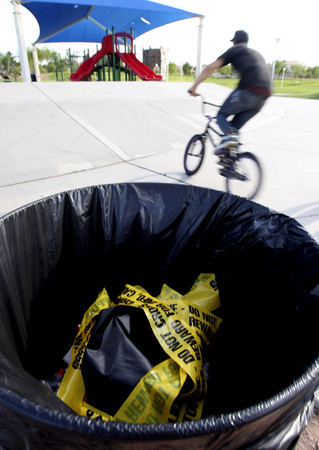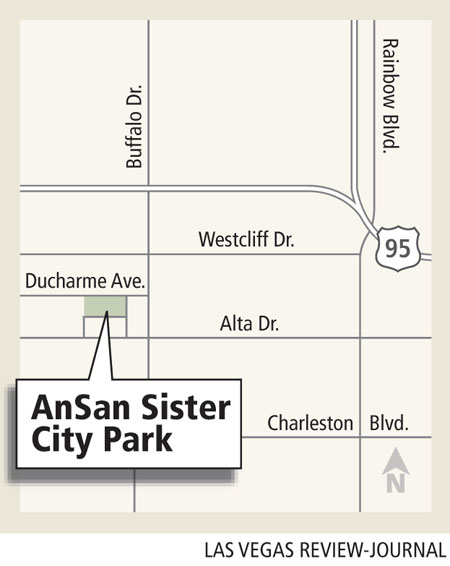 Kevin Franchow routinely walked the grounds of AnSan Sister City Park for exercise to control his diabetes, Las Vegas police said.
In addition to suffering diabetes, the 38-year-old Franchow used hearing aids, wore glasses and had the mental capacity of a 10-year-old child, police said.
It was during an early Sunday morning park stroll that Franchow crossed paths with two young men, one of whom shot him several times in the back.
Police said the motive appears to be robbery. Just a few minutes before the shooting, the suspects stole a cell phone from a woman on a swing.
Police said Franchow might not have been able to hear the suspects' demands.
The suspects didn't come away with any money or valuables. Franchow didn't carry a wallet, police said.
"They chose to kill a man who had no way of defending himself," Homicide Detective Tod Williams said. "It was so senseless."
Homicide Lt. Lew Roberts echoed Williams' statement.
"It was a brutal murder," he said. "The suspects showed him no mercy."
At 12:25 a.m., police found Franchow severely injured at the park. He was taken to University Medical Center, where he later died.
Williams said Franchow lived with his 75-year-old mother, who uses a wheelchair. Franchow's mother adopted him as an infant. She was too distraught to talk about her late son Monday, Williams said.
Although Franchow had the mental capacity of a child, he served as his mother's caretaker, cooking for her and cleaning their home. Franchow lived about a block away from the park, Williams said.
Williams said he is surprised that a slaying occurred in a park near Summerlin, and he said the suspects probably recognized that Franchow was an easy target. Franchow's glasses were knocked off sometime before he was shot.
Williams said the suspects had the time to "look at him and know he was probably handicapped, probably deaf."
Williams said the shooters are most likely between the ages of 17 and 22.
The first suspect is described as thin, 5 feet 11 inches tall with short hair. He was wearing a white T-shirt and was carrying another in one hand, Williams said.
A second suspect was described as 5 feet 6 inches tall and heavyset. He was described as between 17 and 20 and was wearing an oversized hooded sweat shirt with jeans.
From July of last year to the present, the Las Vegas city marshals recorded 14 incidents in or near the park. They monitor city parks and buildings, and their statistics are separate from the Metropolitan Police Department's numbers.
There were two burglaries, five incidents involving narcotics, three alcohol-related calls, two reports of malicious destruction of personal property, one graffiti call and one report of stone-throwing.
Tracie Hollie said the park has a reputation for being dangerous. She and her husband were attacked at the park two years ago by a group of young men. She has friends who were attacked and robbed in separate incidents.
Hollie said she is not surprised the violence escalated to a homicide.
"Something needs to be done about that park," Hollie said. "Whether it's security cameras, more monitoring or shutting it down altogether. … It's a huge danger."
Alton Ziemke, 81, and his wife, Jenny, 80, have lived two blocks away from the park for 16 years. He said he and his wife walk there twice a day, once in the morning and once in the early evening. It has been their routine for seven years.
Ziemke and his wife saw Franchow in the park three times in the past six months: He was vigorously walking while doing arm exercises.
"We've seen him from a distance," Ziemke said. "He seemed like a very nice man."
Over the past few years, the park has gone "downhill," Ziemke said. Graffiti mars the picnic tables, benches and sidewalks. There have been fights at the park and a few fires, he said.
Ziemke said a young crowd gathers at the park throughout the year when school is out. He would like to see the city marshals at the park more often.
"I was kind of surprised somebody got shot," Ziemke said. "But as far as kids getting into fights over there, that's nothing new to me."
Anyone with information on the slaying is urged to call Crime Stoppers at 385-5555 or the Homicide Section at 828-3521.
Contact reporter Antonio Planas at aplanas@reviewjournal.com or 702-383-4638. Review-Journal writer Alan Choate contributed to this report.