February 7, 1999 - 12:36 am
Updated February 7, 1999 - 5:22 pm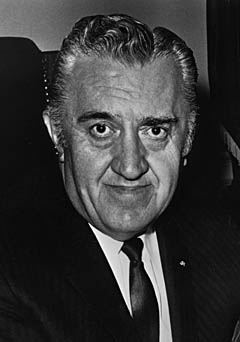 He has been called by his detractors the least effective congressman in Nevada history and a demagogue who would say anything to get re-elected. But Walter S. Baring's constituents returned him to office 10 times.
"Nobody likes Walter Baring but the voters," was his motto.
He was a 250-pound bear who liked both his rhetoric and his cigarettes unfiltered. To him, liberalism and socialism were synonymous, intellectuals were eggheads, and the most noble virtue a person could possess was unqualified patriotism. Once, he literally wrapped himself in an American flag.
"I don't think he believed most of the things he said himself," says former Sen. Howard Cannon, who served in Congress at the same time Baring did.
The congressman called himself a "Jeffersonian States' Rights Democrat," and loved the tag of "maverick," referring to his tendency to buck his party's leadership. He thought that massive federal spending for social welfare programs would not achieve the desired results.
Baring was born in 1911 in Goldfield, where his father was chairman of the Esmeralda County Commission. The family later moved to Reno, where the senior Baring ran a furniture store, and the son graduated from the University of Nevada in 1934 with two bachelor's degrees. He then managed his father's store for a while — one of the few times in his life he would work in the private sector — before getting his first government job as a collector for the Internal Revenue Service.
In 1936, he was elected to the state Assembly. Jerome Edwards, in his biography of Sen. Patrick McCarran, said Baring was suspended from his IRS job at McCarran's behest, because he criticized President Franklin Roosevelt's attempt to pack the U.S. Supreme Court. His job was saved by Sen. Key Pittman.
Baring was re-elected in 1942, but shortly thereafter resigned and joined the U.S. Navy.
Before shipping out, he married Geraldine Buchanan. The couple eventually had four sons.
After the war, he was elected to the Reno City Council, and in 1948 defeated incumbent Republican Charles Russell in the congressional race by 761 votes. Re-elected again in 1950, Baring was a mainstream liberal Democrat.
But 1952 was Eisenhower's year, and that year Baring lost his seat to Republican Cliff Young by 771 votes. He tried again in 1954, but was rebuffed by 7,000 votes.
In 1956, Young ran for Senate, leaving the congressional race open. Baring first defeated Las Vegas City Attorney Howard Cannon in the Democratic primary, then Republican Robert C. Horton. In the 1958 election, the two faced off again and Baring won by nearly 28,000.
Baring was a different man this time. He aligned himself with the clique of Southern congressmen known as "Dixiecrats" and tended to vote their way — conservatively.
Baring didn't like John F. Kennedy or his politics, and made it clear in a speech before the Reno Chamber of Commerce in mid-1962.
"I am seriously concerned over the foreign aid give-away programs and the constant spirit of defeatism which has existed over the last 10 years," he said.
"The constantly increasing federal controls through centralization of government activities are extremely detrimental to the American way of life."
This was Democratic heresy. Baring instantly became his party's pariah, and would remain so the rest of his career.
At the 1962 state party convention in Carson City, his fellow Democrats attempted to rebuke Baring by passing a resolution praising Sens. Alan Bible and Howard Cannon, but snubbing Baring.
The Clark County delegation, under the leadership of future Gov. Mike O'Callaghan and Cannon, began a "dump Baring" campaign, which was successful to the extent that the state AFL-CIO withheld endorsement of him.
Baring's sister, Marjorie, defended him, saying of his anti-Kennedy remarks, "He said the same thing two years ago and was cheered by the Democrats."
For Baring, all that independence came at a cost. In later years, he would take credit for helping deliver the vital Southern Nevada Water Project, which delivered Nevada's full allotment of Colorado River water to Las Vegas. Without it, the metropolis that developed in the 1980s and 1990s would not have been possible.
But in reality, the measure passed in spite of Baring. His antagonism toward President Lyndon Johnson almost scuttled it. But the project was a pet of Sens. Bible and Cannon, both strong Johnson men, so he couldn't realistically veto it just to spite Baring. LBJ was content to sit on it for awhile to make him sweat.
The LBJ snub may have helped Baring more than harmed him, though. The Review-Journal praised him for refusing to walk the Democratic line, and endorsed him for another term.
"Baring detected many weaknesses in administration procedures long before they popped up in the public opinion polls," the paper said.
Johnson's antipathy toward Baring went back to 1964, when Baring led the charge in the house to defeat the Civil Rights Act. (Cannon was instrumental in saving it.)
There were Confederate generals with more enlightened views on race relations than Walter Baring. In 1964, he told Review-Journal columnist Jude Wanniski, "With all these demonstrations the NAACP is violating more laws than the states are. The big thing this country has overlooked is J. Edgar Hoover's statement that the civil rights movement is communistically inspired, and J. Edgar Hoover knows what he's talking about.
"It's been shown that Martin Luther King (Jr.) is connected with several subversive groups, and yet he calls himself a reverend."
In an interview at a Lovelock casino with William Trombley of the Los Angeles Times, Baring spoke his mind on several issues, among them the United Nations: "The communists have dominated that organization since its inception, when Alger Hiss, a convicted communist, helped to found it," and college professors: "those awful ultra-left professors who are putting that pornography and other stuff into the minds of our youth."
Trombley had heard that Baring supported Alabama Gov. George C. Wallace for president, and asked him point blank if it were true.
"Are you going to quote me?' he asked Trombley, "I'm trying to stay out of that. But I will say this. Wallace is the only candidate on the presidential level who is talking Americanism.
"There, that's all right, isn't it, Charlie?" Baring asked, turning to his campaign manager, Charlie Bell. "That won't get me into trouble, will it?"
In 1964, when Baring was in a close primary race with liberal attorney Ralph Denton, Baring circulated a leaflet with a picture of Denton and a prominent black physician, Dr. Charles I. West.
"The idea," Denton recalled, "was that anybody who associated with Negroes shouldn't be elected. It was very effective." Denton lost by 1,700 votes.
In 1968, Baring weighed in on the issue of those "hippies." He was commenting on the proposal to include personal sex questions in the 1970 Census, but digressed into a harangue against the latest threat to Americanism.
"These long-haired intellectuals who look like women and go around with a flower in one hand and a pot of marijuana in the other and LSD — it is a crime to see what they are doing."
Baring was a man who could get things undone. An example was his success in denying his home state its only national park.
Sen. Bible in 1958 first proposed a national park in the Snake Mountains of eastern Nevada, one of the most spectacular ranges in the state. The area, what is now Great Basin National Park, included Lehman Caves National Monument, created in 1922.
In 1959, Bible introduced a bill to create a 147,000-acre Great Basin National Park. Baring evidently hadn't yet heard from his ranching and mining constituents, because he introduced a companion bill in the House of Representatives. During hearings before the Senate Subcommittee on Public Lands, he heard from them — loudly. Bible modified the bill to allow grazing in the park for 25 years. The mining industry protested that the park would "lock up" mineral resources in the Snake Range, though there had been little mining there. Bible conceded 24,000 acres in the northeast, which some thought contained beryllium deposits.
The bill passed the Senate easily, and went to the House, where Baring, as a member of the House Subcommittee on Public Lands, was expected to lead the push for passage of the 123,000-acre park. Instead, he drafted his own bill, paring down the park to 53,000 acres and allowing mining and grazing in perpetuity.
Interior Secretary Stewart Udall flatly rejected Baring's idea, since it contained no provision to protect the ancient bristlecone pines, the nation's southernmost glacier, or any of the region's unique natural resources.
Gov. Grant Sawyer went to Washington to try and break the impasse between Baring and Udall.
"The park is more important than the differences holding it up," he said, at the same time, describing Baring's bill as an "emasculated" version of the one passed in the Senate. Udall held fast on his insistence that the park be larger and that mining and grazing be forbidden.
Bible made a public plea to Baring to work out a compromise.
"If we cannot reach an agreement within the delegation on the scope of the proposed park," Bible said in a letter to Baring, "then we should at least agree on a course to to bring action on a park bill in both houses.
"Short of this, the Great Basin National Park is dead in the 89th Congress and probably forever. If this occurs, you should be prepared to accept full responsibility for its death."
In December 1963, The Las Vegas Review-Journal editorialized, "Congressman Walter Baring appears more bent on proving a point than he does on passing a bill to create the park."
But Baring would not budge. By 1966, the Great Basin National Park idea was all but abandoned. The park was finally established in October 1986.
Though savage in his defense of antiquated mining laws, and generally a foe of any public lands use policy that raised an eyebrow among ranchers, Baring backed a few causes that seem inconsistent with those positions.
One of those was protecting wild horses and burros. In the early 1960s he pushed a bill through Congress forbidding the use of aircraft to round up wild horses. Eleven years later, he was chief sponsor of the wild horse and burro protection law that exists today.
He also pushed for passage of the 1971 Clean Water Restoration Act, and for $1.25 billion to fund it. And he co-sponsored a bill to prohibit capturing or killing ocean mammals.
Baring worked to get a Veterans Affairs Hospital built in Southern Nevada, but succeeded only in getting an outpatient clinic.
Baring's relations with the press, which he regarded as purveyors of socialistic propaganda, were usually cool. Sometimes they were bizarre. He once sent out a press release on his testimony before a House committee, which was considering giving a medal to Bob Hope. That one may have had some news value, given Hope's many trips overseas to entertain GIs. But the one he released in the fall of 1969 left editors scratching their heads. It was a gushing, three-page, first-person account of a Washington Senators baseball game.
That same year, Baring announced he had performed his "annual pleasant task" of voting against that year's foreign aid package, which he had done practically every year since he was elected. The bill passed, but just barely.
To Baring, federal money for foreigners and domestic minorities was bad. Federal money for Nevada, in practically any form, was good.
So, Baring protested loudly in late 1968 when the Nixon administration proposed cuts in federal highway funding. The fiscal restraint the congressional conservatives had demanded of the new president did not apply to highways, he explained, nor to federally funded works projects.
Walter Baring's time had run out by 1972. Seven candidates filed for his congressional seat. In his own party, attorney James Bilbray emerged as his main primary challenger.
Only a few months into the election season, Baring was hospitalized in Reno for what his aides described as "a virus." However, it is more likely that Baring was suffering from emphysema and a weak heart, and the rumors of his ill health did not help his campaign.
Bilbray won the Democratic nomination, carrying both Clark and Washoe counties, which had grown so much that Baring's strategy of catering to "cow counties" was no longer effective. Baring, crusty as always, blasted Bilbray for running a "scurrilous, deceitful" primary campaign "based on unmitigated lies." He then endorsed Bilbray's Republican opponent, David Towell, helping him win a single term.
State Democratic Chairman Phil Carlino called Baring a "sore loser" and "a man who prefers the sour grapes of a bad loser to the dignity of well-financed retirement."
In early 1974, Baring was in Reno, sniffing the air for a whiff of political opportunity. He was interested in the Governor's Mansion — maybe.
"I've had many, many enticements to seek the governorship," he said.
But that October, Baring was back in the hospital, and this time the diagnosis was emphysema and heart strain. He was discharged, but the condition was chronic. In July 1975, he entered Hollywood Presbyterian Hospital for surgery on his hip, which had troubled him for several years. The strain of the procedure was too great, and he died of heart and lung failure at age 63.
---
Part I: The Early Years
Part II: Resort Rising
Part III: A City In Full