Walters made Clorox trades after calls with Icahn, US says
March 28, 2017 - 10:58 am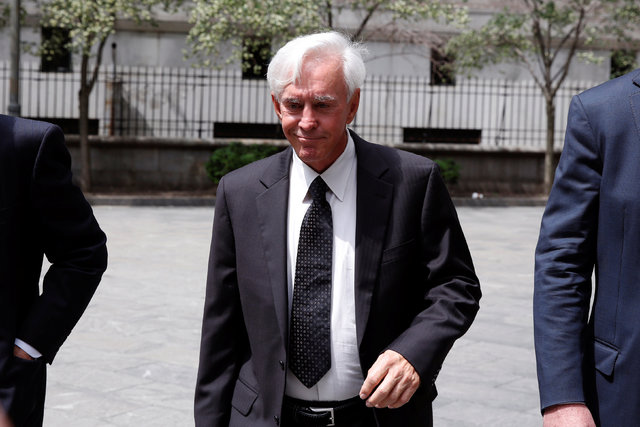 Phil Mickelson may be out as a witness at gambler Billy Walters' insider-trading trial, but prosecutors are now shifting focus to a star of the finance world.
They want to show Walters engaged in "suspicious" trading ahead of billionaire investor Carl Icahn's 2011 bid to buy Clorox Inc. Icahn is not accused of wrongdoing.
Prosecutor Michael Ferrara said outside the presence of the jury on Monday that he wants to bring in evidence of Walters' trading tied to Icahn. He said it shows how Walters liked "getting this sort of edge" about a stock. During Walters' insider-trading trial, Icahn has been described as being a friend of the gambler's.
Walters is on trial, accused of making about $43 million over six years by trading on tips provided by former Dean Foods Co. chairman Tom C. Davis. Prosecutors said late Monday they now want to call Walters' broker to refute defense claims the gambler traded in hundreds of stocks which followed an "innocent pattern."
"Mr. Walters and Mr. Icahn knew each other," Ferrara said. "Walters would call him, 'My friend in New York."'
Walters' broker, Scott Duncan, would testify that "Mr. Walters and he often discussed — that Mr. Icahn's name came up at times — because Mr. Walters did invest in some of Mr. Icahn's stock," Ferrara said. "We have an instance here of suspicious trading we think we're entitled to get in."
Prosecutors said earlier in the case that they also wanted to show evidence that Walters illegally traded Apple stock in 2013.
"Mr. Icahn has never done anything improper with respect to Clorox, Apple or any other stock, and neither the SEC nor the DOJ has ever accused him of doing anything improper with respect to those or any other stocks," Jonathan Streeter, a lawyer for Icahn, said in an email Monday, referring to the Securities and Exchange Commission and Justice Department.
Walters took a position in Clorox for a few days in 2011 just before Icahn announced his bid for the company, Ferrara said. Walters discussed Clorox with the broker and sold the stock days later, Ferrara said. The government also had other evidence — phone records of calls between Walters and Icahn before the trades, he said.
Walters used two Wells Fargo accounts that were later closed "because of the suspicious trading," Ferrara said. Duncan would testify that when FBI agents questioned him about the account closures, he was "told to be evasive."
Ferrara didn't say who told the broker to avoid answering the questions.
Walters wasn't charged over insider trading in Clorox.
U.S. District Judge P. Kevin Castel expressed skepticism over what the prosecutors planned to show, saying, "If it's one big pile of smoke, I'm not letting it in." He told Ferrara he'd have to send him a letter describing the evidence before he'd rule on whether the evidence should be presented to the jury. Castel said he would rule as early as Tuesday.
Prosecutors said last year that the probe began when they started looking into potential insider trading by Walters and others in connection with their examination of Walters' suspiciously timed profitable trades in Clorox, adding their investigation also included Mickelson and Icahn.
The government investigation centered on large option trades in the days before Icahn's $10.2 billion offer for Clorox in July 2011, prosecutors said.
Mickelson won't be called to testify because he said he'd invoke his Fifth Amendment right against self-incrimination, a defense lawyer told the judge earlier. He hadn't been accused of wrongdoing.
Paul Schoeman, a lawyer for Walters, argued that prosecutors were constantly changing their allegations about Walters' trades in Clorox stock and that it would be unfair to allow the government to introduce evidence about them.
"Mr. Walters is a friend of Carl Icahn's," Schoeman said. "They talk to each other all the time and Mr. Walters has a long history in investing in stocks that Mr. Icahn has publicly announced he's taken an interest in."
Icahn told Bloomberg TV in a June 1, 2014, interview that he has "never given out inside information."
RELATED
FBI arrests Las Vegas sports bettor Bill Walters in insider trading scheme
Walters maintains his innocence in insider-trading allegations
Man pleads guilty to theft from betting operation