War protest comes to Creech
November 25, 2009 - 10:00 pm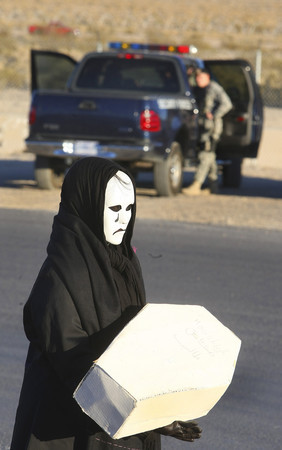 INDIAN SPRINGS — A Creech Air Force Base policeman grabbed a video camera and prepared to film anti-war protesters Tuesday near the base's east gate.
The protesters, clad in black clothes and wearing white face masks, greeted airmen arriving for work with props including white cardboard coffins that symbolized death.
But instead of videotaping the group, the security forces officer laid down his camera on the seat of his patrol truck and observed the five women from the side of the road.
If need be, the task of documenting the small contingent could easily have been done by the base's unmanned Air Force Predator or Reaper spy planes: ones with Hellfire missiles, laser-beam targeting and high-tech video cameras capable of zooming in on a few people without their knowledge from thousands of feet high and miles away.
It was that very nature of how the war in Afghanistan is fought remotely on a daily basis at Creech and other U.S. installations that the four women from San Francisco and one from here had come to protest.
On a pink cotton sheet they had painted, "Peace with Afghanistan. Troops home now." One held a peace sign fashioned from a floral arrangement.
The fifth protester, Candace Ross, priestess of Temple Sekhmet in nearby Cactus Springs, gently pounded a hand drum that sent a somber, rhythmic sound through the chilly air as she led the group to the spot along U.S. 95, about 45 miles northwest of Las Vegas.
There she traded the drum for an octagonal-shaped "Stop War" sign, one she's used since the Afghanistan war began eight years ago after the Sept. 11, 2001 terrorist attacks and during the six years since the U.S.-led invasion of Iraq.
"Nobody in Iraq was involved in that," she said about the attacks on the Pentagon and New York's World Trade Center.
"It doesn't make any sense," she said. "We went to war because civilians were killed in our country and now we're killing civilians" in Iraq and Afghanistan.
Through Dec. 2, the group intends to stage protests near the base for what they are calling "Ground the Drones, Strike and Fast." It's part of a larger nationwide effort sponsored by Code Pink, a "women-for-peace" group aimed at halting unmanned aircraft missile strikes controlled via satellite links from Creech and other bases. According to its Web site, Code Pink, named after the color-coded terrorist alert system launched by the Bush administration, wants the government to stop spending tax dollars on covert, CIA operations and Air Force missions that use armed Predators and Reapers to hunt down terrorists and enemy combatants.
"We're not against the military. We're against misuse of the military," Ross said.
Added Dianne Budd, the woman holding a cardboard coffin, "We support our troops and we want them home now."
Protest organizer Toby Blome said she hopes President Barack Obama complies with their requests to end U.S. military involvement in Afghanistan and Iraq.
"Suffering is not winning, and the G.I. suicide rate is so high, it's an indication of failure. We want Obama to earn his Nobel Peace Prize," Blome said. "Soldiers are sitting in Nevada at computers, dropping missiles on people 7,000 miles away." Many more civilians are killed than are terrorists, Blome said.
Creech officials deferred comment on the protesters' claims to a spokeswoman for Air Combat Command at the Pentagon.
"It's certainly within their right to protest however they feel but it is also the duty of the Air Force to carry out the direction of our nation's leadership," said the spokeswoman, Maj. Cristin Marposon.
As to Blome's reference to civilian deaths, Marposon said the Air Force takes "every measure possible" to minimize any loss of life in missile strikes from unmanned aircraft systems.
"This is not a haphazard operation whatsoever," Marposon said.
Nevertheless, she said, such operations are "especially challenging because the adversary purposely mingles with noncombatants to increase the risk of civilian casualties."
"Most all of the strikes are in response to our troops on the ground being in contact with adversaries. Certainly we're coming to their aid," she said.
Marposon said protests such as the one Tuesday at Creech are not uncommon. They happen all over the world at various bases and military installations.
"There are peaceful protests right outside the Pentagon when I walk in every morning," she said.
Contact reporter Keith Rogers at krogers@reviewjournal.com or 702-383-0308.