Washington Digest: House approves budget blueprint
December 14, 2013 - 10:13 pm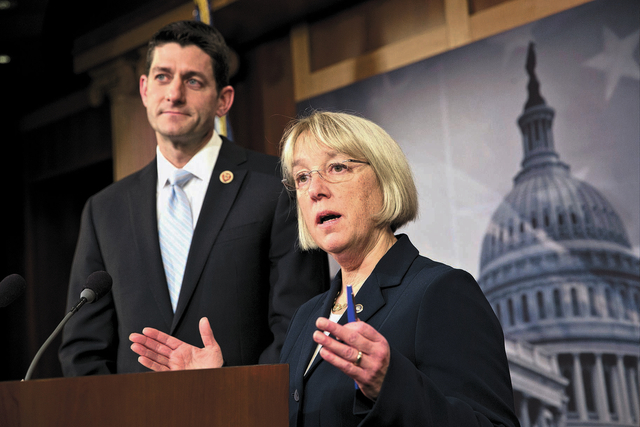 WASHINGTON — The House last week approved the blueprints for a two-year budget that seeks to break the gridlock in Congress over spending and reduce the threat of another government shutdown.
Lawmakers voted 332-94 for an agreement that authorizes $1.012 trillion in spending for federal departments in 2014, and $1.014 trillion in 2015.
The compromise brokered by Rep. Paul Ryan, R-Wis., and Sen. Patty Murray, D-Wash., restores $63 billion in spending that would have been cut under previous law. The spending would be offset with $85 billion in revenues from other areas, such as reducing cost-of-living increases for military veterans, increasing fees paid by airline passengers and raising what companies pay to have their pensions guaranteed by Uncle Sam.
The final product was advertised as only a modest step. It did not address tax reform or major changes in entitlement programs such as Social Security and Medicare. Still, the bill won backing from members of both parties weary of budget warfare that climaxed with a 16-day government shutdown in October.
Supportive Democrats said it eased automatic budget cuts put in place by the 2001 "sequester" law. Supportive Republicans said it will provide $23 billion toward reducing the deficit.
Some Democrats opposing the bill were unhappy it did not include an extension in unemployment benefits that expire for 1.3 million jobless people on Dec. 28.
Some Republicans were unhappy their party was taking its foot off the gas in its drive for deeper cuts in federal spending.
Reps. Steven Horsford and Dina Titus, both D-Nev., and Mark Amodei, R-Nev., voted for the bill. Rep. Joe Heck, R-Nev., voted against it.
The Senate is expected to vote on the bill this week.
PEDIATRIC CANCER RESEARCH OK'D
The House voted 295-103 to redirect $126 million into pediatric health research.
The Gabriella Miller Kids First Research Act was named after a 10-year-old girl in Virginia who was diagnosed with a cancerous brain tumor and died Oct. 26. The bill by Reps. Gregg Harper, R-Miss., and Peter Welch, D-Vt., would authorize money to be shifted from accounts that finance the national political conventions.
Rep. Kevin McCarthy, R-Calif., said the bill "gives pediatric research a shot in the arm."
Senior Democrats opposed the bill, characterizing it as a publicity stunt. Rep. Frank Pallone, D-N.J., called it "a disingenuous and empty attempt by the Republicans to divert attention from the fact they have voted to cut research time and time again."
Among the rank and file, 72 Democrats joined 223 Republicans in voting for the bill. Voting against the bill were 102 Democrats and one Republican.
Horsford, Heck and Amodei voted for the bill. Titus voted against it.
SENATE WADES INTO NOMINATIONS
The Senate took up a series of confirmations for federal judgeships and other government jobs, after Democrats changed the rules to allow them easier passage.
Even though Republicans were prevented from filibustering President Barack Obama's choices for the posts, the minority party still made use of Senate procedure to force the maximum time possible for debate on the nominees.
For instance, Georgetown University law professor Nina Pillard, nominated to the U.S. Court of Appeals for the District of Columbia Circuit, was confirmed about 1:15 a.m. Thursday.
Democrats said Pillard was more than qualified to become a judge.
Senate Republican Leader Mitch McConnell called her "a liberal ideologue" who would serve as an Obama rubber stamp on the court.
Pillard was confirmed 51-44, with three Democrats joining Republicans in voting against her.
Sen. Harry Reid, D-Nev., voted for Pillard. Sen. Dean Heller, R-Nev., voted against her.
Contact Stephens Washington Bureau Chief Steve Tetreault at stetreault@stephensmedia.com or 202-783-1760. Follow him on Twitter @STetreaultDC.