Water authority, state engineer appeal pipeline ruling
February 6, 2014 - 2:14 pm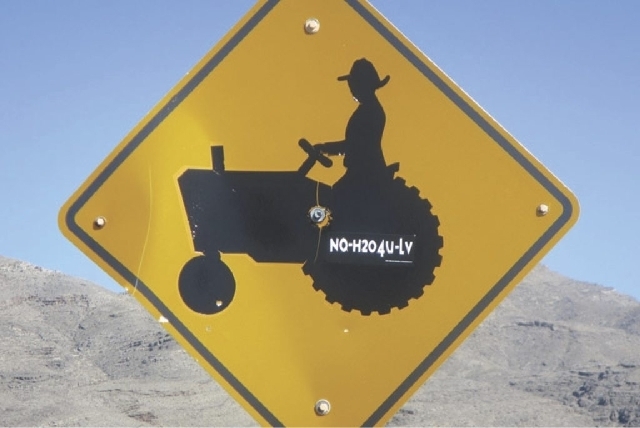 The fate of the Southern Nevada Water Authority's pipeline project is back in the hands of the Nevada Supreme Court.
As expected, both the authority and the state's top water regulator have launched appeals of a Dec. 13 District Court decision that effectively set aside water rights granted for the controversial pipeline project.
Senior District Judge Robert Estes ruled that State Engineer Jason King has more work to do before allowing the authority to sink its wells in four lonesome valleys in Lincoln and White Pine counties.
Specifically, Estes ordered King to recalculate and probably reduce how much the authority can safely be allowed to pump from Spring, Cave, Dry Lake and Delamar valleys to avoid draining the basins and causing conflicts with other water rights holders there and elsewhere.
He also directed the state engineer's office to develop a specific monitoring program and identify clear triggers for what level of damage from large-scale groundwater pumping should prompt corrective action.
The state engineer and the water authority made their plans to challenge Estes' ruling official with separate notices of appeal logged with the Supreme Court on Jan. 23.
"Now we wait," said Susan Joseph-Taylor, King's deputy administrator for water rights.
She said it could be "years" before the matter is decided. "It takes a long time to get through the state Supreme Court."
Joseph-Taylor declined to discuss the state engineer's grounds for appeal or otherwise "give away our strategy."
In a statement Wednesday, water authority spokesman J.C. Davis said the agency had "a number of issues" with Estes' decision, "including the requirement that mitigation trigger levels be established before the system is subjected to pumping stresses, and whether the court substituted its judgment for that of the state engineer regarding how long the groundwater system can take to equalize."
The Church of Jesus Christ of Latter-day Saints has filed a notice of appeal in the case. The church owns a cattle ranch in Spring Valley and had lined up against the authority's plans to pump groundwater there.
Attorney Simeon Herskovits doesn't represent the church, but he is the lawyer for many of those who have officially protested the pipeline project. He said he didn't like some of the details in Estes' decision, but he chose not to appeal because he didn't want to attack something he largely considers to be a victory for his clients.
Estes' ruling marked the second time since 2009 that a judge has stripped the authority of permission — at least temporarily — to siphon billions of gallons of groundwater a year from across eastern Nevada.
Particularly in White Pine County's Spring Valley, where the most pumping is expected to occur, Estes found the amount of water granted to the authority would prevent the basin from reaching equilibrium even after 200 years. Such so-called water mining "is unfair to following generations of Nevadans and is not in the public interest," he wrote in his 23-page decision.
The judge also pointed to serious flaws and omissions in the state's plan to monitor the impact of the project and curb any "unreasonable" damage it might cause. Estes wrote that the state doesn't even offer a clear definition of what an unreasonable impact might be.
Since 1989, Las Vegas water officials have been pushing plans to import groundwater from across eastern Nevada to supply future growth and provide a backup supply to the Las Vegas Valley, which gets 90 percent of its drinking water from an overtaxed and drought-stricken Colorado River.
Water authority officials hope to deliver groundwater to the valley from as far north as Great Basin National Park through a network of pumps and pipelines stretching more than 300 miles and costing as much as $15 billion.
Construction would take 10 to 15 years, though water could begin flowing to Las Vegas from the southernmost basins in as little as five years — assuming the authority eventually wins enough water to fill the pipeline and can successfully defend the project in court.
This will mark the third time the state Supreme Court has been asked to hear an appeal involving some portion of the pipeline project since 2009. The two previous trips to the high court resulted in more water hearings, lower-court cases and appeals.
The water authority has already spent tens of millions of dollars on permitting and prep work for its pipeline, which is expected to supply enough water for more than 300,000 homes.
The scheme has drawn fierce opposition, much of it from rural residents, ranchers, American Indian tribes, conservationists, outdoor enthusiasts and the Mormon Church.
Herskovits said he plans to file suit against the project in federal court next week.
Contact reporter Henry Brean at hbrean@reviewjournal.com or 702-383-0350. Follow him on Twitter @RefriedBrean.