'Wayne's World' on way to reality TV?
March 31, 2010 - 11:00 pm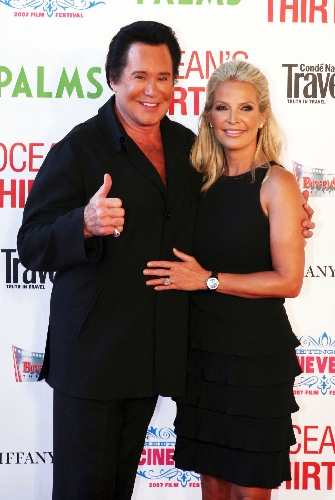 A reality show featuring Wayne Newton and the women who run his world — hence the tentative working title "Wayne's World" — is in development.
The Hollywood Web site www.TheWrap.com said it was among two potential Las Vegas projects revealed Tuesday by WE tv , a women's network.
The Wrap calls it another version of "The Girls Next Door," with Wayne playing Hef.
The women in Newton's inner circle include his wife/attorney and business manager, Kathleen McCrone; her mother, Marilyn McCrone, and Kathleen's sister, Trisha McCrone, who has served as Newton's publicist. Also in Newton's daily life:
7-year-old daughter Lauren.
Also in development is "Wild Flowers," a reality show about a flower shop operated by a group of Las Vegas ladies.
The network also pairs Joan Rivers and daughter Melissa for a reality show called "Mother Knows Best."
THE SCENE AND HEARD
We hear 92-year-old Kirk Kerkorian, MGM Mirage majority shareholder, is recovering from a fall. …
Sounds like Cheap Trick might be returning to the Hilton for more "Sgt. Pepper" shows. They are canceling some late-summer tour shows with the explanation they have been signed to do multiple dates in Las Vegas. …
Todd Kerns, the lead singer of local band Sin City Sinners, has landed the gig as bass player for Slash's new band. Next week, they hit the late-night talk-show circuit before touring. They're booked on "The Tonight Show with Jay Leno" on Tuesday, "Lopez Tonight with George Lopez" on April 8 and "The Late Late Show with Craig Ferguson" on April 9. Kerns plans to continue with the Sinners, who play every Saturday at Ovation at Green Valley Ranch. …
Las Vegas regular Pete Rose was on Howard Stern's show Tuesday with girlfriend Kiana Kim, talking about her upcoming pictorial in Playboy. She's 29, owns a hair salon in California and didn't know of Rose when they met at a car dealership. She's a former Korean Airlines flight attendant. …
Wednesday's mention of the open casting call for Donald Trump's "The Apprentice," civilian edition, inadvertently ran a day early. The event is today. Go to kararoxanne
casting@yahoo.com.
SIGHTINGS
Dixie Evans, once billed as "The Marilyn Monroe of burlesque," at the opening of Dita Von Teese's featured appearance at Crazy Horse Paris (MGM Grand). Holly Madison and Josh Strickland of "Peepshow," and Playboy Playmate Laura Croft also there. … Retired pitching great Greg Maddux, bowling with his family Wednesday at Red Rock Lanes at Red Rock Resort. … Rob Morrow, star of CBS' "Numb3rs," at "Viva Elvis" (Aria at CityCenter) on Tuesday. … Celebrity blogger Perez Hilton is in town for his birthday/TweetUp party tonight at Tao (Venetian). … At Joe's Seafood, Prime Steak & Stone Crab (Forum Shops at Caesars) on Sunday: Jerry O'Connell and wife Rebecca Romijn, and, in another group, Andrew Dice Clay, with friends.
THE PUNCH LINE
"It looks like Sandra Bullock and her husband may get a divorce. Even people who thought Ricky Martin was straight saw that one coming." — David Letterman
Norm Clarke can be reached at (702) 383-0244 or norm@reviewjournal.com. Find additional sightings and more online at www.normclarke.com.