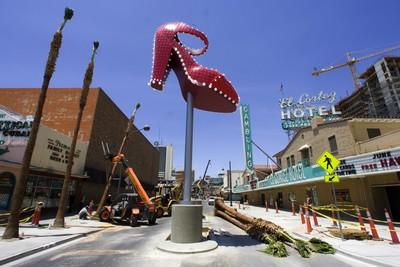 A tearful Dallas Augustine glanced at her late mother's husband and killer in court Friday.
"After hearing your indifference to my mother's suffering, I know you don't know what it is like being a human being," she told Chaz Higgs, shortly after a jury convicted him of first-degree murder in the death of former state Controller Kathy Augustine.
"I miss her every day and will miss her the rest of my life," Dallas Augustine, 27, said during a half-hour penalty phase hearing after the verdict. "Nobody ever can take away the pain."
Higgs showed no emotion as Dallas Augustine and others vented their rage over the murder, which prosecutors said Higgs carried out by injecting his wife with a paralytic drug.
Friday, the jury of eight women and four men decided that Higgs' sentence would be life imprisonment with the possibility of parole after 20 years.
District Judge Steven Kosach then confirmed the sentence, ending the 10-day trial, which was suspended for two days last week after Higgs slashed his wrists in what his attorneys described as a suicide attempt.
Phil Alfano, Kathy Augustine's brother, said he intends to live long enough to make sure Higgs is never released from prison.
"I am happy with the guilty verdict," he said. "But I am not happy with the possibility he could be paroled in 20 years. I plan to be around. If I am no longer alive, my daughters and nephews will make sure he never gets out."
MONDAY
Tahoe fire destroys homes, fouls water
A forest fire on Lake Tahoe's south shore destroyed more than 225 homes and outbuildings and clouded the lake's clear water with falling ash.
Light winds Monday gave firefighters a leg up on the blaze, and by late afternoon, it was 40 percent contained, fire officials said. The U.S. Forest Service expects full containment by the end of the week, authorities said.
About 1,000 people evacuated their homes in the popular resort area along the California-Nevada border.
TUESDAY
Traffic congestion
worries investors
Las Vegas gridlock could be bad news for investors betting on more than $25 billion worth of new resort developments, according to a report from Deutsche Bank.
With more than 170,000 hotel rooms to fill by 2012, the last thing Las Vegas needs is a reputation for congestion that could prompt visitors to go elsewhere, the report said.
Critics of the report, however, said it was overly simplistic and overlooked solutions already in the works.
WEDNESDAY
Nevadans are not
fat Americans
The first report on the overall health of Clark County residents by the Southern Nevada Health District found Southern Nevadans don't live as long as the average American, and they're more likely to suffer from chronic diseases such as diabetes.
But the health district's chief health officer, Dr. Lawrence Sands, said that despite the variations from national norms, people in Clark County are largely representative of Americans overall.
One bright spot: The obesity rate, at 21.4 percent in 2005, remains lower than the national average.
THURSDAY
Cameras planned
to curb crime
Starting in August, Las Vegas police will place surveillance cameras at Fremont and 15th streets.
Police tout the pilot project as a way to crack down on drug dealing, assaults and robberies in a high-crime area. If it's successful, the department may expand surveillance to other neighborhoods.
The American Civil Liberties Union of Nevada, however, said the cameras will invade privacy and only move crime to other areas.
FRIDAY
Erin Kenny reveals
consultant pay
Former Clark County Commissioner Erin Kenny completed testifying in the corruption trial of real estate consultant Donald Davidson.
While on the stand Thursday, testifying for the prosecution, Kenny revealed that Rhodes Ranch developer Jim Rhodes has been paying her $16,800 a month to work as a consultant. Rhodes, one of Nevada's largest homebuilders, offered Kenny a job in January 2003, after she surrendered her seat on the commission.
After Kenny, 46, pleaded guilty to accepting bribes from strip club owner Michael Galardi and began cooperating with federal authorities in 2003, Rhodes upped her pay to $201,600 a year.
Kenny, who is awaiting sentencing, said she works on projects for Rhodes and provides him with advice on government services.
COMPILED BY MICHAEL SQUIRES
READ THE FULL STORIES ONLINE AT
www.reviewjournal.com/wir
Week In ReviewMore Information