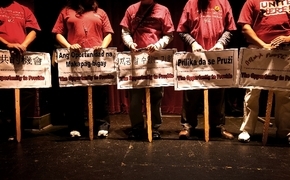 Just hours after Clark County officials served notice of a proposal to abolish the Las Vegas constable's office, the man holding the elected post was arrested on suspicion of drunken driving in his county vehicle.
Las Vegas Constable John Bonaventura was driving a county vehicle when he was stopped by the Nevada Highway Patrol Tuesday night.
Upon his release from jail Wednesday, Bonaventura disputed the police account of his arrest and hinted the whole thing was a "set-up" orchestrated by Assistant County Manager Jeff Wells and Commissioner Chris Giunchigliani.
Giunchigliani has talked for weeks about abolishing the constable's office, and now a proposed ordinance has been floated to do just that.
Since Bonaventura took office in 2011, he has attracted mounting criticism and controversy.
Monday
Booked, then banned
Troubled Assemblyman Steven Brooks was put on leave with pay and banned from the Legislative Building at the recommendation of an Assembly committee reviewing his conduct the past several weeks.
The move came one day after Brooks was arrested for the second time in less than a month, this time on charges of domestic battery and obstructing an officer.
Brooks could be expelled from the Legislature, something that has never happened in Nevada before.
Tuesday
Sahara face-lift begins
Los Angeles-based SBE Entertainment secured the last piece of the $415 million in financing needed to transform the shuttered Sahara into the SLS Las Vegas.
Interior construction and exterior design work was set to begin on Wednesday. The 1,620-room boutique hotel-casino has a planned opening in fall 2014.
SBE and Stockbridge Capital Group of San Francisco have owned the site at the corner of the Strip and Sahara Avenue since 2007. The Sahara closed in May 2011 after 59 years in operation when the aging property was "no longer economically viable."
Wednesday
There she goes
After six years in Las Vegas, the Miss America pageant is headed back to its longtime home in Atlantic City.
New Jersey Gov. Chris Christie's spokesman Michael Drewniak confirmed the news of the pageant's return.
Miss America moved to Las Vegas in 2006 in an effort to rebrand the company and the show amid waning interest and the loss of a longtime broadcast partner.
Thursday
Caught in the crossfire
Two people injured in a Feb. 8 police shooting were innocent bystanders who were just trying to sell a car to a man who turned out to be a dangerous fugitive, Sheriff Doug Gillespie confirmed.
The 22-year-old man and his girlfriend were showing the car to Roberto Antonio Torres, 33, when the wanted man saw two Las Vegas police officers and opened fire on them.
The 22-year-old, whose name was not released, was shot in the shoulder by one of the officers and hospitalized in critical condition. The woman received "superficial injuries," and it's unclear whether she was hit by police gunfire.
Friday
hall may take tark
Jerry Tarkanian took a major step toward landing a spot in the Naismith Basketball Hall of Fame by becoming a finalist for the Class of 2013.
Tarkanian, 82, coached 19 years at UNLV and guided the Rebels to four Final Fours and the 1990 national championship.
The 2013 class will be announced April 8 at the Final Four in Atlanta. The Hall of Fame induction weekend will be Sept. 6-8 in Springfield, Mass.
NUMBERS
1-5
The win-loss record in conference road games so far this season for the UNLV men's basketball team. The Rebels' overall record away from Las Vegas is 4-6.
3
Where Las Vegas ranks among America's sexiest cities, according to a publisher of personalized erotic books. Only Atlanta and Seattle finished higher. Take that, Reno.
$4.99 million
The asking price for the Searchlight Nugget Casino and much of the rest of Sen. Harry Reid's hometown, which longtime owner Verlie Doing recently put up for sale.
1,226
The current number of Moapa dace, an endangered fish found only in one small area 60 miles north of Las Vegas. The population has almost doubled since last February.
QUOTES
"There's that saying that special people see common things in uncommon ways, and he was able to look at the landscape and say, 'There's something here.'"
Dave Livermore
Talking about his uncle John Sealy Livermore, who died Feb. 7 in Reno at age 94. The geologist is credited with discovering Nevada's Carlin trend in 1961. Since then, the ore body has produced More than 70 million ounces of microscopic gold and tens of thousands of jobs.
"That's for somebody else, not me."
Harry Reid
Taking himself out of the running As a possible buyer for a big chunk of his hometown of Searchlight, though the Senate Majority Leader basically said the almost $5 million price tag for most of the town's business district is a steal.
"Sorry."
What Coach Dave Rice said to two UNLV fans as he walked toward the tunnel after the Rebels' 71-56 loss on the road to Air force Wednesday.
MULTIMEDIA
SLIDESHOW: Women dance on Fremont Street to protest violence
VIDEO: Sheriff Doug Gillespie talks about the first fatal officer-involved shooting of 2013
SLIDESHOW AND VIDEO: Tough Mudders: Mud Wrestling at Gilley's
VIDEO: Sports Illustrated swimsuit models images projected onto entire side of Caesars Palace tower
VIDEO: Love stories from eight Las Vegas couples
SLIDESHOW: Palo Verde wins first flag football championship 7-6 over Silverado
VIDEO: Western states train on quagga mussel decontamination and containment
SLIDESHOW: InFini Robinson leads referee crew during high school basketball game