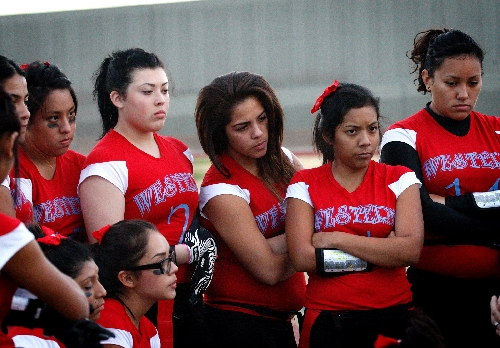 A mother was charged with child neglect after her unsupervised 6-year-old son was throwing rocks at cars and darting in front of traffic before he was struck by a school bus Monday.
Kimberly Marie Russi, 31, also known as Kimberly Dela Cruz, has an "extensive" history with the Clark County Department of Family Services, according to a Las Vegas police arrest report.
Russi allowed the boy and his 7-year-old brother to walk alone to the bus stop at Las Vegas Boulevard near Cheyenne Avenue.
The report said the bus ran over the 6-year-old's right foot, resulting an injury that could require amputation.
Monday
Plea in outbreak case
Nurse anesthetist Keith Mathahs pleaded guilty and agreed to cooperate in the criminal case stemming from the 2007 hepatitis C outbreak.
The 76-year-old could be called to testify against nurse anesthetist Ronald Lakeman, 65, and Dr. Dipak Desai, 63, who ran the clinics where the outbreak occurred.
Mathahs pleaded guilty to five counts, including criminal neglect of patients resulting in death, insurance fraud and conspiracy to commit racketeering.
Tuesday
Sandoval bucks GOP
Breaking ranks with his fellow Republican governors, Brian Sandoval said he will support expanding Medicaid eligibility in Nevada as called for under the federal health care law to provide coverage for the state's neediest residents.
Sandoval told the Associated Press that while he opposed the health care law, his decision will help tens of thousands of Nevadans.
The first-term governor said expanding coverage will add 78,000 residents to the state's Medicaid rolls but will save the state $16 million in mental health programs that otherwise would be paid for out of the state general fund.
Wednesday
Dozens of dozens
Thousands of people got married or otherwise tested their luck in Las Vegas to mark 12/12/12, the last time in this century that numbers on the calendar will line up like that.
A wedding chapel and a radio station teamed up to host a 12 p.m. wedding for 12 couples.
Nearby at University Medical Center, Briana Suarez was born by cesarean section at 12:12 p.m. on 12/12/12. She declined comment.
Thursday
FBI raids limo company
The owner of a limousine service and two of his top aides were among those arrested by FBI agents in a multimillion-dollar racketeering conspiracy involving allegations of prostitution, drug trafficking and fraud.
Charlie Horky, 52, the CEO of CLS Las Vegas, a limousine service operating here since 1994, was released on his own recognizance after pleading not guilty in court to conspiracy and fraud charges.
The company calls itself a 24-hour chauffeur service that has contracts with a dozen Strip resorts.
Friday
Police visit schools
Las Vegas police sent officers to all 300 public and private schools in the city to ease fears after a gunman walked into an elementary school 2,500 miles away in Newtown, Conn., and killed 20 children and six adults . He had killed his mother earlier.
Police had no word of a copycat but mobilized to "lower the fear," said Deputy Chief Kevin McMahill, noting that parents and those at schools were noticeably on edge.
The Clark County School District has its own independent police force of about 140 officers, but district police often partner with city police and allow access to campuses, as it did Friday, school police spokesman Lt. Ken Young said.
NUMBERS
110
Title fights officiated by Mills Lane, the iconic boxing referee from Reno selected Monday for induction to the International Boxing Hall of Fame.
3.2 million
How much, in acre-feet, annual water demand could outstrip supply on the Colorado River in 50 years, according to a new federal study.
300,000
How much, in acre-feet, the state of Nevada gets each year from the Colorado River, which supplies the Las Vegas Valley with 90 percent of its drinking water.
4
Where Las Vegas ranks among U.S. cities where people think they are most likely to get into an accident with a rental car.
QUOTES
"This is one of the biggest predictable human catastrophes in the history of America."
George Bartzokis, UCLA researcher, talking about the growing threat of Alzheimer's disease, which he said could claim the lives of almost 10 million baby boomers.
"I've spent the better part of a year struggling with (the fact) that I couldn't help the most important veteran in my life – my brother."
Rudy Gibson, a state veterans representative for Nevada Job Connect whose brother, Stanley, was killed by Las Vegas police in a controversial shooting one year ago last week.
"If I had a quarter, not a dollar, but just a quarter for every time I've heard somebody yell out at one of our games, 'Where's Shirley?' we wouldn't be having this conversation."
Richard Reed, head coach of La Verne, a Division III school that lost big to the UNLV basketball team at Orleans Arena Thursday night. The private school in La Verne, Calif., has an enrollment of 1,700.
"I'm not a very good dad."
Traci Roberson, who has essentially been a single mother for the past 11 months as her husband, Cpl. Eric Roberson, was deployed to Afghanistan with his North Las Vegas-based Army Reserve company. the Vegas Desert Rats, as the unit is known, was expected back in Las Vegas this weekend.
MULTIMEDIA
lvrj.com/multimedia
VIDEO: Thomas & Mack transformation
SLIDE SHOW: Round 7 of the Wrangler National Finals Rodeo
SLIDE SHOW: 12/12/12 weddings
SLIDE SHOW: Western High School flag football
SLIDE SHOW: Saddle bronc riding in Round 6 of the NFR
VIDEO: Attorneys for Desai and Lakeman seek dismissal of murder indictment