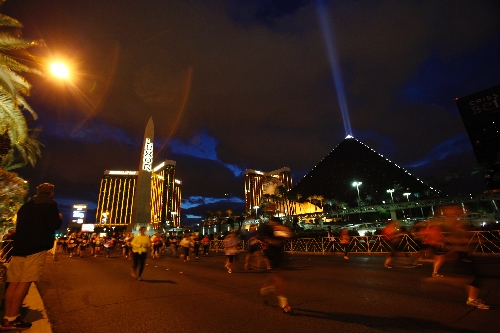 Top officials at the Clark County School District and the county Department of Family Services are reviewing the actions of employees in the case of a 7-year-old boy who was beaten into a coma just hours after officials at his school called the child welfare hotline to report suspicions of abuse at the boy's home.
Social workers never responded to Roundy Elementary on Nov. 28, and Roderick "RJ" Arrington went home. That night, the boy was severely beaten, Las Vegas police said. He was hospitalized the next day and died Nov. 30.
Dina Palmer, 27, and Markiece Palmer, 34, have been charged with murder and multiple counts of child abuse.
The response by school and child welfare workers is under review to determine if more could have been done to stop the abuse and save RJ's life.
Monday
Arena or no arena?
Seven months after boasting that financing for a sports venue was "fully approved," would-be arena developer Chris Milam was looking to meet with Henderson city officials to discuss why the project was no longer viable.
Milam disputed that his $650 million arena was a fraud.
But City Attorney Josh Reid has asked the Bureau of Land Management to halt the sale of about 480 acres of federal land to Milam, who Reid said was marketing the property as residential real estate.
Tuesday
Don't call it an inquest
Clark County commissioners will consider a whole new way of reviewing police shootings next month.
The process, pitched by Commissioners Steve Sisolak and Larry Brown, would not be called an inquest, would not have a jury, would not be in a courtroom and would not include testimony by witnesses or officers.
It would be a public hearing where the department's lead investigator into the death, the prosecutor who ruled the death legal and possibly the medical examiner who performed the autopsy would answer questions before a district attorney, an ombudsman representing the family and a hearing master.
Wednesday
Gay marriage fight
A group that opposes gay marriage asked the U.S. Supreme Court to take up a challenge to Nevada's ban on same-sex unions.
The Coalition for the Protection of Marriage said the case crystallizes the fundamental question of whether the legal definition of marriage should be changed from a man and a woman to the union of any two people.
The coalition filed documents asking the Supreme Court to take the case before it is heard by the 9th U.S. Circuit Court of Appeals in San Francisco.
Thursday
Ruling may mean cuts
Clark County must raise taxes or reduce services in such areas as police and hospital care because a state Supreme Court decision forces it to pay a minimum of $18 million more to the Southern Nevada Health District.
So says county spokesman Erik Pappa after the high court's ruling that the county illegally underfunded the health district last year.
Pappa said the county can't afford the payment and must cut services or raise taxes.
Friday
Cabbies vote to strike
Union drivers at Las Vegas' second-largest cab company have voted in favor of a strike, although it would not start until Dec. 16 at the earliest.
The drivers belonging to Industrial Technical Professional Employees Union Local 4873 approved a strike by what a union spokesman called an "overwhelming margin."
This came after drivers rejected a proposed five-year contract offered by Yellow Checker Star Transportation, which holds permits for one-fourth of the cabs in Las Vegas.
NUMBERS
10th
Career all-around title – and a record seventh in row – sought by Trevor Brazile at the National Finals Rodeo now under way at the Thomas & Mack Center.
15,593
The approximate age in years of two leg bones from a saber-tooth cat recently discovered in the fossil-rich Upper Las Vegas Wash.
$72 million
Minimum that casino mogul Sheldon Adelson donated to Mitt Romney and other Republicans during the 2012 race, according to the latest campaign filings.
88 years
How long you'll have to wait for three numbers to line up on the calendar again the way they will on 12/12/12. So, if you don't get married Wednesday, don't bother.
QUOTES
"No child should ever have to suffer the way Roderick did, and the loss of any child's life is tragic."
Part of a statement issued by the Clark County Department of Family Services, which has launched a review after 7-year-old Roderick "RJ" Arrington was beaten into a coma within hours of officials at his school calling the child welfare hotline to report suspicions of abuse at the boy's home. The boy died two days later.
"We have rides that would knock your socks off if they weren't off already."
Shawn Hassett, developer of Cowabunga Bay, a $23 million waterpark planned in Henderson. It's slated to open Memorial Day Weekend, the same time as the new Wet 'n Wild Las Vegas waterpark is expected to open in the southwest valley.
"We knew it had to be there. There was all this amazing lunch everywhere."
Kathleen Springer, senior curator for California's San Bernardino County Museum, talking about the recent discovery of bones belonging to a saber-tooth cat that lived and died at the northern edge of the Las Vegas Valley roughly 16,000 years ago. The "lunch" in question included mammoths, camels, horses, bison and other large, ice age herbivores that also called the area home.
MULTIMEDIA
lvrj.com/multimedia
VIDEO: Pearl Harbor survivor from the USS Arizona remembers Dec. 7, 1941
SLIDE SHOW: Miss Universe contestants arrive in Las Vegas
VIDEO: USS Wasp survivor's story comes full circle to Pearl Harbor
SLIDE SHOW: Wrangler National Finals Rodeo opens in Las Vegas
VIDEO: Pacquiao vs. Marquez IV "This will be another war"
VIDEO: Sports Betting Spotlight: College Bowl Preview Part 1