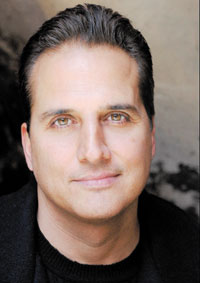 It's going to be an extra-lefty Las Vegas for a few days. President Barack Obama is in town, hanging with Sen. Harry Reid. And Monday, you can pay $35-$150 to see Bill Clinton talk about humanity at Caesars Colosseum.
If you're a political righty, your best choice for counterprogramming is libertarian Nick DiPaolo. He performs Saturday at the Palms' new comedy Lounge.
On Clinton: DiPaolo used to say the Clinton presidential library would be the only one with an adult section.
On Obama: "I like him personally. But he lost me with waterboarding. Waterboarding isn't torture.
"If it is, somebody should investigate the girl that shampoos my hair at Supercuts. Last week while she was rinsing me, I admitted to killing Natalee Holloway."
On Larry the Cable Guy: DiPaolo once joked that Larry the Cable Guy (a friend of his) changed his real name, Dan Whitney, because it had the word "wit" in it.
Larry the Cable Guy is here, too. He performs tonight at Primm's Terrible's ($39-$99).
In today's Neon, Cable Guy tells me how he met his Vegas wife backstage here five years ago, when she was a DJ at KOMP-FM, 92.3.
On Larry the Cable Guy's wife: "She is really, really good lookin'," DiPaolo says.
WEEKEND PLANNER
DiPaolo ($40) is also competing for ticket dollars against Don Rickles (Saturday and Sunday at The Orleans; $83-$110); Tony Bennett (Friday-Saturday at Las Vegas Hilton; $92-$125); Brad Paisley with Miranda Lambert (Saturday at Mandalay Bay; $61-$82); and Sinbad (tonight at Treasure Island; $55-$77).
The Palms, however, is stacking the deck for DiPaolo. Appearing at his show: the latest Playboy Playmate.
PRESIGHTINGS
At 6 tonight, Aria's "Viva Elvis" opening red carpet promises Priscilla Presley, Ryan Seacrest, Wynonna Judd, Scott Weiland, Neil Patrick Harris with mate David Burtka, Justin Long, Peter Facinelli with mate Jennie Garth, Chris Noth, Regis and Joy Philbin, Taye Diggs, Perez Hilton, Malin Akerman, Jeff Probst and many others. … Perez does his own carpet at 11 tonight at Palazzo's Lavo. … His namesake Paris Hilton walks a carpet at 10 p.m. Saturday at The Venetian's Tao. … Kourtney Kardashian's carpet is midnight tonight at Mirage's Jet. … And Hawaiian Tropic Zone at Planet Hollywood closes its doors after a blowout Saturday.
MY MESSAGE TO OBAMA
Stop bagging on Vegas. We voted for you, crazypants. Stop reading about Lincoln. And start reading LBJ biographies.
Doug Elfman's column appears Sundays, Mondays, Tuesdays and Fridays. E-mail him at delfman@reviewjournal.com. He blogs at reviewjournal.com/elfman.