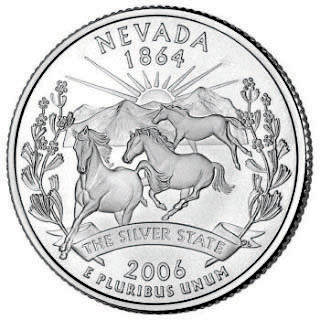 Editor's Note: Nevada 150 is a yearlong series highlighting the people, places and things that make up the history of the state.
In Nevada, you either love wild horses or hate them. Clearly more residents love them because in a public vote, conducted by then-state Treasurer Brian Krolicki in 2005, a scene of wild horses running across the desert was selected for the front of Nevada's state quarter.
School children, in particular, voted for the wild horse design. Sorry, ranchers. About half of the nation's wild horses live in Nevada, ranging from north to south.
Congress decreed in 1999 that each state should be given a special quarter and states were given an opportunity to select their themes. Since collectors would save many of the coins, the state quarter program was a money-making operation. The coins were minted in order of the particular state's admission into the union.
As the 36th state, Nevada's wild horse coin was minted in 2006 — 589.8 million in all over a 10-week period. That year the U.S. Mint held a special ceremony in Carson City in which people could buy the quarter. About 1,000 people bought them by the thousands.
Some Nevadans complained about the quarter design. They said the slot machine, or a gaming table, best symbolized the state. But Krolicki pointed out that the U.S. Mint would not allow gaming scenes.
The horse design was selected as the eighth-best quarter by Daily Finance website readers after all quarters were minted in 2008. Eighty-six percent of the respondents liked the design. Alaska's quarter showing a bear eating a fish was the most popular, while Idaho's peregrine falcon design was the least liked.

Celebrating the Silver State