Wild Horses: Preservation program flies out of control
December 18, 2011 - 12:43 am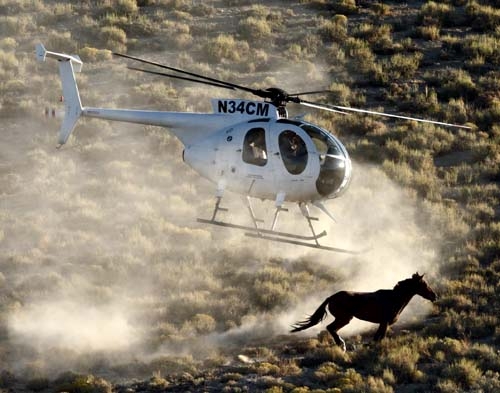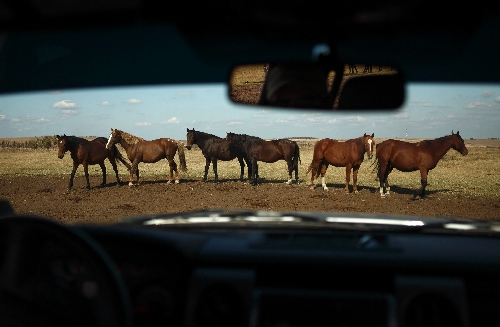 SHANTY TOWN —
"Call him off, Ben. Call him off …"
Laura Leigh's words echo across the desert valley, then die.
An hour earlier, the sun had risen over the Great Basin, revealing a vast and desolate high desert watershed known as the Big Empty.
Buck, Bald and Butte mountains vie for majesty here in northeastern Nevada, where wagon trains made perilous journeys during the 1800s gold rush that built the West.
Wagon wheel ruts mark the valleys still, permanent scars in a harsh land of survivors.
It is here where man and beast remain at war.
It is here where ranchers who gave the cow counties their nickname compete for scarce resources with America's last wild horses.
It is here where the mustangs are legally protected as "living symbols of the historic and pioneer spirit of the West."
And it is here where, 40 years after a 1971 law put the Bureau of Land Management in charge of preserving those wild horses, the program is as out of control as the untamed animals themselves.
Like a devalued foreclosed home, the program is upside down: The BLM is holding more wild horses — 41,000, mostly in Midwestern pastures — than are roaming 10 Western states — about 33,000.
And the cost to taxpayers is soaring as the BLM expands its welfare agency for aging wild horses. More than half of its entire 2012 wild horse and burro budget is for holding costs alone — $43.2 million of $75.8 million. And this year's total budget is nearly double just two years ago.
Overall, the BLM has spent at least three-quarters of a billion dollars to manage wild horses and burros in the past 40 years. During that time, the agency has rounded up at least 260,000 animals in an attempt to control where mustangs roam and contend with a runaway reproduction rate that has herds doubling every four to five years.
Most of those wild horses have been adopted, but the economic downturn has cut the adoption rate in half, revealing the program's flaws.
"If you want to learn how badly your public lands are managed, just look at the wild horse program," says Leigh, who has closely followed and challenged the roundups for two years. "It's not working at all."
This is one thing on which wild horse advocates and ranchers can agree.
"We can't sustain it," says J.J. Goicoechea, president of the Nevada Cattlemen's Association and a fourth generation rancher. "They cannot be warehousing horses in the Midwest. … And we've got to get the number of horses that are on the range down."
Nobody's happy.
Wild horse advocates complain BLM is managing mustangs to extinction by inhumanely rounding up too many. Ranchers and their allies argue the agency must pull more off the overgrazed range and sell the excess — including for possible slaughter — to cull growing herds.
Caught in the middle, the BLM plans to remove at least 15,000 more wild horses from the West during the coming two years, contending the public land can support only 26,600 mustangs and burros. About half live in Nevada, mostly in rugged places where capture isn't easy.
"We have these living legacies of the American West we would like to have for future generations," says Joan Guilfoyle, head of the BLM's Wild Horse and Burro Division.
"But there's only so much land for these animals to live on in balance with all the other uses."
CLOSE ENCOUNTERS
On this August morning, the battle rages under a brilliant sky.
Chased for miles by a low-flying helicopter across the desert floor, a wild horse finally loses its wind on a sage-covered hill. The pilot, stirring up a choking dust, swings lower, so close a landing skid appears to give the mustang's rear a bump.
The horse jumps then begins trudging uphill, head low, pumping up and down with effort. Intent on escaping the thumping beast, the mustang moves farther from a carefully laid BLM trap below.
Leigh sits on a hill on the other side of the trap, videotaping the encounter. She urges Ben Noyes, the BLM specialist in charge, to call off the pursuit, a futile plea since Noyes can't hear her from the trap site 700 feet below.
The close helicopter chase ends after several minutes. Two wranglers on horseback ride out to rope the loose mustang, a "waspy" critter, the wiliest of wild horses and hardest to catch.
The mustang is fine but the damage has been done.
After viewing Leigh's video, a judge in Reno bans using the helicopter to finish the roundup. U.S. District Court Judge Howard McKibben rules that the chopper had flown "dangerously or unreasonably" close to the mustang, violating the Wild Free-Roaming Horses and Burros Act of 1971.
Score one for the wild horse advocates.
As a result of the court action, the BLM conducted an internal review of the helicopter incident and the entire Triple B roundup, which captured 1,269 wild horses.
Videotapes showed isolated cases in which mustangs were struck in the face, kicked in the head, dragged by the neck with a rope, and shocked with electrical prods, mostly as wranglers loaded them into trailers.
The review concluded that "no single incident offered a consensus among animal welfare experts that horses were treated inhumanely." Nonetheless, the BLM said it would set new standards for more humane handling of wild horses.
"Aggressive and rough handling of wild horses is not acceptable and we are actively taking steps to ensure that such behavior is not repeated," BLM Director Bob Abbey said in releasing the report on Dec. 7.
WILD HORSE ANNIE
The Triple B gather and helicopter incident was but the latest skirmish in the long-standing conflict among animal rights activists, the BLM and Western ranchers. The cattlemen see wild horses as feral pests that overgraze public lands, violate private ranges and trample vital water holes.
The act, signed into law on Dec. 15, 1971, provides federal protection to the wild horses that are descendants of the Spanish mesteño, or mustang, and other breeds set loose here in the past half century.
It signaled an end of an era. No more cowboys and Indians chasing, capturing and killing wild horses — from the tall-grass Midwestern prairies to the snow-covered mountains and desert valleys of the wild West, an ungentle place resistant to rules.
The law ended the practice of hired-gun mustangers rounding up wild horses and selling them for riding, rodeos and slaughter — for pet food and glue factories as well as for meat markets in Asia and Europe.
By 1971, the free-roaming mustang population that may have peaked at 2 million in America had dropped to as few as 9,500 animals.
Velma Johnston, a Reno secretary also known as Wild Horse Annie, was the force behind the law, becoming an advocate after she saw blood dripping from a truck on its way to a slaughterhouse.
The issue captured the imagination of children who wrote letters to Congress protesting wild horse roundups and slaughters. And it got Big Screen treatment, too, in the 1961 film, "The Misfits." The movie starred Clark Gable as a mustanger and Marilyn Monroe as the woman who convinced him to stop hauling horses off to be butchered.
"You kill them?" Monroe's character asked.
"I thought you knew that. Everybody knows that," he said.
Not everyone did. And once Johnston's Wild Horse Annie got involved, she made it the government's job to save the mustangs.
'EVERYONE SEES BLACK BEAUTY'
From the very start, the BLM program has been troubled.
During the 1980s, it generated controversy when the wild horse population peaked at about 60,000 on the range. The BLM began waiving adoption fees, which sent thousands of horses to inhumane facilities where they died of starvation and dehydration, according to a 1990 General Accounting Office report. Hundreds also were sold to slaughterhouses, the GAO said.
Stung by the GAO's investigation, the BLM began pasturing excess wild horses. It signed its first contract with a long-term holding facility in the Midwest to care for the horses until the end of their lives, saving them from slaughter, but at taxpayer expense.
When the pastures began filling up, the law was amended in 2004 to give BLM authority to sell excess wild horses "without limitation." Dozens ended up in the slaughterhouses to great public outcry.
In response, the agency set rules to require buyers to sign a letter pledging not to send mustangs to their commercial deaths.
"When people see wild horses, everyone sees Black Beauty, My Friend Flicka, Trigger, Sea Biscuit," says Debbie Collins, a marketing specialist for the BLM. "It's kind of like dogs and Lassie."
If the BLM could adopt out 6,000 to 7,000 wild horses every year, the program would be in balance, but adoptions have dropped off to less than half that because of hard economic times, Collins said.
"Now," she says, "we're overwhelmed."
With holding costs skyrocketing and slaughter off the table, the BLM has been trying harder to turn around the program. Since 2009, BLM Director Bob Abbey has launched scientific studies and new strategies to cut reproduction among free-roaming wild horses and get a solid count of animals on the range.
And under pressure from Congress, the BLM also is exploring private-public partnerships to create eco-sanctuaries where tourists can see wild horses.
Madeleine Pickens, the wife of billionaire T. Boone Pickens, has been working for several years to open a mustang sanctuary on two ranches she purchased outside Wells and about 570,000 acres of public land on which she holds grazing rights. Initially, the BLM rejected her proposal, but it now is considering her project as part of a formal review process.
"Nobody came before representing the horses because they didn't have anything to gain," Pickens says. "There was no money to be made off the horses, which is one of the greatest resources that we have in this country. I liken it to a city that has a river that flows through it. The river brings life. It's the same with horses."
LITTLE ROOM FOR COMPROMISE
Government, however, moves slowly.
Guilfoyle, head of the wild horse program since August, says that it could take some time to perfect a better birth control vaccination for mares that would last more than a few years.
The current annual reproduction rate is 15-20 percent. And it could take years to finally approve eco-sanctuaries, which may one day cut holding costs or at least keep them from escalating.
"These things don't get turned around very quickly," Guilfoyle acknowledges.
Meanwhile, the BLM won't sell mustangs for slaughter despite growing pressure from ranchers and the horse industry.
"We don't see the public support for it," says BLM spokesman Tom Gorey. "Nor do we see it happening."
Ultimately, the courts may decide.
The Nevada Association of Counties is preparing to lead a coalition of ranchers, hunters, environmentalists and others to file a "friendly lawsuit" to force BLM to keep the mustang population down on the range. That could mean more roundups and fully using the sale authority the agency won in 2004, including lifting its slaughter ban.
"We can't as a society continue to pour money down a rat hole," says Goicoechea, of the Nevada Cattlemen. "We're spending millions of dollars a year to maintain the horses in long-term holding."
Activists contend that would destroy the very intent of the 1971 act: to let wild horses roam free in the West, unmolested and untamed.
"Ranchers hate horses: it's like a religion," counters Pickens. "They're brought up hating the horse. The horse, he doesn't seem to count."
With little room for compromise, the standoff persists with wild horse rescuers versus the ranchers. The BLM is the unpopular referee.
And then there are the mustangs — manes flying, hoofs pounding, hearts racing — defying capture and control for centuries, running faster, running farther and some still running free in America's last open spaces.
"They're not wildlife. They're not pets. They're wild horses," says BLM spokesman Chris Hanefeld of Ely.
"They're unique unto themselves."
WILD HORSES
Unbridled Passions, Untamed Costs
BY THE NUMBERS
2,000,000
Peak estimate of wild horses roaming the United States a century ago.
9,500
Rough estimate of wild horses and burros on Western ranges before the 1971 Wild Free-Roaming Horses and Burros Act passed.
25,345
Estimate of wild horses and burros roaming the West from a BLM census after the 1971 Act passed.
17,300
Census estimate of wild horses on the range in 1971.
8,045
Census estimate of burros on the range in 1971.
26,600
Appropriate level of wild horses and burros the BLM estimates 10 Western states can support, about half in Nevada.
60,000
Peak wild horses and burros roaming the West since 1971 before the BLM began aggressive helicopter roundups.
38,500
Wild horses and burros now roaming 10 Western states, about half in Nevada.
33,000
Wild horses now on the Western rangeland.
5,500
Wild burros now on the Western rangeland.
12,000
Excess Wild horses and burros now on the rangeland.
10,255
Wild horses and burros removed from Western ranges in BLM roundups the past year.
9,715
Wild horses removed from the range.
540
Burros removed from the range.
2,888
Adoptions of wild horses and burros in fiscal 2011.
41,000
Wild horses and burros in holding facilities.
30,010
Wild horses in long-term pastures in the Midwest.
11,230
Wild horses in short-term corrals.
630
Wild burros in short-term corrals.
260,000
Wild horses removed from West since 1971.
225,000
Wild horse adoptions since 1971.
5,000
Wild horses and burros sold by the BLM since 2005.
53,800,000
Acres on which wild horses and burros were believed to roam when the 1971 Act first passed.
31,600,000
Acres on which the BLM now manages the wild horses and burros after determining herd boundaries.
$75,800,000
Wild horse and burro budget for fiscal 2012.
$43,200,000
BLM budgeted holding costs for fiscal 2012.
$744,000,000
Total BLM has spent on wild horse and burro program since 1981 when the agency began keeping separate account.