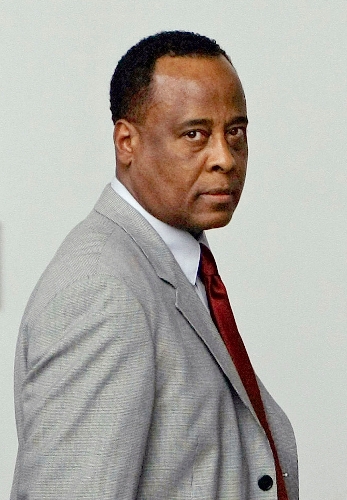 LOS ANGELES — Michael Jackson's doctor halted CPR on the dying pop star and delayed calling paramedics so he could collect drug vials at the scene, according to documents obtained by The Associated Press that shed new light on the singer's chaotic final moments.
The explosive allegation that Dr. Conrad Murray, who works as a physician and has a home in Las Vegas, may have tried to hide evidence is likely to be a focus as prosecutors move ahead with their involuntary manslaughter case against him.
The account was given to investigators by Alberto Alvarez, Jackson's logistics director, who was summoned to the stricken star's side as he was dying on June 25. His statement and those from two other Jackson employees also obtained by the AP paint a grisly scene in Jackson's bedroom.
Alvarez told investigators that he rushed to Jackson's room and saw the star lying in his bed, an IV attached to his leg. Jackson's mouth was agape, eyes open and there was no sign of life. Murray worked frantically, at one point performing mouth-to-mouth resuscitation while Alvarez took over CPR.
Two of the star's children, Prince and Paris, came in the room and cried as they saw Murray trying to save their father. A nanny was called to usher them away .
The documents also detail an odd encounter with Murray after Jackson was declared dead at a nearby hospital. Murray insisted he needed to return to the mansion to get cream that Jackson had "so the world wouldn't find out about it," according to the statements, which provide no elaboration.
Murray's lawyer Ed Chernoff rejected the notion his client tried to hide drugs. He also noted Alvarez was interviewed twice by police and gave different accounts of what happened in Jackson's bedroom. During the first interview, Alvarez made no mention of being told to tidy away medicine vials.
"He didn't say any of those things, then two months later, all of a sudden, the doc is throwing bottles into the bag," Chernoff said.
Alvarez and Jackson's assistant Michael Amir Williams and driver/bodyguard Faheem Muhammad may be key witnesses in the case.
A call to Alvarez's attorney was not immediately returned.
Jackson, 50, hired Murray to be his personal physician as he prepared for a series of comeback performances in London.
The Los Angeles coroner ruled Jackson's death a homicide caused by an overdose of the powerful anesthetic propofol and two other sedatives given to get the chronic insomniac to sleep.
Murray, 57, has acknowledged briefly leaving Jackson's bedside the day he died but maintained from the outset that nothing he gave the singer should have killed him.
CALIFORNIA MOVES TO SUSPEND MURRAY'S LICENSE
LOS ANGELES — California Attorney General Jerry Brown's office wants Michael Jackson's doctor to have his license suspended as a condition of his bail in his involuntary manslaughter case in the singer's death.
The attorney general's office has filed a legal motion on behalf of the Medical Board of California ahead of an April 5 hearing for Dr. Conrad Murray.
Calling Murray's conduct "reprehensible," Brown now wants Murray's license suspended until the criminal case is wrapped up.
Murray is already prohibited from administering anesthetics after the singer's death from a sedative overdose.
Murray's lawyerEd Chernoff said Monday the move was unnecessary and could have damaging consequences for the doctor's ability to work in Nevada and Texas, where he has medical practices.
THE ASSOCIATED PRESS