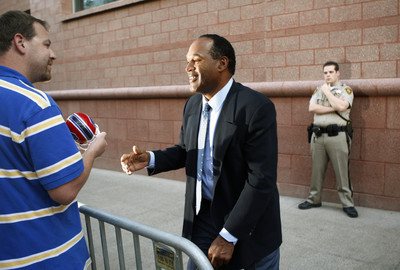 O.J. Simpson and auctioneer Thomas Riccio had talked for weeks about their sting to surprise some memorabilia dealers and retrieve hundreds of treasured Simpson family photos, Riccio testified Thursday.
Yet hours before the operation was to go down last September, Riccio learned that the photo collection, which included pictures of Simpson's young children and dead parents, would not be brought to the Palace Station hotel room where the meeting was taking place, he said.
"I told them we could call everything off, if they wanted to," Riccio said, referring to a call to Simpson associate Charles Ehrlich.
The plan went forward anyway, with Simpson and five other men, two of whom had guns, bursting into the room and walking away with thousands of dollars of sports memorabilia, including some Simpson footballs and memorabilia from other sports legends, authorities said.
Four of the men, including Ehrlich, have pleaded guilty and agreed to testify, leaving Simpson and co-defendant Clarence "C.J." Stewart on trial on charges including armed robbery and kidnapping.
Simpson's lawyers have said he didn't intend to commit any crime and was merely trying to recover his stolen family heirlooms on Sept. 13, 2007. They also said Las Vegas police unfairly targeted Simpson because of his past. In 1995, Simpson was acquitted of slaying Ronald Goldman and Simpson's ex-wife, Nicole Brown Simpson.
Riccio, who auctions off oddities and celebrity memorabilia, took the stand for the first time Thursday on day four of testimony.
The plan to take back Simpson's photos began when Riccio was contacted in early August 2007 by memorabilia dealer Alfred Beardsley, a man whom had ripped him off several years earlier in an autograph deal involving Simpson, Riccio testified.
Beardsley told Riccio he was brokering the sale of Simpson items, including some sports memorabilia that was stolen from Simpson's trophy room and the family photos, which were sold off when Simpson's mother fell behind on her storage bill, Riccio said.
Riccio then called Simpson about the property, he said.
"He was really excited about getting a lot of his stuff back," Riccio said. "It was personal stuff that he wanted."
Riccio said he wanted to help Simpson, who had been nice to him, and get back at Beardsley for the failed business deal. He also wanted to boost his bottom line, he said.
In exchange for Riccio's help, Simpson agreed to sign 200 copies of the book "If I Did It," which Riccio could sell for about $200 each.
Riccio worked with Beardsley to arrange the meeting with an undisclosed memorabilia owner. During the talks, Beardsley sent Riccio two lists of items. One included some of Simpson's one-of-a-kind sports mementos, including game footballs. The second list included photo albums that held thousands of Simpson's personal family photos, Riccio said.
Meanwhile, Riccio contacted the FBI and Los Angeles police, hoping they would join the effort to recover what he believed to be Simpson's stolen property. Both agencies declined, saying the disputed property was a civil matter, he said.
Simpson told Riccio they couldn't do the deal in California, where the property might be seized to help satisfy a $33.5 million civil judgment levied against Simpson. Although acquitted of criminal charges, Simpson was found liable in a wrongful death lawsuit filed by relatives of Goldman and Nicole Brown Simpson.
They settled on Las Vegas, Riccio testified.
Riccio met Simpson at the Palms pool on the afternoon of the incident. He secretly recorded that conversation and a handful of others in the following days. Riccio's recorder also captured the hotel room confrontation.
Simpson, Riccio and Ehrlich sat poolside and discussed the details of their operation, Riccio said.
"So they gonna meet tonight," Simpson said, according to transcripts. "I'm gonna show up with a bunch of the boys and take the (expletive) back. They can't do nothing about it."
The plan involved Ehrlich posing as the buyer and verifying that the property was Simpson's, according to the recording. Once he did, the other men would come into the room and confront the sellers.
Simpson is also heard on the recording saying he hoped to recover his family photos.
"I just want my private pictures," he said. "The rest of it I don't give a (expletive) about."
But sometime after the poolside meeting, Beardsley told Riccio that the family photos would be included in a different deal, not the one set up for that evening, Riccio said.
During opening statements, Simpson lawyer Yale Galanter called the incident a "recovery, not a robbery."
On Thursday, Simpson's lawyers accused Las Vegas police of targeting him because of the double-murder case.
"You had the prosecutorial equivalent of a feeding frenzy," Gabriel Grasso said.
They referenced a remark by a police crime scene analyst that was captured on Riccio's digital audio recorder, which was hidden in the hotel room while police conducted their investigation.
"California can't get him. Now we'll be able to — blank — got him," Galanter said, reading from a transcript of the recording.
Detective Andy Caldwell, the case's lead detective, testified that the analyst was a civilian employee who was quoting someone else.
Caldwell had testified a day earlier that he and his colleagues wanted to be as thorough as possible with their investigation because of the scrutiny that would accompany Simpson's high-profile status.
When Galanter questioned Caldwell on Thursday on why he didn't look further into claims that night that the property taken from the Palace Station had been stolen from Simpson, Caldwell said it wouldn't have made a difference.
"Ownership is not an issue with robbery," he said.
Contact reporter Brian Haynes at bhaynes@reviewjournal.com or 702-383-0281.
O.J. TRIAL: DAY 8 Thomas Riccio testified he offered to call off the meeting at Palace Station after learning O.J. Simpson's treasured family photos wouldn't be brought to the hotel room. Simpson's defense lawyers accused Las Vegas police of targeting their client because of his 1995 acquittal on double-murder charges. AUTOGRAPH HUNT If you are trying to get the Juice's John Hancock or the signature of anyone else involved in the trial, at least wait until they're out of the courtroom. Before noon on Thursday, a woman approached defendant Clarence Stewart inside the courtroom where he and O.J. Simpson are on trial for kidnapping and armed robbery. The woman, who wasn't identified, was stopped by the marshal for District Judge Jackie Glass. The marshals ejected her from the Regional Justice Center. She will be allowed to come back as long as she doesn't return to the courtroom where Simpson is on trial, said Lt. George Glasper, the deputy marshal for the Regional Justice Center. REVIEW-JOURNAL