Woman convicted in slaying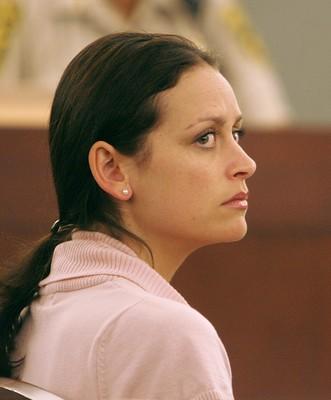 A jury settled on a second-degree murder conviction Monday for a 26-year-old woman who testified she killed her aunt's abusive boyfriend because she feared for her life.
Jamie Hein cried quietly after her verdict was read. She began sobbing when she embraced her friends and family after the jurors left the courtroom.
District Judge David Wall showed an unusual amount of leniency toward Hein, allowing her to remain free on $50,000 bail until she is sentenced June 25. Defendants convicted of murder almost always remain jailed while awaiting sentencing.
"It's not over yet," Hein said as she and family waited by the elevators to leave the courthouse. Her lawyer, David Chesnoff, said an appeal will be filed.
Hein faces a mandatory 20- to 50-year prison term for the single stab wound to the heart that ended the life of 36-year-old Timothy Herman on April 8, 2002.
He is survived by his two daughters, ages 16 and 14, and his wife in Florida. He had remained married to her, though he had moved his wallpaper business to Las Vegas, where he dated Hein's aunt, Rebecca Garrison.
Herman, a felon from Florida who was addicted to methamphetamine, had been arrested on a charge of domestic violence against Garrison. Witnesses testified he smacked her and kicked her in the head.
Herman's parents were in the courtroom Monday with photos of a happy and smiling Herman, laughing and playing with his daughters.
"Alcohol and drugs make good people do things they'd never normally do," said his mother, Kathy Herman.
On the evening he was killed, Herman had gotten into beer-bottle and rock-throwing skirmishes with a group of young people hanging out outside the northwest Las Vegas home that Hein shared with her aunt.
Hein grabbed a knife and put it in her pocket after she saw Herman punch her friend in the face, she testified.
Later that night, Hein knocked on her aunt's second-story bedroom door and was accosted by Herman, who grabbed her by the hair and shook her, she said.
Hein stabbed him because she was afraid he would throw her down the stairs, she testified.
"If Jamie didn't defend herself, then Tim probably would have killed her," James Hein, Jamie Hein's father, said.
Immediately after the stabbing, two 16-year-old boys who had been part of the group that fought with Herman earlier in the day, rushed in and beat Herman with a metal pole, a concrete cinder block and other items.
Chesnoff argued they heard Hein scream and rushed in to help.
Both boys pleaded guilty to voluntary manslaughter with use of a deadly weapon.
Deciding on a verdict for Hein was difficult because she has "cleaned up her act" since the slaying, one juror said.
When she stabbed Herman, she was an alcoholic with a driving under the influence charge on her record, but Chesnoff said that since then she has lived with her parents, working and attending college in California, and she hasn't had a drink in five years.
"Jamie is a good kid who got attacked by a maniac," her father said.
Prosecutor Marc DiGiacomo had argued Hein was seeking revenge for the abuse Herman inflicted on her aunt's household, and knocked on her aunt's door calling for Herman, in hopes of using the nearby teenagers to help attack him.
"She had a great motive to commit the crime; she didn't have the defense," DiGiacomo said, commending the jury's decision.
After the verdict, jurors said they also didn't believe Hein's actions merited a first-degree murder conviction, but they also did not believe Hein acted in self-defense.
"She knew what she was going upstairs to do, and it wasn't just to talk to her aunt," said juror Shawn Freeman, 26.
He said she had other options other than returning to that house.
"Why would you go upstairs when there is a 6-foot-3, 200-pound monster up there?" another juror asked.