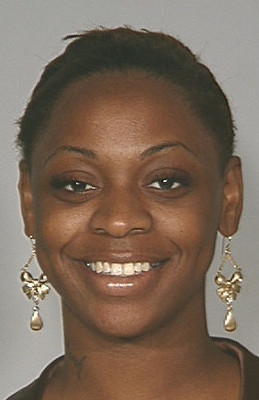 An argument between two women in the reception area at Bally's turned deadly early Friday when one of them stabbed the other in the throat and fled.
Las Vegas police said the 22-year-old victim was arguing with two other women when they walked into the main entrance of the hotel-casino about 6 a.m.
After being stabbed, the victim managed to walk, trailing blood, out the west entrance about 75 feet toward the valet parking kiosk before collapsing.
She was taken to Sunrise Hospital and Medical Center, where she died. Her identity was not available late Friday.
The suspect fled the scene but turned herself in about five hours later, according to police.
Latrovia Reed, a 23-year-old Milwaukee woman, was booked into the Clark County Detention Center on a charge of murder with a deadly weapon. She was being held without bail.
Jail records show she also was being held on a bench warrant for an earlier prostitution charge.
At Bally's, portable curtains were placed around the crime scene, and the valet entrance was cordoned off with yellow tape while police looked for clues.
Police spokesman Jose Montoya said investigators had not pinned down a motive. The women were not guests at the hotel-casino.
Montoya said a knife was used in the attack, but he didn't know whether it had been recovered by police.
The hotel reopened the west entrance and valet area at 10:50 a.m., allowing puzzled tourists to enter the main revolving door and other glass doors that flank it, pulling their wheeled suitcases.
Bally's officials turned over video surveillance tapes that, along with an audio tape of a 911 call, are being reviewed by police.
Bally's spokeswoman Celena Haas said company officials were fully cooperating with the investigation. She had no further comment.
Previous homicides at Southern Nevada casinos include:
• May 2007: Willebaldo Dorantes Antonio died in a May 7 bomb blast in the Luxor parking garage. Two arrests were made.
• June 2006: Allen Tyrone Smith was fatally shot inside the Silver Nugget in North Las Vegas.
• April 2002: Three people were killed during the Laughlin River Run brawl between rival motorcycle clubs.
• September 2000: Tourist Heather Vitarelli was fatally shot in Harrah's by Stephen Mullen while he wrestled with casino security for his gun.
• February 2000: Anthony Cuccia fatally shot Philip Greenspan in the Stardust sports book.
• November 1999: Gloria Cohns was killed by her former boyfriend while dealing blackjack at the Golden Gate in downtown Las Vegas.
Review-Journal writer Lawrence Mower contributed to this report. Contact reporter Keith Rogers at krogers@reviewjournal.com or 702-383-0308.