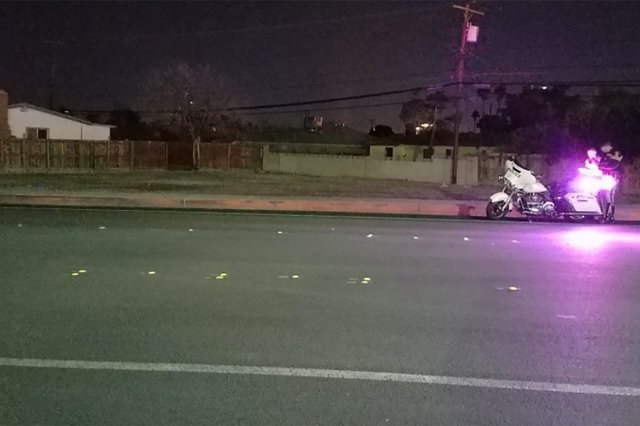 A 48-year-old woman was found dead in her car after it jumped the curb and plowed through three residential backyards in the central valley late Thursday night.
She was driving a Ford Expedition east on Alta Drive east of South Decatur Boulevard before leaving the road near a winding corner, driving through three block walls and stopping in the middle of a backyard at 4629 Alta Drive about 11:30 p.m., Metropolitan Police Department Sgt. Paul McCullough said. Crews found her dead at the scene. She was the only person in the car.
He said early Friday her death might have been the result of a medical episode. A Metro release later said alcohol appeared to have played a role in the crash.
"The interior damage to the vehicle is inconsistent with a typical type of collision that would cause this, someone to die," McCullough said.
The Clark County coroner's office will determine her official cause of death and identify her once family has been notified.
Crews with NV Energy worked to restore power to three homes early morning. The driver severed some power lines while driving through the backyards, McCullough said.
The car just missed a few of the homes, McCullough said, with several residents from the affected homes noting it came within a few feet of striking their homes.
Although it wasn't immediately clear what led to the crash, they said the corner on Alta has proved problematic in the past.
It's dark, and it winds quickly near the intersection at Decatur, said Marlene Erives, adding people often speed on the street.
She cited other incidents of people hitting the curb and later saying they never saw it.
"It's just not a safe corner," she said.
Erives, who lives at 4701 Alta Drive, said she was sleeping when the driver blew through her yard.
"We went in because one of my dogs ran in there so we had to go get him," she said, "and they told us to come out because all the power cords were on the floor. But there's a bunch of brick everywhere."
Andrew Montoya said he called in the crash. He compared the sound of the Expedition smashing through his yard to a lightning strike.
Contact Mike Shoro at mshoro@reviewjournal.com. Follow @mike_shoro on Twitter.