Woman escapes, dog dies in North Las Vegas apartment fire
January 30, 2014 - 3:29 pm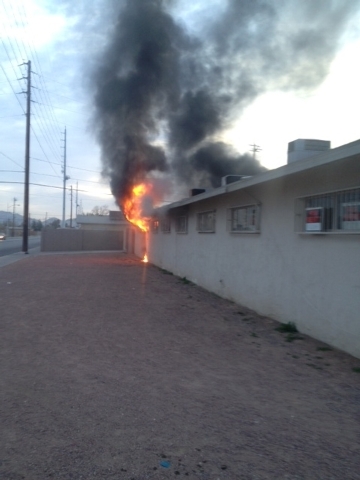 A dog died in an apartment building fire in North Las Vegas on Thursday.
Firefighters responded about 6:45 a.m. to the blaze at a single-story apartment complex across the street from Fire Station 51 on East Carey Avenue and North Daley Street.
The fire started in one unit of the complex that was occupied by a woman and her dog. The woman was able to evacuate the apartment unharmed. Her dog was unable to escape, according to the North Las Vegas Fire Department.
Investigations said the fire was started by a lit cigarette, said fire Department Capt. Cedric Williams.
The apartment where the fire originated was destroyed, and an adjacent unit had significant smoke damage, he said. The fire caused an estimated $60,000 in damage.
The American Red Cross is assisting the two adults displaced by the fire. One unit was being renovated by a construction worker who made it out of the building safely, and one unit was vacant.
Contact reporter Kimber Laux at klaux@reviewjournal.com or at 702-383-0391.