Woman sentenced to prison in highway murder plot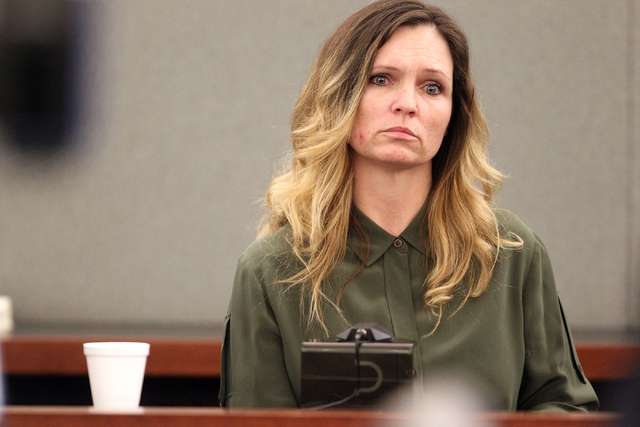 A 43-year-old woman was sentenced Wednesday to more than a dozen years in prison for plotting to have her estranged husband killed in a 2012 highway shooting.
Amy Bessey, also known as Amy Pearson, in November was found guilty of seven charges, including solicitation to commit murder, conspiracy and attempted murder with use of a deadly weapon.
District Judge David Barker sentenced Bessey to 13 years and nine months to 44 years in prison.
Prosecutors said Bessey enlisted the help of her son, Michael Bessey, 22, and her brother, Richard Pearson, 40, to kill her husband as he drove south on Interstate 15 near Valley of Fire in November 2012.
Robert Bessey was hit in the neck by a shot fired from a gold SUV in the lane next to his about 4:30 a.m., but he survived. He recognized the SUV as belonging to the girlfriend of his then-brother-in-law.
Prosecutors said the primary motive was a $250,000 life insurance policy on Robert Bessey. Another suggested motive was that Robert Bessey beat his wife.
During the trial, Amy Bessey maintained her innocence. Both Michael Bessey and Richard Pearson have since pleaded guilty and were awaiting sentencing.
Following the sentencing, two people were cited for misdemeanor battery after a fight broke out outside the courtroom between people attending the hearing. Court marshals broke up the scuffle.
The names of those cited were not immediately released.
Contact reporter Francis McCabe at fmccabe@reviewjournal.com or 702-380-1039.