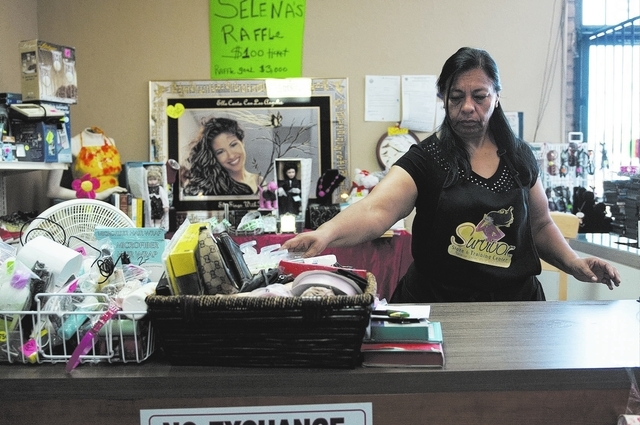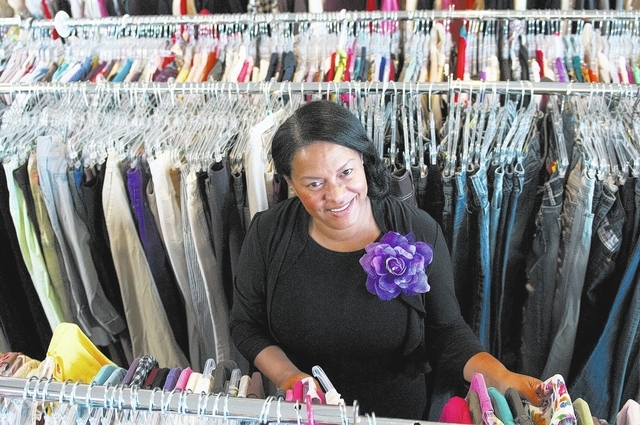 The Metropolitan Police Department and the Southern Nevada Domestic Violence Council Task Force honored victims of domestic violence this month by adding their names to a plaque, which marked the beginning of Domestic Violence Awareness Month.
The Metropolitan Police Department said in a recent news release that 290 victims have lost their lives to domestic violence within the last 12 years. Local organizations agree that domestic violence continues to be a problem, but there are ways to prevent abuse and get help.
"There are a few crucial warning signs that women and men should look for to know if they're in an abusive relationship," said Lisa Lynn Chapman, director of community relations at Safe Nest, a charity devoted to domestic violence issues. "The most obvious one is what I call the 'Jekyll and Hyde' personality."
Chapman said that people who change from being sweet and kind one minute to the opposite the next minute are red flags as far as being potential abusers. Chapman added that an abuser would also be highly critical of your life, try to isolate you and be extremely jealous.
"Your partner may not physically harm you, but there are other forms of abuse," Chapman said. "For example, punching the wall and pet abuse are very common and strong forms of intimidation."
The Violence Policy Center released a report last month that said Nevada ranked 16th in the nation for women murdered by men in 2011. Although Nevada has improved since being in the top spot in 2008, 2009 and 2010, domestic violence continues to be a major issue for women.
Elynne Greene, the Metropolitan Police Department's supervisor of victim services, attributes the drop in domestic violence homicides to the department's lethality assessment program.
"The program gives victims a list of questions that can help us identify who is at a higher risk for continued or increasing violence," Greene said. "This is also to show victims that domestic violence isn't something that will just go away."
Greene added that victims have an opportunity to call Safe Nest. If they do not want to at the time, the police department has an advocate call them within 24 hours.
"At this point, half of the victims will want to get help," Greene said.
Greene said that the police department can provide support groups, safe houses, protections orders or compensation if they are injured.
Rebeca Ferreira, founder of Safe Faith United, a nonprofit for victims and survivors of domestic violence, started the organization in 2008 to provide support for victims, especially immigrants, whom she says are more vulnerable to abusive relationships.
Ferreira, a native of the Dominican Republic, knows what it means to be an immigrant in fear of her abuser and undocumented status. She lived with abuse for many years and did not leave him because, as a resident of the U.S., he promised to help change her status.
"Most victims do not know how to support themselves or their children," Ferreira said. "The abuser is usually the financial supporter. If you have no money and are undocumented, then the situation worsens."
She claims that immigrants are less likely to report domestic violence for fear of being deported or because of language barriers.
Francisca Torres said she came to Safe Faith United "shaking and crying" after leaving her abusive husband. She said that it took her years to leave her abuser because she was scared of what he might do to her.
"Women tend to stay in the violent situation if they don't find any help," Torres said. "But nothing justifies that. Your life will always be in danger. It took me years to finally realize that."
Torres said that she spent 15 days in a coma after her ex-husband physically assaulted her. After joining the organization, she realized that domestic violence is common among women.
"So many women come to the organization with their teeth fallen out, with their lips bit off, with broken ribs and swollen eyes. Many are shaking, screaming and desperate for help," Torres said.
Chapman said that fear is a powerful motivator to stay in an abusive relationship.
"This may sound weird, but when someone leaves, that is the most dangerous time in their life," Chapman said. "The victim is pulling that power back, and the perpetrator will do anything they can to keep that power there. The majority of homicides happen when somebody is leaving or has left, but there are safe ways to get out."
Chapman said that one of the most important things that victims can do is to have a safety plan. Those in an abusive relationship should know where to find opportunities to escape, such as doors or windows. They should also never trap themselves inside closets or argue in areas where there may be dangerous weapons nearby.
Daniele Dreitzer, executive director of the Rape Crisis Center, said that sexual assault is a common part of domestic violence.
"Many abusers use sex as part of the abuse," Dreitzer said. "It's not always physical. In some cases, abusers use words like 'slut' or 'whore' or accuse women of cheating on them. It's all a form of putting them down."
Dreitzer added that last year, 4 percent of sexually assaulted victims were men. She advised victims to seek medical attention at University Medical Center.
Ferreira said that it is important to seek medical attention and keep a record of the abuse. Medical records and police reports can come in handy when prosecuting a perpetrator or when issuing a restraining order, she said.
"Leaving an abusive relationship is a decision that people have to make for themselves," Chapman said. "Not all relationships are bad. People just have to know where to draw the line. It's important for people to see what a healthy relationship looks like. Elements of a healthy relationship consist of love, respect, trust and equality."
For more information on Safe Nest, call the hot line at 702-646-4981 or visit safenest.org.
To speak with an advocate from the Metropolitan Police Department's victim services, call 02-828-2955 or visit lvmpd.com/sections/victimservices/tabid/191/default.aspx.
For more information on Safe Faith United, call 702-685-1500, or visit sfuvictims.org.
For more information on the Rape Crisis Center, call 702-385-2153, or visit rcclv.com.
Contact Sunrise/Whitney View reporter Sandy Lopez at slopez@viewnews.com or 702-383-4686.