Would a downtown arena serve tourists or locals? Depends on who you ask
January 30, 2014 - 9:01 am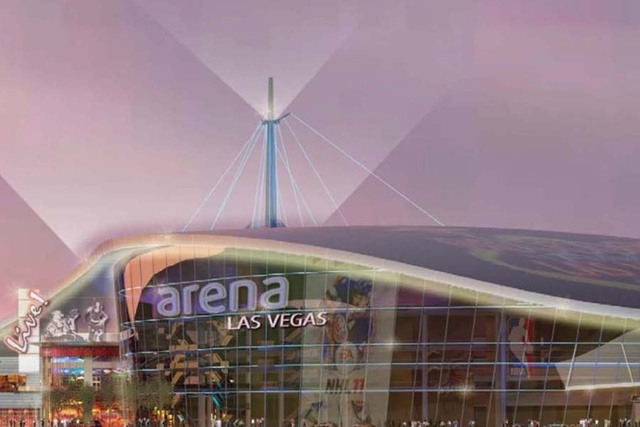 In pitching a $390 million publicly subsidized arena to the Las Vegas City Council last week, developer David Cordish sold it as a venue mostly for locals and a shot-in-the-arm for downtown redevelopment.
"The major customer of arenas are locals," Cordish said. "The major day-in and day-out ticket holders … are the locals. By locals I mean you all who live here."
But in winning a four-month extension of his company's exclusive right to negotiate a deal, Cordish may have undermined his arena's financing plan, which includes a tourismimprovement district.
Under state law, developments can qualify for tourism improvement district money only if a preponderance of the sales and use tax raised there "will be attributable to tourists who are not residents of this state."
If Cordish's description is accurate, his project would be incompatible with the city's plan to pay for it.
"It would certainly present, I would think, a conundrum," said Richard Jost, an attorney for Fennemore Craig Jones Vargas who specializes in municipal finance. "How could you then make a finding a preponderance of sales taxes would be generated from tourists."
On Jan. 22 the council voted 4-3 to extend to June 1 an exclusive negotiating agreement with Baltimore-based Cordish Cos. to develop an arena suitable for major league basketball and hockey on 13 acres in Symphony Park.
An early version of the project's proposed funding plan included $151 million from Cordish, $187 million in city-backed bonds and about $50 million to be covered through a tax on downtown businesses. City officials dropped the tax proposal after an angry response from downtown business owners.
A revised plan presented to the council said that about $52 million in "additional gap funding" would come from a tourism improvement district and more private investment.
Scott Adams, the deputy city manager leading the arena effort, declined to be interviewed but provided a statement.
"City staff will continue to meet with the Cordish Companies during the four month extension of the Exclusive Negotiating Agreement working toward a development agreement to take to the City Council," Adams wrote. "The Tourism Improvement District is one of the areas that will be a part of these discussions."
In Nevada, tourism improvement districts and associated bonds date to 2003. Las Vegas has one such district downtown, for the area around the Museum of Organized Crime and Law Enforcement, alias the Mob Museum.
When asked to reconcile Cordish's description and the financial plan, Mayor Carolyn Goodman deferred to Cordish.
"We are in exploration, really, over the next four months in trying to figure out ways we can have proper funding," Goodman said. "So whether it is a TID or what we are going to be doing, or how it is going to be done, the leadership obviously is with the private enterprise of the Cordish Cos."
But that is not the only inconsistency yet to be addressed.
Cordish's pro forma includes revenue from 10 days of rodeo with average attendance of 15,000 people, an event similar to the National Finals Rodeo.
If Cordish plans to rope in the NFR, it needs to hurry. Pat Christenson of Las Vegas Events, which presents the rodeo, said the NFR probably will return to the Thomas &Mack Center or use the arena MGM Resorts International and AEG are developing near New York-New York on the Strip.
He said it is unlikely Cordish will be far enough along to vie for the National Finals Rodeo, which should nail down its five- to 10-year deal on a venue by the end of this year.
"I think they are a lot further away in terms of breaking ground," he said. "We are going to have to make a decision very soon about where we are going to be."
Cordish's pitch also shows 15 boxing and Ultimate Fighting Championship events annually. But Goodman acknowledged Wednesday that MGM, which regularly hosts fights at existing arenas, probably will keep those events.
"MGM will probably do many of the things that have made it successful, but (move them to) their new arena," she said. "They are the epitome of entertainment centers and the fights and everything. I would imagine that's what this arena they have on the books right now is directed toward."
Goodman also contradicted Adams on the issue of seeking additional private funding.
Adams told the council the city wouldn't ask Cordish for more money, reasoning that the company's $151 million investment would be reasonable.
"We would be looking at other investors — not Cordish," Adams said.
Goodman, however, left open the possibility of putting a bigger bite on Cordish.
"I will ask anybody to do anything to get this on that is legal," she said Wednesday. "And if in fact it means asking them, of course I would."
The Cordish Cos. did not respond to multiple requests for more information about its arena plan.
Contact Benjamin Spillman at bspillman@reviewjournal.com or 383-0285.