Wynn acquires $33 million 'Tulips'
February 1, 2013 - 2:05 am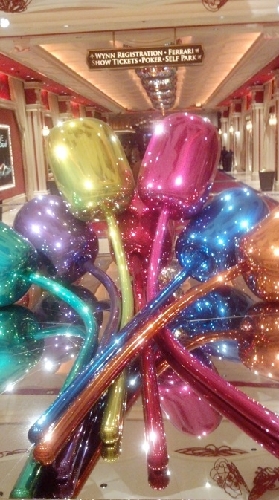 Hotel developer Steve Wynn has a new art acquisition, a $33 million Jeff Koons sculpture titled "Tulips" created from 3 tons of stainless steel.    
It was placed in the rotunda of the Wynn Theater this week and announced to the media on Thursday.
"Many people believe that Jeff Koons is one of the most important living artists on canvas and in sculpture in the world today," said Wynn, chairman and CEO of Wynn Resorts.
Acquired at auction in November, the legendary piece is the sculptural culmination of Koons' "Celebration" series. 
" 'Tulips' is a symbol of hope and the strength of life's energy," Koons said in a media release. "It reflects the viewer to affirm the viewer's existence. I am thrilled to be in the Wynn collection. Steve Wynn is known for collecting great works of Modern and Contemporary art so to be able to have my sculpture, 'Tulips,' included in his collection has profound meaning to me."
Two blown-sugar replicas of "Tulips" were created. One survived and was safely transported to my residence, where it was photographed from the Regency Towers at Las Vegas Country Club.
It is Wynn's latest of many fine-art purchases.
Others include Dale Chihuly's 2,000-piece handblown glass flowers at Bellagio in 1998 and the $60 million purchase in 2001 of Pablo Picasso's "Le Reve," which Wynn accidentally damaged with his elbow in 2006 shortly before he planned to sell it for $139 million. 
THE SCENE AND HEARD 
Barbra Streisand is joining the lineup of celebrities on hand for the birthday celebration of Quincy Jones and Sir Michael Caine at the 17th annual Power of Love Gala on April 13 at the MGM Grand. Funds from the charity event support the Cleveland Clinic Lou Ruvo Center for Brain Health. …
To kick off American Heart Month, a 12-foot anatomically correct heart will be paraded down the Strip today by staff of "Bodies The Exhibition."
SIGHTINGS 
A film crew, shooting scenes this week in Red Rock Canyon and Bonnie Springs for a Russian movie that includes a cameo by Sharon Stone of "Casino" and "Basic Instinct" fame. The scene involved three cowboys on horses and a horse-drawn open carriage with 1800s-costumed people, plus a "very big female actress," I was told by a film crew member. Stone has been in England shooting the British espionage thriller "A Different Loyalty," about British spy Kim Philby (Rupert Everett) and his third wife (Stone). … Nicolas Cage, having lunch Thursday at the Tap House with Bob Harry, the owner, and L.J. Harness. Cage was spotted Wednesday having dinner with Motley Crue frontman Vince Neil at T-Bones Chophouse at Red Rock Resort. … John Rich of country duo Big & Rich, checking out the mud wrestling competition Wednesday at Gilley's in Treasure Island. T.I. owner Phil Ruffin, who had mud wrestling at the New Frontier for years, resurrected the slimefest at the relocated Gilley's last month . 
THE PUNCH LINE    
"A study conducted by a religious research institute says 27 percent of Americans believe God has a hand in determining which team wins. So, if you're praying for a new kidney this Sunday, sorry, God has the Ravens and the 49ers." – Jimmy Kimmel
Norm Clarke's column appears Sunday, Wednesday and Friday. He can be reached at 702-383-0244 or email him at norm@reviewjournal.com. Find more online at www.normclarke.com. Follow Norm on Twitter @Norm_Clarke. "Norm Clarke's Vegas," airs Thursdays on the "Morning Blend" on KTNV-TV, Channel 13.