City needs new vision for downtown
February 16, 2015 - 11:57 am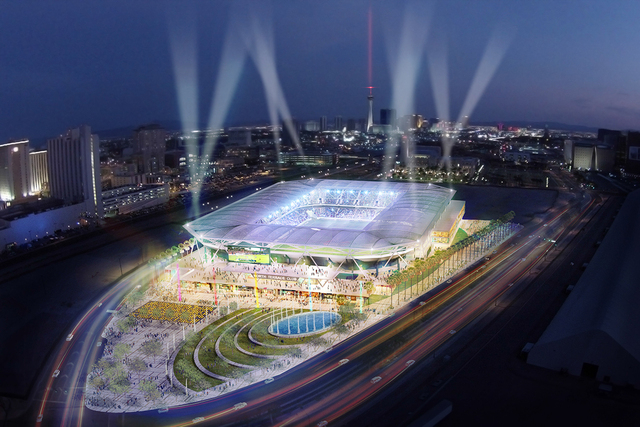 Please, Madam Mayor, let it go.
Carolyn Goodman announced Thursday that Major League Soccer had rejected Las Vegas' bid for an expansion franchise. The decision did much more than dash the mayor's dream of downtown professional sports. It killed the unpopular downtown soccer stadium project she championed — and the public subsides that were promised for its construction — all but ending a fruitless and expensive five-year city partnership with Baltimore-based developer The Cordish Cos.
"The exclusive negotiating agreement with the private partners will expire on Feb. 20," said a city statement on the MLS decision. "Now the city is able to consider other uses (for) Symphony Park."
The city's deal with Cordish had closed off prime chunks of downtown land from competing proposals. Not only were city residents stuck with the bill for $80 million in bonds to clean up the former rail yard and put infrastructure there — land that provides the city with no property tax revenue as long as it's undeveloped — they were paying Cordish to put forward one fatally flawed plan after another. As of late last year, Cordish had collected more than $2 million since it was hired in late 2009 — when Oscar Goodman, Carolyn's husband, was mayor.
The Goodmans and Cordish were so singularly focused on building a sports venue — whether it was an arena, a stadium or something else — that they refused to consider ideas from other potential developers. Never mind that the public wouldn't have to pay those developers to present ideas!
Yet, at a Thursday news conference responding to the MLS decision, Carolyn Goodman said she "wouldn't give up" on building a venue for a major-league sports franchise. She wouldn't rule out placing that venue in Symphony Park, and she wouldn't rule out tapping Cordish to make it happen.
"I will keep fighting, as long as I breathe," she said.
This sentiment was expressed just days after she said the city might move forward with a subsidized multi-use stadium even if voters reject the now-dead soccer stadium plan in the June 2 general election — a vote she tried to block.
Let it go, Mayor Goodman.
And, more importantly, let Cordish go.
The public doesn't want to pay for a stadium — thousands of residents signed petitions for the chance to kill the project. And there's literally no evidence the public is clamoring for Major League Soccer, or would buy enough tickets to make a Las Vegas MLS team viable.
Meanwhile, as MLS was putting Southern Nevada in the rear-view mirror, valley residents were thoroughly validating the entrepreneurs who want to bring a National Hockey League franchise to Las Vegas. Lead investor Bill Foley and partners Gavin and Joe Maloof launched a season-ticket drive Tuesday to prove to the NHL that locals would support a team. In a day and a half, 5,000 deposits were received, putting the group halfway to its goal of at least 10,000 ticket commitments.
If the NHL awards Las Vegas a franchise, the team will play in the $375 million Strip arena under construction behind New York-New York, privately financed by MGM Resorts International and Anschutz Entertainment Group.
Las Vegas is close to getting the professional sports team the Goodmans say they've always wanted — no public subsidy required.
It's flabbergasting that Carolyn Goodman, at this point, would even consider pursuing a new stadium subsidy proposal. Does she even read the news or talk to constituents?
Open Symphony Park to development proposals. Ditch central planning. Get downtown land in private hands.
Let it go, Mayor Goodman. Let it go.
Glenn Cook (gcook@reviewjournal.com) is the Las Vegas Review-Journal's senior editorial writer. Follow him on Twitter: @Glenn_CookNV

An arena plan for Symphony Park
More coverage
Complete coverage of the various stadium and arena proposals.