COMMENTARY: Southern Nevada's artificial housing crisis
September 29, 2018 - 9:00 pm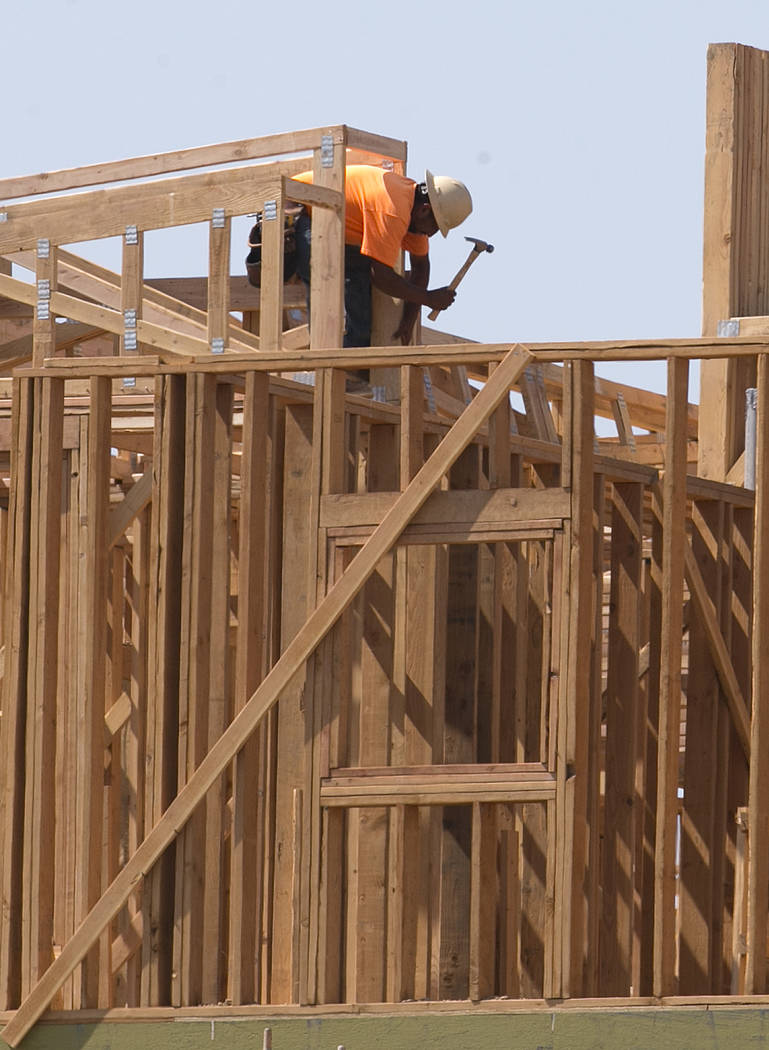 The issue of housing reflects both distinctive regional concerns on the one hand and larger theoretical issues on the other.
As the Review-Journal has reported, the question of affordable housing has become a major regional issue, whose downward path follows the familiar pattern that is also found in such states as California and Washington.
Paradoxically, the problem of housing shortages begins with economic prosperity that quickly draws large numbers of people into a region in the search for work. But before they can work, they need a place to live. Their arrival therefore puts a strain on the existing demand for housing, which drives up home prices and apartment rentals to a point where the poorest among us have to double up, live in rickety trailers or commute long distances in order to make ends meet.
By one recent count, about 160,000 low-income households in Southern Nevada need public assistance to obtain affordable housing. And the trend is moving in the wrong direction, as the queues for suitable units have doubled in the past four years, with no end in sight.
Clearly, everyone agrees that there is something of a crisis. But they disagree about what should be done. The common solution today in Southern Nevada is to let redistributive politics kick in in order to combat the ills. One leg of this strategy is to offer housing assistance to poorer families, often in the form of housing choice vouchers. But the supply here can never keep up with the demand. Thus, Nevada has had to close the door, given the financial limits on this budget-busting program.
Even so, the very existence of the program has two unattractive features. It requires some explicit subsidy from either the federal or local government. The former exports the problem to other cities and states, which in turn use the same program to extract subsidies from Nevada. Next, public housing programs can try to fill the void. But the artificially low rents are just another form of price controls. Some lucky individuals pocket a huge subsidy. But others languish on waiting lists for years.
One's place on the queue is not determined by the laws of nature. The people who get subsidies for affordable housing from the Southern Nevada Regional Housing Authority advance more quickly. But individuals who do not get the nod have to wait between three and five years to get into the program — a virtual eternity for low-income individuals. Yet at the same time, the growth in the supply of housing is slower than is needed to keep the pipeline full, and even this depends on federal credits. The bottom line is there seems to be no construction of affordable units without these subsidies.
But the program is an abject failure. This is not hard to see once we go back to first principles. Affordable housing programs, both for lease and for sale, are all the rage. Everywhere these programs take the same form. The allergy toward taxing local voters to supply local subsidies for affordable housing translates into a cunning strategy, which has received widespread judicial support: Use the off-budget financing furnished by developers to provide local housing subsidies.
The gimmick is simple — indeed, too simple. No longer are permits to build new housing granted once the builder shows that his structure is safe and provides for sufficient off-street parking and the like. Now that permit is bundled with this killer condition: If developers wish to build new rental or sale units for sale at market rates, they must agree to supply some fraction of those units to certain eligible persons at below- market rates.
It is well understood that the developer will lose money on the affordable units. But it is predicted that those losses can be made up on the ability to rent or sell other units at market rates. That program has some glimmer of success if the number of affordable units is small, say, under 5 percent, and if their rents are kept reasonably high.
Sadly, politicians never grasp that too much of a "good" thing becomes a bad thing. So they bow to political pressures and increase the percentage of affordable units — and thus the size of the implicit subsidy. Unfortunately, consumers for market-rate rentals and purchases are only willing to pay so much for their units. And in all too many cases, this implicit tax on new construction becomes high enough to shut down the market. Hence new housing construction slows to a crawl.
The situation is then made worse because developers of any new housing face the NIMBY challenge. Do not build in my backyard. In some cases, zoning laws stop all new construction. In other cases, they add sufficient time and costs to the approval process to kill any promising project. So the double whammy of affordable housing and zoning restrictions leads to a situation where no new housing gets developed.
It may be said in response that the need for new housing is at the bottom of the market, not the top. But the point here is that the only strategy which will produce a sufficient amount of new housing at any level is one that reverses the current policies.
Zoning restrictions have to be pared back dramatically. And the implicit tax from affordable housing has to be cut down — or, better, eliminated.
I am in no position to guess where builders will enter a revitalized market. But so what? That is a business judgment on which developers can provide better answers than I can. So long as the developers increase the overall supply of housing, prices at all levels will go down, while revenues from private real estate development should create a fund that could provide modest housing relief for some.
The overall lesson is clear. Never try to offset a housing tax or regulation by a housing subsidy. Instead, remove the barriers to entry so that supply can increase.
Until that is accomplished, the shortages will remain chronic even as the government spigot opens ever wider.
Richard A. Epstein is a professor at the New York University School of Law, a senior fellow at the Hoover Institution and a distinguished service professor of law emeritus and senior lecturer at the University of Chicago. His Review-Journal column appears monthly.