EDITORIAL: Democrats hide presidential candidates in weekend debates
January 14, 2016 - 7:24 pm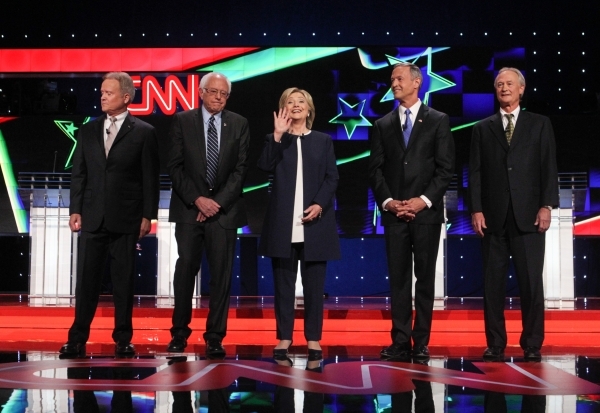 If Hillary Clinton or Bernie Sanders lose the race for the White House this year, you can bet that many on the left will blame unfair media coverage — specifically, the media's apparent obsession with all things Donald Trump — for tipping the election in the Republicans' favor.
Granted, the amount of attention paid to Trump during this campaign has been staggering. But the Democratic National Committee could be doing a much better job of showcasing its candidates. Nowhere is this more evident than in the DNC's curiously weak debate schedule.
The Republican candidates for president held their first primary debate in August, two months before the first Democratic debate and before Trumpmania took full effect. That first debate attracted a record 24 million viewers — more people than who voted in all of the Republican primaries and caucuses in 2012 — and, despite DNC chair Debbie Wasserman Schultz's laughable claim of "robust" viewership during the Democratic debates, the ratings for her party's debates have been trounced by the subsequent Republican debates.
Why? Scheduling.
While the Republicans have debates scheduled for the Saturday nights before the New Hampshire and South Carolina primaries — when big audiences are expected — their six debates to this point (out of 12) have been held during viewer-friendly weeknight time slots.
The Democrats, on the other hand, have scheduled only four debates. While the first one in October was on a Tuesday, the last two have taken place on Saturday nights when far fewer people have been watching. The November debate drew roughly a third of the viewers of the first Republican debate, and the only December debate took place on December 19, smack-dab in the middle of holiday shopping season and (even worse) the opening weekend for the latest "Star Wars" film.
When asked about the date for the December debate, Sen. Sanders spokesman Michael Briggs joked that Christmas Eve must have been booked. Democratic candidate Martin O'Malley, who lags considerably behind in the polls and could use increased exposure, said he thought the scheduling was due to "a false sense that they have to circle the wagons around the inevitable front-runner."
Even left-leaning publications such as The Nation have pointed out that the DNC's poor strategy has kept its candidates out of the limelight, and says the party "needs to schedule more debates on more nights when more Americans are watching."
That won't happen in time for the next Democratic debate, in Charleston, S.C., on Sunday night. That day features two NFL playoff games and is a full month before the South Carolina primaries.
After looking at the debate calendar, the only plausible conclusion is that Ms. Wasserman Schultz and the DNC are playing "hide the ball" with their candidates — because they don't want people to see their candidates.
Trump or no Trump, can you really blame them?