EDITORIAL: Education officials push to lower standards even further
February 18, 2023 - 9:01 pm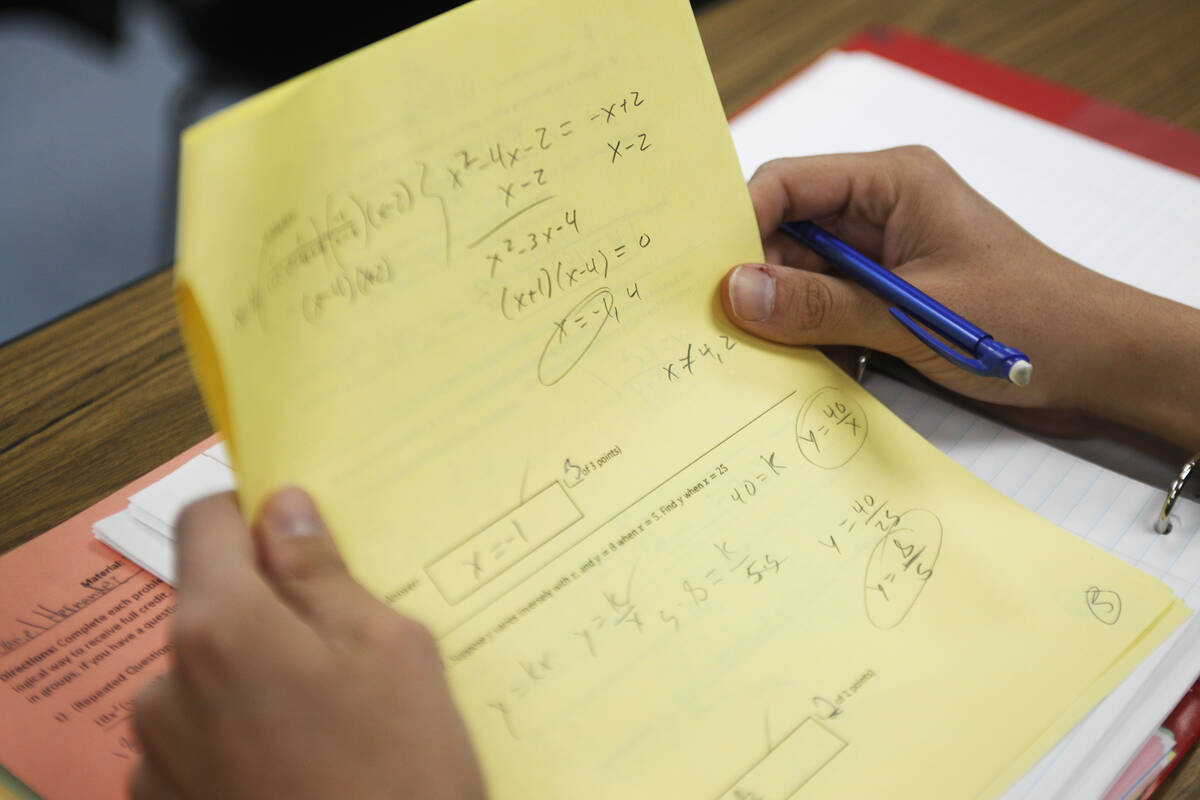 The decadelong assault on education standards continues apace in Carson City.
Recently, the Department of Education presented Senate Bill 9. If enacted, it would eliminate end-of-course finals. Nevada Superintendent of Public Instruction Jhone Ebert said the state doesn't receive data from these tests. She added that grading varies among districts, which doesn't allow Nevada officials to determine how students are performing in those courses. She also expressed a desire to rethink testing.
"What is it that we truly want as Nevadans for our students to know and be able to do when they leave our classrooms?" she said. "We need to identify that first before we identify an assessment."
That sounds nice — at least until you know the backstory.
Nevada used to require students to pass a high school proficiency exam to receive a standard diploma. It would be a stretch to describe the test as taxing. Students started taking it as sophomores and could repeat the assessment numerous times. It covered mostly ninth-grade material in reading, writing, math and science.
But many seniors still couldn't get by the test despite a passing score requirement of around 50 percent. In the 2014-15 school year, only 76.4 percent of Nevada students passed the math section. Pass rates on the other sections were around 80 percent. Because students had to pass all four sections to graduate, many didn't receive a diploma.
In 2013, the Legislature approved a bill eliminating the proficiency exams. Starting with juniors in the 2014-15 school year, the new law required students to take a college and career readiness test, but the results had no bearing on whether a student received a standard diploma. Instead, students would be required to pass at least four end-of-course exams.
But that provision never went into effect. In 2014, the Nevada Board of Education exempted students from the requirement that they pass such tests to graduate. Officials billed this as a temporary measure to help state officials fine-tune the test with the goal of demanding that students in the class of 2019 pass all four tests to graduate.
Unsurprisingly, as standards decreased, the statewide graduation rate shot up by around 10 percentage points.
In 2017, the Legislature eliminated the requirement that students pass the exams to graduate. Instead, lawmakers directed the state Board of Education to select which classes needed an end-of-course final. Ms. Ebert said emergency regulations now require these exams in only two freshman-level courses.
Those exams were supposed to count for 20 percent of a student's final grade. The temporary regulations reduced this to 5 percent.
None of this should be surprising. The entrenched education establishment — aided by Democratic allies in Carson City — has fought at every turn any effort to raise standards. Students in the Clark County School District now get 50 percent credit merely for breathing. Meanwhile lawmakers gutted a move to ensure third graders reach reading proficiency before moving on to fourth grade, and teacher evaluations remain a farce despite calls to more aggressively weed out poor performers.
This push to eliminate requirements proving that a Nevada high school diploma actually means something is a mistake. It's a disservice to both students and taxpayers. This state's public schools desperately need more, not less, accountability.