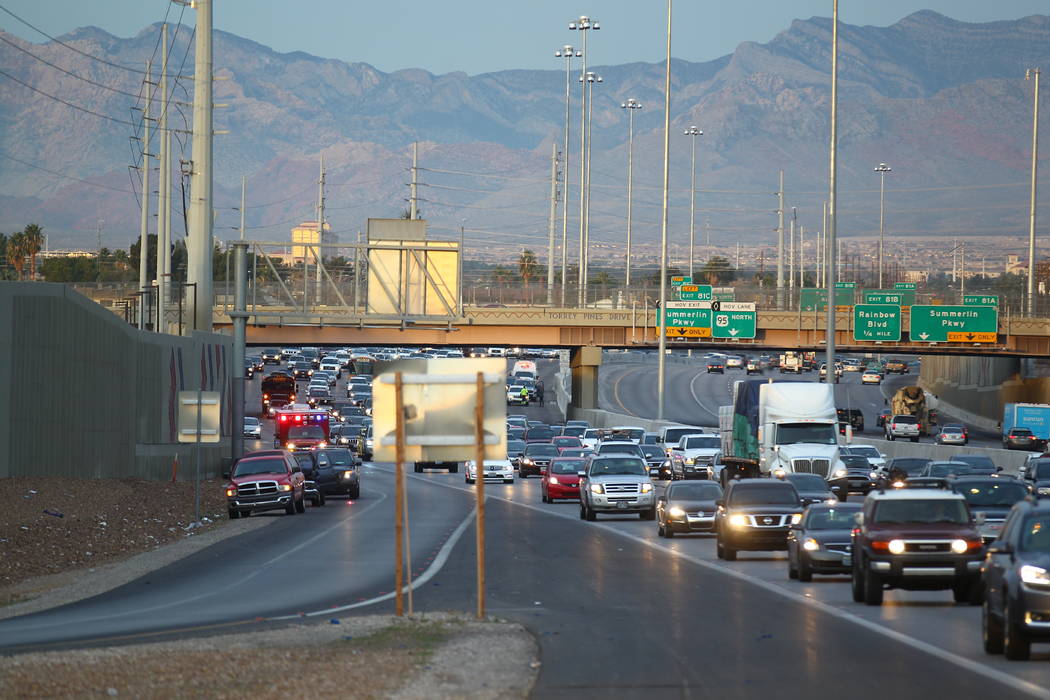 Nevada transportation planners remain wedded to the curious belief that banning most drivers from using new freeway lanes and flyovers will somehow reduce Las Vegas congestion.
How else to explain their frustrating inclination to devote millions of taxpayer dollars to build high-occupancy vehicle lanes and ramps that will be woefully underutilized?
On Tuesday, that philosophy was on fully display. At a meeting held to discuss various local road projects, Jeff Lerud of the Nevada Department of Transportation touted a proposal to build car-pool ramps at Hacienda and Harmon off Interstate 15 as a means of improving traffic flow.
This dovetails neatly with NDOT's ongoing Project Neon, a $1 billion endeavor that will include a series of new ramps and flyovers. But much of the new roadway will be limited to vehicles with two or more passengers.
In addition, NDOT plans to soon impose 24-hour restrictions, seven days a week, on all HOV lanes, including those that are now open to all vehicles during non-peak hours.
What is the point of increasing freeway capacity if the average commuter is prohibited from using it? How does this improve traffic flow? Does it make sense to devote a significant portion of the state's limited transportation construction budget to building lanes and exit ramps that will be inaccessible to many drivers?
Even a cursory glance at U.S Highway 95 during rush hour reveals that the HOV lane handles a tiny fraction of the freeway's load. Worse, a great number of vehicles — probably more than half — zipping by in the car-pool lane contain only an indifferent solo driver in violation of the law.
Then there's the largely empty multimillion-dollar HOV flyover connecting U.S 95 with Summerlin Parkway. It stands high above the interchange, a lonely monument to waste and inefficiency.
Even if the purpose is to reduce emissions, there's scant evidence that HOV lanes have decreased pollution in Las Vegas or that local commuters are rushing to share rides.
In fact, a 2017 University of California-Berkeley study reported in Access magazine concluded that planners should be looking to reduce the costs imposed by traffic delays, "and new general-purpose lanes may serve that goal better than constructing HOV lanes." A 2006 study by California researchers concluded that HOV lanes in the Bay Area caused "a net increase in overall congestion delay" and "exacerbate the problem."
Congestion costs the average driver $1,400 a year, according to Texas A&M researchers who studied the topic for Inrix, a company based in Washington state that provides real-time traffic information. Las Vegas, while not as bad as many larger American metropolitan areas, ranked as the 52nd most congested city in the country in 2016, according to the company.
But don't expect that number to get much better as long as state transportation officials remain enamored of spending their limited resources on projects that will be off-limits to the majority of local motorists.
A previous version of this editorial incorrectly reported the total cost of Project Neon.