EDITORIAL: Proposal to make Nevdada an open primary state a bad idea
February 9, 2017 - 9:00 pm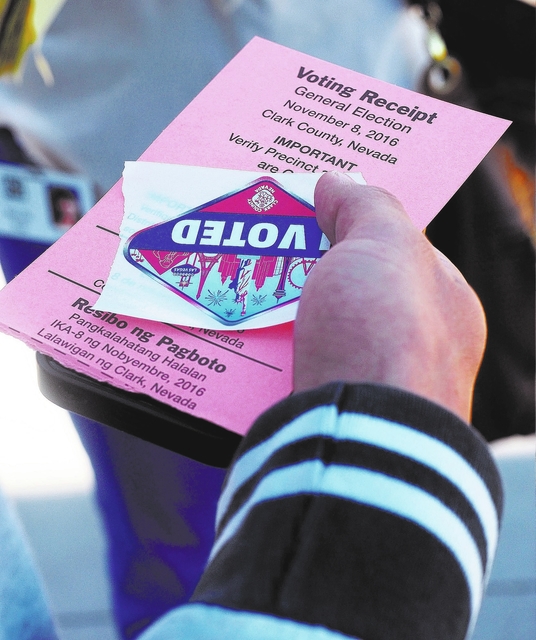 During his decade in the Legislature, state, Sen. James Settelmeyer, a Republican from Minden, has crafted a number of sensible bills. Unfortunately, his latest proposal regarding the election process isn't one of them.
Sen. Settelmeyer on Tuesday introduced Senate Bill 103, which would make Nevada a top-two, open primary state. Under the measure, all candidates for a specific seat would be thrown into a single primary election and any voter could participate. The top two vote getters would proceed to the general balloting.
Currently, only those registered as Democrats or Republicans may vote in their party's primary elections.
"Some constituents were upset by not being able to vote for candidates," Sen. Settelmeyer offered in defense of his bill.
The obvious question: Why should those who choose not to register with one of the two major political parties deserve a say in who those organizations select to put before voters in the general election? The parties are private organizations that have a First Amendment right to control their own nominating procedures.
If independent voters are upset they can't vote in the Republican or Democratic primary, they are free to change their registration, allowing them to participate.
In addition, the "top-two" aspect of Sen. Settelmeyer's legislation creates the potential for all kinds of unintended consequences, not the least of which is the potential that two excellent candidates from one party end up splitting the vote and propelling a less-desirable hopeful on to the general election.
SB 103 is no doubt well intentioned. But it's a solution in search of a problem. It deserves to be locked up in a committee drawer somewhere under the stapler and paper clips.