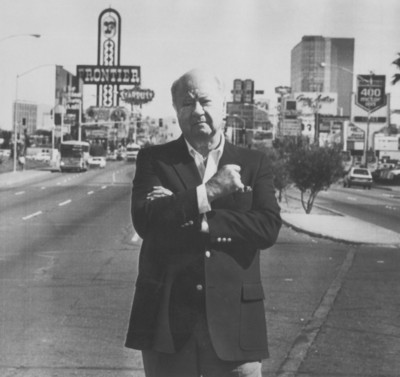 The "Great Man Theory" charts the course of history through the actions of prominent individuals. According to this theory, World War II is the story of decisions made by leaders such as Adolf Hitler, Winston Churchill and Franklin Delano Roosevelt.
This theory, however, is not supported by most modern historians, who consider it too simplistic. They argue that history unfolds on many political, economic and social levels, and that the Great Man Theory tends to exclude large groups of people from the historical panorama.
Generally speaking, this critique is right. Early histories of the American West largely excluded Native Americans from the story, except perhaps as impediments to a goal. This was not only wrongheaded, but left out a huge piece of the narrative.
That said, I think a good case can be made for the Great Man Theory in relating the history of Las Vegas. Over the past 105 years or so, Las Vegas has grown and developed primarily because of the initiatives, ideas and money of certain individuals. From Helen Stewart to Steve Wynn, William A. Clark to Kirk Kerkorian, Las Vegas has benefited from the works of trailblazers and dreamers.
However, I would suggest a slight alteration to the theory as it applies to Las Vegas. Let's call it the "Great Duo Theory" of history. Under the Great Duo Theory, we find that the history-makers in Las Vegas often come in pairs.
Examples come to mind:
— R.E. Griffith and his nephew, architect William J. Moore, built the Last Frontier hotel-casino in 1942. It was the second resort on the Los Angeles Highway, which soon became known as the Las Vegas Strip. It also was the Strip's first fully themed resort.
— Wilbur Clark started building the Desert Inn Hotel in 1946 but ran out of money. He invited in Cleveland organized crime figure Moe Dalitz to get it finished. Dalitz was in control, but he needed Clark to be his front man, and Clark played the part brilliantly. "Wilbur Clark's Desert Inn" was considered the finest resort on the Strip for many years.
— Partners Bill Bennett and Bill Pennington acquired the financially ailing Circus Circus in 1974, made it a big success and "showed Las Vegas how to cater to the middle-American family market," according to A.D. Hopkins in "The First 100: Portraits of the Men and Women Who Shaped Las Vegas."
— Steve Wynn simply would not have been able to rise to the top of the gaming industry, building several cutting-edge luxury resorts, without considerable help from his mentor and financier, E. Parry Thomas.
Last but not least, I would suggest Howard Hughes and Bob Maheu.
Maheu died last week at age 90. In the days since, Maheu has been eulogized extensively as an instrumental player in Hughes' business dealings in Las Vegas from 1966-70.
It's true. But it's a relationship worthy of further exploration.
Long before he met Maheu, Hughes was a world-famous aviator, filmmaker and entrepreneur. But when his physical and mental health deteriorated to the extent that he became a highly eccentric recluse, Hughes needed someone to do his bidding "on the outside."
Maheu became that person.
In the early 1950s, Maheu, a former FBI agent, ran a consulting business, handling difficult jobs for high-profile clients — you might call it white-collar cloak-and-dagger work. He was hired to handle a few minor problems for Hughes.
Maheu impressed the boss, and in 1957 Hughes persuaded Maheu to work for him full time.
In 1966, Hughes, by now entirely in hiding from the public eye, decided to move to Las Vegas. Maheu was in charge of the move, and he set up a Thanksgiving Day train trip to secretly transport Hughes from Boston to Las Vegas.
Hughes moved into the penthouse of the Desert Inn Hotel. It was several days before most of Las Vegas knew the mysterious billionaire had arrived.
After a few weeks, the Desert Inn owners were getting antsy. With New Year's on the horizon, they wanted the ninth floor for their high-rollers, yet Hughes showed no signs that he was moving out.
Strong words ensued, with the DI owners eventually insisting that Hughes get out or be thrown out. Hughes and Maheu concocted a third option: They would buy the hotel, allowing Hughes to stay as long as he wanted.
The DI owners embraced this plan. Hughes had come to town at an ideal time. The organized crime figures who owned many of the Strip casinos were feeling the heat from the Justice Department, which had vowed to root out the mob. Hughes offered them a lucrative way to escape the federal hammer.
Once he'd bought the Desert Inn, Hughes took a liking to the casino business. With Maheu doing the wheeling and dealing, Hughes proceeded to buy six more casinos: the Sands, Frontier, Silver Slipper, Castaways and Landmark in Las Vegas and Harolds Club in Reno. He also bought hundreds of acres of land, two airports, an airline, mining claims and the KLAS television station.
Hughes was involved in most if not all the business deals, but Maheu was his public face. Maheu sat down with the sellers and negotiated. Maheu appeared before regulatory boards and spoke on Hughes' behalf. Maheu navigated the political waters for Hughes, both in Nevada and Washington, D.C.
Maheu's partnership with Hughes ended badly in 1970. Other forces within Hughes' vast empire — jealous of Maheu's skyrocketing prominence — convinced Hughes that Maheu had gone to the dark side. They whispered in his ear that Maheu was stealing from him, that Maheu was plotting to seize the company.
They conspired to oust Maheu from his perch.
And they were successful.
Maheu basically spent the 1970s in courtrooms, battling Hughes and defending his honor. He succeeded, I think, in showing that he wasn't a thief and that he had no intention of seizing the empire. Maheu admitted mistakes that contributed to his demise within the organization but also exposed the conspiracy that executed it.
But the legal battles took their toll. Maheu tried but never was able to convert his glory years with Hughes into business success after Hughes.
This, however, only adds fuel to the Great Duo Theory. Hughes needed Maheu to accomplish what he wanted, and Maheu needed Hughes to earn a deserving position of prominence in the history of Las Vegas.
Geoff Schumacher (gschumacher@reviewjournal.com) is the author of "Howard Hughes: Power, Paranoia & Palace Intrigue," which includes two chapters on Bob Maheu. Check out Schumacher's new blog at www.howardhughesblog.com. His column appears Sunday.