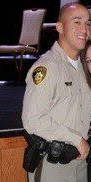 An arrest report makes it seem like Clark County prosecutors have an open-and-shut case against Las Vegas police officer Kenneth Lopera. They don't.
Lopera faces charges of oppression under the color of office and involuntary manslaughter in connection with May 14 death of Tashii Brown. Brown died after Lopera tased Brown seven times and put him in a neck restraint after he approached police behaving erratically.
It's the first time in about 30 years that a Metropolitan Police Department officer has faced charges the death of a suspect.
Brown did not deserve to die. He didn't hurt anyone. His death is a tragedy.
The question now, though, is whether Lopera is guilty of crimes that could put him in prison for years.
Here are three reasons to tap the brakes on the assumption that a jury would find Lopera guilty beyond a reasonable doubt.
"Reasonableness" standard. It's easy to sit in the office of the ACLU and pontificate about how an officer should and shouldn't act. That's not the standard a jury will use.
"The 'reasonableness' of a particular use of force must be judged from the perspective of a reasonable officer on the scene, rather than with the 20/20 vision of hindsight," wrote then-Chief Justice William Rehnquist in the 1989 Graham v. Connor Supreme Court decision.
Brown was on meth. Amazingly, "methamphetamine" doesn't appear in the arrest report, even though Clark County Coroner ​​John Fudenberg said Brown had a "significant" amount of meth in his system and that meth intoxication and an enlarged heart were "significant conditions" in his cause of death.
"[Being on methamphetamine] makes the odds of death greater," Fudenberg added. "Methamphetamine puts a great strain on your heart. Had he died without the chokehold, it would have all the components of an 'excited delirium' death.
Brown's meth use also undermines the arrest report's claim that Lopera broke department policy because he started a foot pursuit of Brown without reasonable suspicion. Meth use is a crime officers are trained to spot — for good reason. Meth can make people do dangerous and terrible things.
Neck-hold details. The first page of the arrest report states, "Officer Lopera then performed the Lateral Vascular Neck Restraint." That's an authorized restraint technique. But after the incident, Lopera told another officer he used a "rear naked choke," and the arrest report depends on those words to charge him.
The LVNR and the rear naked choke are very similar chokes, and I doubt most officers use the technical name.
Also, just fifteen seconds after he put Brown in the neck restraint, body camera footage shows Lopera asks three times, "Is he out yet?" It's 12 seconds after Lopera's first question that another officer finally says, "Let him go, Ken." The arrest report then reveals that "Lopera loosened up on the LVNR" to put the suspect in handcuffs. That directly contradicts the arrest report's eventual conclusion that Lopera held the choke for "forty four seconds after being told to let go."
I don't know if Lopera is innocent or guilty. But this isn't an open-and-shut case.
Victor Joecks' column appears in the Nevada section each Sunday, Wednesday and Friday. Contact him at vjoecks@reviewjournal.com or 702-383-4698. Follow @victorjoecks on Twitter.