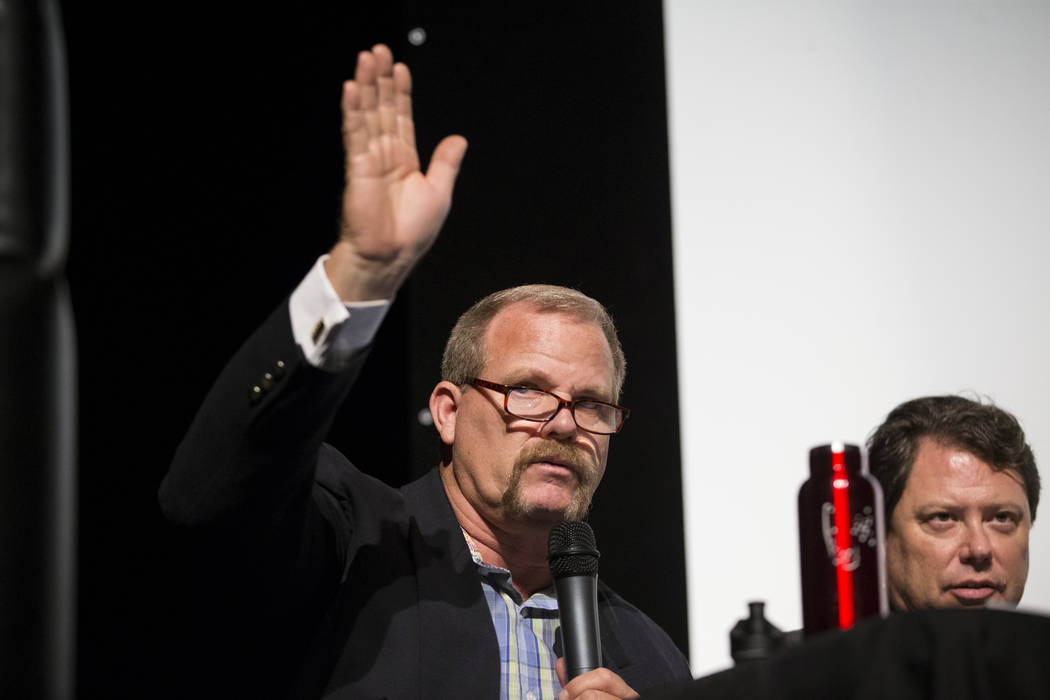 The Clark County School District needs a bigger margin for error — at least when it comes to district finances.
In the last few months, the district's estimated budget deficit ballooned past $70 million. The board still has a $22 million hole after making $40 million in spending reductions and belatedly receiving additional full-day kindergarten money from the state.
People within the education establishment are using the deficit to call for additional spending, but if more money were the answer, we wouldn't be in this situation. Think back to 2015. That's when Gov. Brian Sandoval pushed through the largest tax increase in Nevada history — $1.5 billion — primarily to fund his education initiatives. That was just two years ago.
Surprise. Surprise. Even putting more money into a broken system can't keep it from teetering on the verge of financial collapse. Structural changes are necessary or you'll continue to read stories about district "budget deficits" for the next few decades — no matter how much spending increases.
There are two big reasons for this. The first is collective bargaining. If the state gives the district an extra $70 million or even an extra $170 million, its expenses will go up. Why? Because its labor unions can then demand greater salary increases. If the district resists those demands, both sides will go to binding arbitration. By Nevada law, the very first thing the unelected, unaccountable, out-of-state arbitrator will consider is the financial ability of the school district to pay for those raises.
There's a second culprit, however: the district's extremely low ending fund balance. It currently sits at 1.25 percent or just 4.5 days' worth of expenses. Trustees want to bring that up to 1.75 percent or 6.4 days' worth of expenses.
What happens is that the district — like any business or government — has to make projections for the upcoming budget year months in advance. Even missing student enrollment by 0.4 percent this year — or 1,400 students out of more than 320,000 — created an $8 million shortfall. That shouldn't be a problem for an organization with a general and special education budget of $2.8 billion, but the district has almost no buffer.
"Being 1,400 students down, that [normally] wouldn't be such a big deal, but our budget is stretched so tight right now that is a major hit for us," said Jason Goudie, the district's chief financial officer.
It'd be easy to point the finger at members of the School Board and blame them for mismanagement, but state law leaves them with no good options. Grow the ending fund balance and unions gain negotiating power, because the arbitrator looks first at the district's ability to pay.
That's not to say the board has been aggressive in tracking every dollar. Trustees, aside from Kevin Child and Chris Garvey, basically shrugged off this summer's news that the district had dipped into its meager ending fund balance without board approval.
Part of the reason for that was an arbitrator awarding administrators $19.5 million in retroactive pay raises. The arbitrator thought the district could afford it because it gave $135.5 million in hikes to teachers in 2016.
The governor and state lawmakers must stop this vicious cycle. In 2015, legislators allowed local governments, except for school districts, to exempt an ending fund balance of 25 percent of their budget from collective bargaining. They need to do the same for school districts, which would allow the CCSD to build up its ending fund balance.
That would make inevitable misses in projections a hiccup instead of a heart-stopping emergency.
Victor Joecks' column appears in the Opinion section each Sunday, Wednesday and Friday. Listen to him discuss his columns each Monday at 9 a.m. with Kevin Wall on 790 Talk Now. Contact him at vjoecks@reviewjournal.com or 702-383-4698. Follow @victorjoecks on Twitter.