The three questions Sisolak, Chris G. won't answer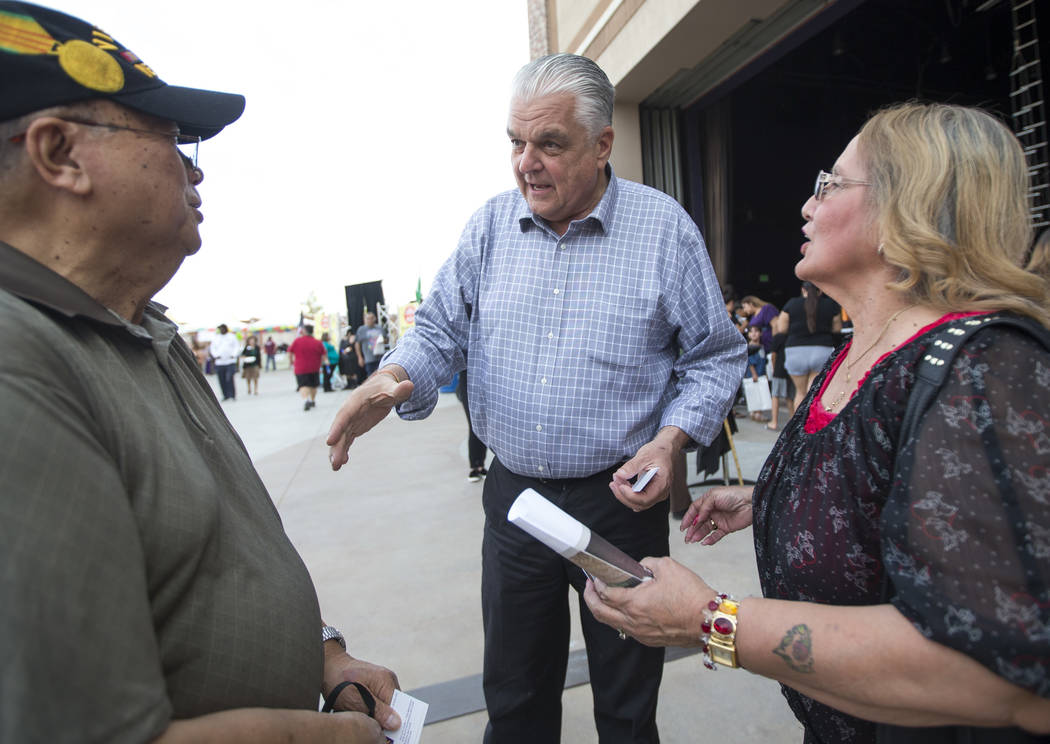 Often what candidates won't say is more telling than what they want to talk about.
Consider Democrat gubernatorial front-runners Steve Sisolak and Chris Giunchigliani. Guns, education and abortion have been major campaign topics. Yet the candidates refuse to provide basic information about their policies, despite my requests.
Here are three questions Sisolak and Giunchigliani won't answer.
1. How do you define assault rifles/weapons? Each of their gun control plans calls for banning high-capacity magazines and bump stocks. The most far-reaching proposal of each plan involves assault weapons. Sisolak says he wants to ban "assault weapons," and Giunchigliani calls for a ban on "weapons of war, assault rifles or AR-15 style weapons." But what qualifies as an assault weapon or assault rifle? Sisolak and Giunchigliani aren't saying.
"There are very specific definitions in proposed legislation before Congress and proposed and enacted legislation in state capitals," said Eric Hyers, Giunchigliani's campaign manager.
That's true, but those definitions vary dramatically. The 1994 assault weapons ban had such a narrow definition of "assault weapons" that it didn't include many AR-15s. The current assault-weapons proposal, co-sponsored by 176 House Democrats, is so broad it would outlaw most rifles, including hunting rifles.
It also says something about the media that no one else — to the best of my knowledge — has asked that question. It's like reporting that a Republican supports cutting taxes and not asking to which tax he or she is referring.
There's a host of questions beyond that one. Do you support gun confiscation? Do you support banning semi-automatic handguns, which account for the vast majority of firearm murders? How would you implement the background check initiative, given that the FBI has repeatedly stated it won't conduct the checks?
2. What taxes would you raise to pay for your education plan? Both Democratic candidates have called for a host of new education spending. Neither has a realistic plan to pay for it.
Sisolak has called for adjusting property tax caps, but that could just mean a technical fix that would generate almost no new revenue. That's what county governments unsuccessfully proposed during the 2017 legislative session. Does he want to increase the 3 percent cap on resident property taxes or the 8 percent cap on commercial properties? If so, by how much?
Giunchigliani has given more specifics, but her main proposal — adjusting the property tax upon the sale of a home — requires a constitutional amendment. The earliest voters could approve that is 2020. That won't pay for new spending in 2019.
These details show that property tax talk is little more than a distraction from the other taxes they'd need to raise. Which taxes do they seek to increase?
3. Do you support taxpayer-funded abortions? Both candidates have taken extreme positions on killing pre-born children — including supporting partial-birth abortion. Sisolak has even flip-flopped on this. As late as February of this year, Sisolak said he opposed late-term abortion. Now he opposes any restrictions.
Both candidates have also pledged to funnel taxpayer dollars to groups such as Planned Parenthood for family planning services.
There's one big issue left — taxpayer-funded abortion. Last year, Illinois Democrats passed, and the Republican governor signed, a bill requiring state taxpayers to pay for abortions through Medicaid.
If Democrats control both houses of the Legislature and the governor's mansion, expect a similar push here. Voters deserve to know where candidates stand on this issue.
There's also a fourth question that Sisolak won't answer. Would you sign a bill overturning Nevada's status as a right-to-work state? Giunchigliani has already embraced such a position. Democrat primary voters would be interested in that answer.
Next week, Sisolak and Giunchigliani are meeting for two televised debates. The moderators should make sure voters get the answers to these questions.
Contact Victor Joecks at vjoecks@reviewjournal.com or 702-383-4698. Follow @ victorjoecks on Twitter.