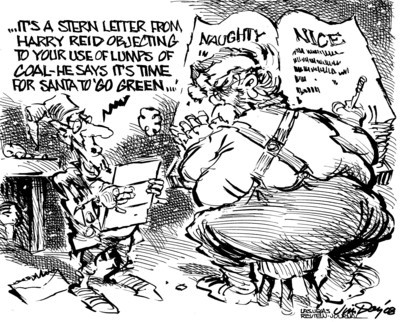 Fighting the Nanny State
Wednesday
Don Gustavson is batting a big fat .000 after three efforts to repeal Nevada's motorcycle helmet law. But the Republican assemblyman from Sparks is prepared to give it a fourth shot when lawmakers reconvene in Carson City come February.
For many Nanny Staters, Mr. Gustavson's effort might seem unimaginable, even nuts. But he calmly points out that over the past 30 years, some 25 states have gotten rid of their helmet laws for experienced adult riders.
Mr. Gustavson believes that government regulations shouldn't infringe on personal liberty. (Imagine that!) But his bill draft was met with predictable derision from public safety types. John Johansen, impaired driving safety coordinator for the state Office of Traffic Safety, said the state will fight the assemblyman's measure — although what business Nevada workers have lobbying lawmakers on the issue remains a mystery. Mr. Johansen maintains the helmet law saves taxpayers millions of dollars by preventing head injuries.
That argument, of course, is being used to justify an ever-expanding and constant incursion on the rights of individuals to make their own choices on a number of fronts, whether it be the food they eat or the recreational habits they choose. It's a dangerous and pernicious outlook — and one that would suffer a small but long-overdue setback were Mr. Gustavson's efforts to prevail. …