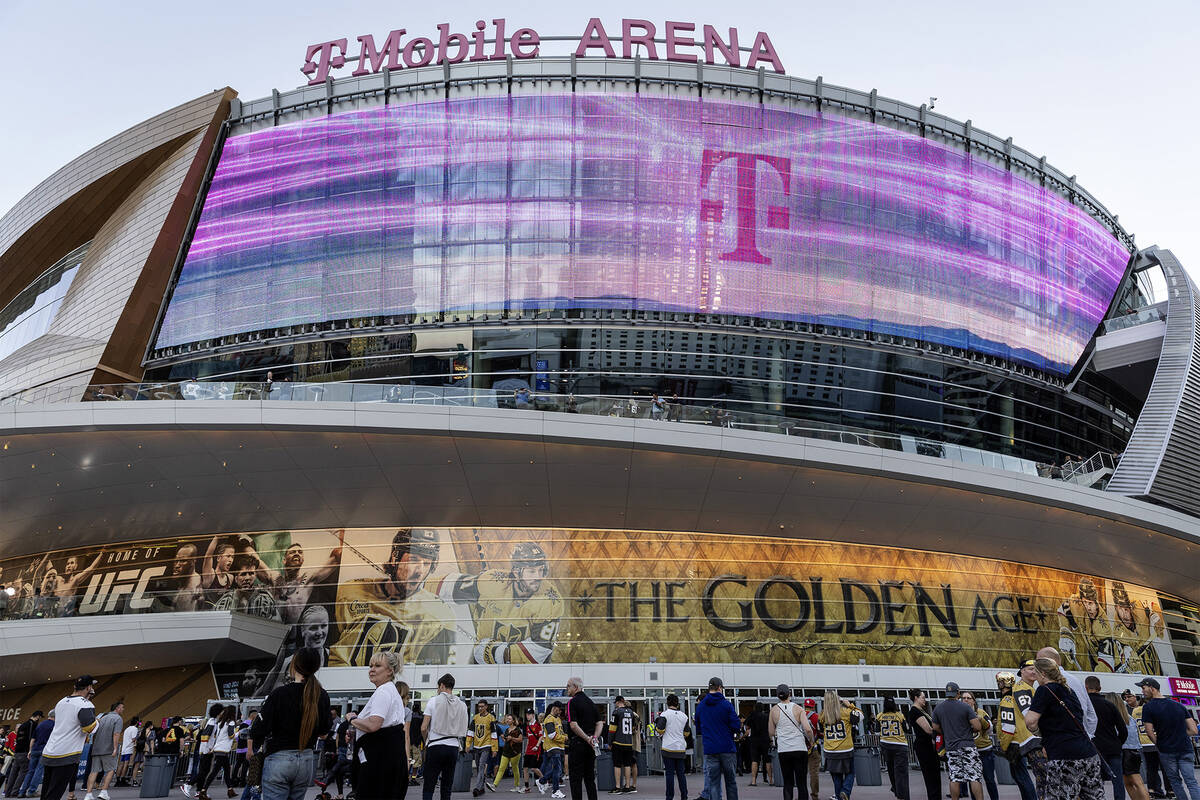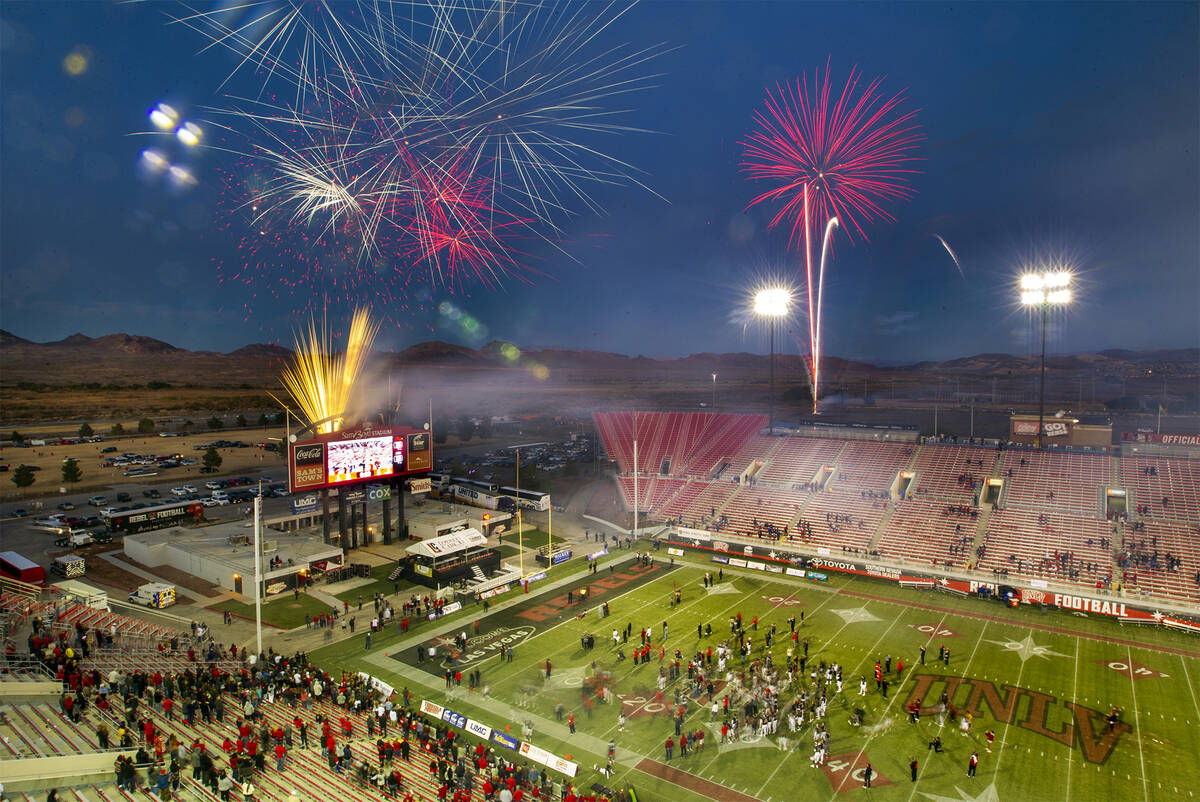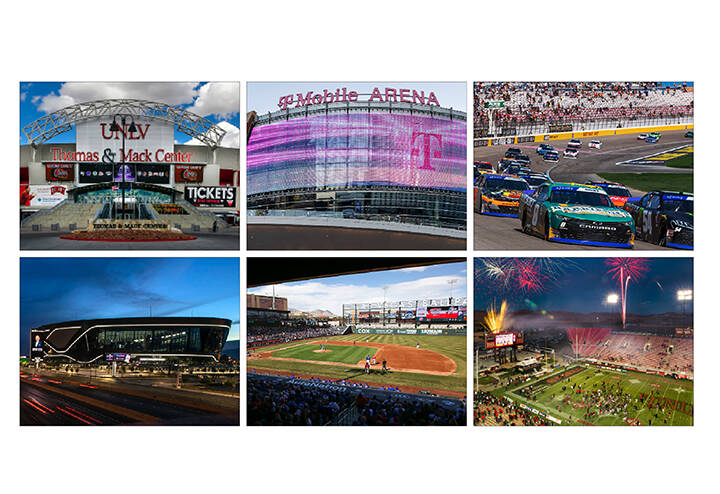 Built on 5 acres in a back parking lot nearly three decades ago, the Adventuredome at Circus Circus continues to serve as a reminder of Las Vegas' initial attempt to reinvent itself when gambling revenues began to decline in the early 1990s.
Designed by architect Veldon Thompson, the insulated, 150-foot high, climate-controlled dome and its distinctive pink glass tiles (which reflected the searing desert sun and sometimes blinded motorists during rush hour traffic on nearby Interstate 15) became within 10 years one of the world's most-visited amusement parks. In 2005, it set a single-day attendance record of 41,182. Sometimes if you build it, they really do come.
In recent years, major league sports have been taking their own Vegas thrill ride, shovels and earth-movers at the ready, in the hope that upturned desert will turn into dollars. The Oakland A's, after an April fling with a stadium site on Dean Martin Drive, announced in May that they hope to move to the Strip itself, agreeing with Bally's Corp. on a land deal that envisions a $1.5 billion, 30,000-seat stadium with a partially retractable roof on acreage currently occupied by the venerable Tropicana Hotel. The stadium, which would open in 2028, would result in a Monopoly-style set of nearby pro sports properties, including T-Mobile Arena and Allegiant Stadium.
A's officials are optimistic that Las Vegas Ballpark, the spectacular home of the franchise's Triple-A Aviators since 2019, could continue to serve in that capacity and even provide the A's with a temporary place to play until the new ballyard is ready for peanuts and Cracker Jack.
The early 1990s idea to transform the Strip into Chuck E. Cheese on steroids eventually petered out, but not before it transformed the look of the Strip, bringing pirate coves, castle battlements and the Statue of Liberty to a street once known for its often-forgettable "decorated sheds" beneath unforgettable neon marquees.
Our current cultural and architectural redesign will likely prove even more significant. The NHL's Golden Knights arrived in 2017 and succeeded spectacularly both on the ice and in the community. Next came the relocation of the NFL's Oakland Raiders to the desert. These arrivals — combined with the construction of the new state-of-the-art venues were necessary to lure them — triggered Las Vegas' wholesale makeover as a sports boomtown.
And when the Supreme Court in 2019 invalidated a federal statute that for 26 years had limited regulated sports betting to Nevada, it further changed the way both professional sports leagues and the NCAA viewed Las Vegas. Old ground rules that for years had discouraged embracing the city because of the supposed inherent evils of betting on live sports no longer applied.
Suddenly, everybody wanted to play ball in Las Vegas.
When youngsters began queuing up to ride the Adventuredome's Canyon Blaster roller coaster in the summer of 1993, UNLV was just three years removed from winning the NCAA men's basketball championship. For years, sellout crowds had shaken the rafters at the Thomas & Mack Center, the epicenter of a local sports culture that, through the Rebels, had gained national fame. But that entire subculture — one born back when the old Convention Center Rotunda was home to the Rebels — seemingly died all at once when coach Jerry Tarkanian left following the 1991-92 season, nudged out by an administration that had grown weary of his battles with the NCAA. The goose that had laid the golden sports egg in Las Vegas had flown the coop.
A minor league hockey team replaced the Rebels as the big draw at the Thomas & Mack Center. The Las Vegas Thunder compiled the International Hockey League's best record during its inaugural season and showed that ice hockey in the desert could flourish a full 25 years before the Golden Knights would drop the puck. A new local sports culture was, very slowly, taking shape.
The new culture would need new venues — and casinos began to take the lead. The "Family Vegas" era had just dawned, and it had polished some of the grime off the city's national reputation. The hackneyed Sin City clichés gave way to a sense of Las Vegas as a national crossroads, a gathering place, an opportunity.
In 1993, the quaint (seating capacity: 7,471) but well-appointed Orleans Arena opened its doors under the stewardship of hotel-casino owner Michael Gaughan. In November 2006, Kansas defeated reigning national champion Florida in front of a raucous sellout crowd in the championship game of the first college basketball tournament played in an arena connected to a race and sports book. The West Coast Conference was next to show there was nothing to fear by playing ball in Las Vegas. When the conference of faith-based schools moved its postseason tournament to the Orleans, throngs of Gonzaga supporters packed the Orleans Arena — and restaurants, lounges and blackjack tables in the casino.
The nation's views on sports betting continued to evolve each time TV broadcasters such as Brent Musburger mentioned "my guys in the desert" — a thinly veiled reference to the point spread. Meanwhile, throughout the early 2000s, Mayor Oscar Goodman trumpeted Las Vegas' potential as a big-league town. In 2012, the prestigious Pac-12 Conference moved its postseason tournament to the multipurpose MGM Grand Garden (it has since moved to T-Mobile Arena). And now the landmark Supreme Court ruling has led to T-Mobile landing the recent NCAA men's basketball West Regional and Allegiant Stadium capturing the biggest American sports bacchanals of all: the 2024 Super Bowl and the 2028 men's Final Four.
"What really had to happen was the evolution of how the country felt about gambling and betting," says Michael Green, a UNLV history professor and co-author of Las Vegas: A Centennial History. "You take it back to when the NFL wouldn't accept our advertising for the Super Bowl, and now the entire country is offering prop bets of whether the referee will get the coin toss correct."
Not so long ago, if you said you were heading out to watch a game in Las Vegas, your destination was almost certainly the Thomas & Mack Center, Sam Boyd Stadium (now gathering spider webs on the edge of town) or timeworn Cashman Field north of downtown. Now there are more than a dozen arenas and stadiums that have changed the city's landscape.
"The beauty of having Mandalay Bay (the former Mandalay Bay Events Center, now known as Michelob Ultra Arena) MGM (Grand Garden) and T-Mobile (Arena), from a scheduling perspective, is that if one is not available, then you use the other," says recently retired Las Vegas Events President Pat Christenson.
But T-Mobile and Allegiant Stadium are front and center. The two venues have exponentially multiplied Las Vegas' reputation as one of the world's foremost places to play. "Arenas like T-Mobile are designed and built to both maximize attendance and revenue. AEG (Anschutz Entertainment Group) and MGM hit the mark with the design and location," Christenson says. "The quality of the guest experience is as good as any in the country."
T-Mobile features 50 corporate suites, which pales in comparison to the 172 at Crypto.com Arena (formerly Staples Center) in downtown Los Angeles. But, Christenson says, that only creates a better experience for fans in Las Vegas. "Minimizing premium seating allowed T-Mobile Arena to maximize sightlines, thereby creating a more intimate arena," he says. Meanwhile, the profusion of nearby hotel-casino parking garages and T-Mobile's proximity to Interstate 15 help ease the difficulties of getting to a major urban venue in a city without light rail.
Just 1½ miles away, the Raiders' cavernous "Death Star," as team owner Mark Davis likes to refer to Allegiant Stadium, rises bold and stark from an area composed primarily of industrial strip malls. "People complain about it being black," Christenson says of Allegiant's ominous appearance that is the antithesis of the breezy vibe engendered by Sofi Stadium, the spectacular new $5 billion home of the NFL's Los Angeles Rams and Chargers. "Well, black is the Raiders' (mystique), and to me we should be proud of it."
The aesthetics of the new facilities have been a minor issue compared to the high price of admission. With the Golden Knights and Raiders benefiting from an influx of visiting fans who have flocked to Las Vegas to root, root, root for the away team, ticket and concession prices at T-Mobile Arena and Allegiant Stadium have skyrocketed. The fear is that many local sports fans are being priced out. The Golden Knights' 2022 fan cost index — the average cost for a family to attend a game — was $649.72, third-highest among NHL teams. The Raiders' index of $738.36 topped the NFL.
Whereas T-Mobile was built with private money, $750 million of the $1.9 billion required to erect Allegiant Stadium was financed through bonds backed by hotel room taxes — the largest public contribution ever made to construction of a U.S. sports venue.
"However you feel about that, the people who come here wind up benefiting the rest of us in some way," historian Green says about room, entertainment and sales taxes that eventually help pave potholes and pay for school supplies. "That's been the Las Vegas way. The problem is that we keep depending (on tourism) instead of ourselves. We should have learned something from the Great Recession and the pandemic about that, but I worry we haven't."
This November, an automobile race on the Strip featuring the globetrotting and suddenly domestically popular Formula One series will be added to a calendar already chock-full of major sporting events. It is projected to pump another billion dollars into city coffers. But ticket and room prices were priced so high that according to news reports, it's actually cheaper to fly to Monaco to attend the grand prix there.
"Las Vegas always surprises me — and continues to surprise me — in terms of how you all go about innovating and doing the things that are necessary to attract visitors," says Russ Simons, co-founder of Venue Solutions Group and a consultant on major league sports facilities for more than 30 years. "Now you're going to have Formula One on the Strip, and the renderings I've seen look amazing. It's like NASCAR racing in downtown Chicago this summer, Major League Baseball playing at the Field of Dreams, all the outdoor games in hockey. It's all about the experience, and I think you guys are better positioned than anybody to take advantage of it."
Simons says it will be up to Las Vegas locals to decide if and how they want to participate in major sporting events such as F1, the Super Bowl and the Final Four — much as they have had to do ever since Frank Sinatra was crooning boozy refrains in the old Sands, Sahara and Riviera showrooms. In essence, these are now Strip events, and locals have always faced calculations of price and convenience when it comes to experiencing the tourist corridor.
But regardless of who is footing the bill, it is getting footed. Allegiant Stadium's overall event attendance of 1.7 million in 2022 was largely responsible for Las Vegas slotting No. 7 on the Sports Business Journal's 2022 list of best sports cities. "The truth is, I think it beat everybody's wildest expectations," says Clark County Commissioner Tick Segerblom, an early opponent of committing the $750 million in public money it took to help fund the project.
The city has added NFL, NHL, WNBA, XFL and American Hockey League teams as well as franchises in the National Lacrosse League and United Soccer League and sold out 71 percent of available seats over the past five seasons, second behind Minneapolis-St. Paul, according to SBJ. An NBA arena is also envisioned as part of a planned sports, entertainment and transport hub at Las Vegas Boulevard and Blue Diamond Road, and Major League Soccer has joined MLB in professing love for Las Vegas.
"There just seems to be no better template than Las Vegas because you have the vision, you have the ability to put things on that are world class level, whether you are talking about the National Finals Rodeo or the Consumer Electronics Show," Simons says. "It's a great story that will have an even better economic outcome." ◆
VENUE FACTS
T-MOBILE ARENA
■ Majority owners: Anschutz Entertainment, MGM Resorts International
■ Opened: 2016
■ Construction cost: $375 million.
■ Architect: Populous (formerly HOK Sport Venue Event)
■ Seating capacity: 20,000
■ Primary tenant: Las Vegas Golden Knights (NHL)
■ Other/past events: Combat sports, college basketball, bull riding, concerts and award shows
ALLEGIANT STADIUM
■ Majority owner: Las Vegas Stadium Authority
■ Opened: 2020
■ Construction cost: $1.9 billion
■ Architect: Manica Architecture, HNTB (Howard, Needles, Tammen and Bergendoff)
■ Seating capacity: 65,000
■ Primary tenant: Las Vegas Raiders (NFL)
■ Other/past events: College football and basketball, international soccer, concerts. Will host 2024 Super Bowl and 2028 NCAA men's basketball Final Four
THOMAS & MACK CENTER
■ Majority owner: UNLV
■ Opened: 1983
■ Construction cost: $30 million
■ Architect: W2C, John Carl Warnecke and Associates, Cambeiro & Cambeiro Ltd.; Ellerbe Becket (1999 renovation)
■ Seating capacity: 17,923
■ Primary tenant: UNLV men's basketball team, National Finals Rodeo
■ Other/past events: NBA Summer League and preseason games, arena football, hockey, college and international basketball, combat sports, concerts
COX PAVILION
■ Majority owner: UNLV
■ Opened: 2001
■ Construction cost: $16.8 million
■ Architect: Ellerbe Becket
■ Seating capacity: 3,000
■ Primary tenant: UNLV Lady Rebels basketball, volleyball
■ Other/past events: NBA Summer League, combat sports, concerts
ORLEANS ARENA
■ Majority owner: Boyd Gaming
■ Opened: 2003
■ Construction cost: $85 million
■ Architect: Sink Combs Dethlefs, Klai Juba Wald
■ Seating capacity: 7,471
■ Primary tenant: None
■ Other/past events: College basketball, hockey, curling, tennis, arena football, combat sports, concerts
DOLLAR LOAN CENTER
■ Majority owners: Black Knight Sports and Entertainment
■ Opened: 2022
■ Construction cost: $70 million
■ Architect: Klai Juba Wald, Perkins and Will
■ Seating capacity: 5,567
■ Primary tenants: Henderson Silver Knights (AHL); G League Ignite (NBA G League); Vegas Knight Hawks (indoor football)
■ Other/past events: College basketball, community events, concerts, Henderson Symphony Orchestra performances
SOUTH POINT ARENA AND EQUESTRIAN CENTER
■ Majority owners: Michael Gaughan
■ Opened: 2006
■ Construction cost: Approximately $70 million
■ Architect: Klai Juba Wald
■ Seating capacity: 4,600
■ Primary tenant: None
■ Other/past events: Rodeo and equestrian, college basketball, archery, college wrestling, combat sports, auto auctions, concerts
LAS VEGAS BALLBARK
■ Majority owners: Howard Hughes Corporation
■ Opened: 2019
■ Construction cost: $150 million
■ Architect: HOK
■ Seating capacity: 10,000
■ Primary tenant: Las Vegas Aviators (Triple-A baseball)
■ Other/past events: MLB preseason, high school and college baseball, concerts, Enchant Christmas festival
CASHMAN FIELD
■ Majority owners: City of Las Vegas
■ Opened: 1983
■ Construction cost: $26 million
■ Architect: Tate & Snyder, R. Gary Allen Design
■ Seating capacity: 9,334
■ Primary tenant: Las Vegas Lights (minor league soccer), Vegas Vipers (XFL pro football)
■ Other/past events: Former home of Las Vegas Stars and 51s (Triple-A baseball), pro baseball tournaments and specialty events, concerts
MGM GRAND GARDEN
■ Majority owners: MGM Resorts International
■ Opened: 1993
■ Construction cost: $28.4 million
■ Architect: Veldon Simpson-Architect Inc.
■ Seating capacity: 15,020
■ Primary tenant: None
■ Other/past events: Boxing, college basketball and volleyball, bull riding, pro wrestling, concerts and awards shows. Former home of Frozen Fury NHL preseason games, Las Vegas Sting (arena football) Las Vegas Dustdevils (indoor soccer)
MICHELOB ULTRA ARENA
■ Majority owners: MGM Resorts International
■ Opened: 1998
■ Construction cost: $30 million
■ Architect: Klai Juba Wald
■ Seating capacity: 12,000
■ Primary tenant: Las Vegas Aces (WNBA), Las Vegas Desert Dogs (National Lacrosse League)
■ Other/past events: Combat sports, NBA preseason games, college basketball, concerts and awards shows
LAS VEGAS MOTOR SPEEDWAY
■ Majority owners: Speedway Motorsports
■ Opened: 1996
■ Construction cost: $72 million
■ Architect: Moss-Thornton Company Inc.
■ Seating capacity: 80,000
■ Primary tenant: NASCAR
■ Other/past events: Electric Daisy Carnival, IndyCar, World of Outlaws racing, RE/MAX World Long Drive (golf) championship, Glittering Lights holiday festival