50 state parks that will make you forget all about the shutdown
October 11, 2013 - 3:25 am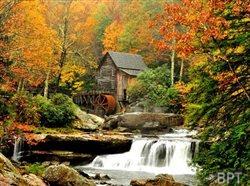 The government shutdown is having far-reaching consequences, but travelers are really feeling the pinch as their plans get … well, shut down … due to national park and monument closures.
But America's principal attractions aren't all shuttered. From sea to shining sea, state parks have an astounding array of natural wonders and historic hotspots well worth a look.
So don't cancel your travel plans. Instead, head out to these 50 amazing state parks that will leave you saying, "Shutdown? What shutdown?"
Alabama | Shimmering white limestone formations and spring-fed pools decorate the underground "miracle mile" at Rickwood Caverns State Park, near Birmingham.
Alaska | Chugach State Park, just east of Anchorage, covers 495,204 acres where you can revel in mountain scenery, rivers, lakes and wildlife.
Arizona | Lost Dutchman State Park, named after a fabled lost gold mine, offers multiple trails that take visitors out into the Superstition Wilderness, as well as campsites that let you revel in your surroundings as long as you like.
Arkansas | Mount Magazine State Park's namesake peak, Mount Magazine, is Arkansas' highest point.
California | Humboldt Redwoods State Park is the perfect place to feel tiny next to some of the biggest trees you'll ever see. Within park boundaries, you'll find Rockefeller Forest, the world's largest remaining old-growth forest of California redwoods.
Colorado | Eleven Mile State Park offers a little something for everyone – hiking, camping, kayaking – but the stand-out draw here is fishing. If catching trophy trout is on your bucket list, this a good place to get closer to the dream.
Connecticut | The stone fortress of American actor William Gillette – most famously known for his role as Sherlock Holmes – sits in southern Connecticut's Gillette Castle State Park.
Delaware | William Penn made Cape Henlopen beaches – part of Cape Henlopen State Park – some of the very first public lands established in the U.S.
Florida | Homosassa Springs Wildlife State Park is famous for its manatees, offering visitors some of the best viewing opportunities in the state.
Georgia | Situated in northwestern Georgia, Red Top Mountain State Park features Lake Allatoona, a popular summer location for swimming and boating.
Hawaii | Hapuna Beach State Park, located on the "big island" of Hawaii, boasts one of the biggest white sand beaches on the island and perfect opportunities for swimming, sunbathing, snorkeling and more.
Idaho | Thousand Springs State Park was created out of four existing state parks – with another natural area added for good measure – in 2005. From its spectacular springs and waterfalls to canyons and sheer basalt cliffs, there are all varieties of natural wonders on show here.
Illinois | Starved Rock State Park features 18 – yes, 18 – canyons, 14 of which have waterfalls. Hike the trails to as many of them as you like and you're guaranteed a full day of breathtaking beauty.
Indiana | Spring Mill State Park brings history to life in both the Limestone Grist Mill for which it's named and the surrounding Pioneer Village. Buildings dating back to the early 1800s have been lovingly restored and make a perfect backdrop for demonstrations of everything from blacksmithing to candlemaking.
Iowa | Pikes Peak State Park might just change your perception of Iowa, a state known for its very level landscapes. But here, bluffs tower over the island-dotted Mississippi River, giving visitors sweeping views they won't soon forget.
Kansas | Kanopolis State Park was the first state park established in Kansas, and it's been luring visitors ever since it opened in 1955. Situated in the bluffs of the Smoky Hills region near Salina, it's a great place for hiking, camping and watching an active prairie dog town.
Kentucky | A 65-foot-high natural sandstone arch spans 78 feet across walking trails in Natural Bridge State Resort Park, not far from the Red River.
Louisiana | Enchanted cypress-tupelo swamps and hardwood forests make up the shady Tickfaw State Park, not far from New Orleans and Baton Rouge.
Maine | The 5,270-foot-tall Mount Katahdin, Maine's highest peak, can be found in Baxter State Park.
Maryland | At Assateague State Park, herds of rare Assateague ponies run wild on the barrier isle – a trademark of Assateague Island.
Massachusetts | Philosopher Henry David Thoreau found inspiration on Walden Pond, in Walden Pond State Reservation in Concord.
Michigan | The second largest state park in Michigan, Tahquamenon Falls State Park is situated close to Lake Superior and features the 50-foot Tahquamenon Falls.
Minnesota | Gooseberry Falls State Park is just one example of the spectacular parks dotted along Highway 61, which hugs the shore of Lake Superior. Gooseberry features upper, middle and lower falls, each of which draws "oohs" and "aahs" from visitors.
Mississippi | The scenic Natchez Trace Parkway runs directly through Tishomingo State Park – located in the Appalachian Mountain foothills, not far from Tupelo.
Missouri | Onondaga Cave State Park takes you below ground and into an otherworldly environment. The eponymous cave is filled with stalactites, stalagmites and other formations as well as pools of crystal-clear water.
Montana | Lewis & Clark Caverns State Park overlooks the trail that its namesake explorers traveled along the Jefferson River in Southwestern Montana. The caverns are well-lit and easy for the whole family to explore.
Nebraska | Rock Creek Station State Historical Park will spark the imagination of anyone who played a certain early 1990s computer game that involved a great journey and a whole lot of broken axels and typhus. The ruts you see in the ground here aren't just any old wheel tracks – they're left over from the times when this was a supply center and stopover on the Oregon Trail.
Nevada | Berlin-Ichthyosaur State Park brings together two unlikely elements, but that just makes the park more fascinating. Visitors can see the fossilized remains of an enormous ichthyosaur, an aquatic dinosaur, and then pay a visit to Berlin, an eerie abandoned mining town dating from the turn of the century.
New Jersey | The Barnegat Lighthouse gave Long Beach Island's Barnegat Lighthouse State Park its name.
New Mexico | City of Rocks State Park, from a distance, really does look like a city. But in fact, it's made up of eroded volcanic rock formations densely packed together – perfect for an exploratory adventure.
New York | Water pumps continuously over the American Falls, Bridal Falls and the Canadian Falls at Niagara Falls State Park, the oldest state park in the U.S.
North Carolina | At Chimney Rock State Park near Asheville, visitors can take the 1.5-mile hike to stand at the base of Hickory Nut Falls, or skip straight to the 315-foot granite monolith, Chimney Rock.
North Dakota | Fort Abraham Lincoln State Park gives visitors an immersive historical experience. On-A-Slant Mandan Village, or Miti-ba-wa-esh, which was established in the 16th century, is part of the park as is a reconstruction of George Armstrong Custer's house and other fort buildings.
New Hampshire | Before its collapse in 2003, the famous Old Man of the Mountain Cliffside formation could be found in Franconia Notch State Park.
Ohio | The American folklore icon, Johnny Appleseed (John Chapman), carved his name in the stone wall of the Lyons Falls in Mohican State Park back in the 1800s. Sadly, the etchings have been worn away by the elements.
Oklahoma | Black Mesa State Park lies in the region where the Rocky Mountains dwindle into the shortgrass prairie so often associated with Oklahoma. Here you can climb the highest point in the state, Black Mesa, and after dark, watch the sky to see why it's a high-demand destination among stargazers and astronomers.
Oregon | Smith Rock State Park might make you double check your map – but yes, there's high desert in Oregon. The jagged rocky peaks here are a climber's paradise, but they're also just as beautiful to those who like to keep two feet on the ground.
Pennsylvania | Leonard Harrison State Park's Pine Creek Gorge has been nicknamed the "Grand Canyon of Pennsylvania."
Rhode Island | Beavertail State Park's crown jewel is the Beavertail Lighthouse, built in 1749 near the entrance of Narragansett Bay.
South Carolina | Set at the edge of the Blue Ridge Mountains is South Carolina's Table Rock State Park. Here, you'll find Pinnacle Mountain, the tallest peak within the state.
South Dakota | Custer State Park boasts spectacular Black Hills scenery – a draw in its own right. But visitors also have the opportunity to see enormous herds of bison, which make an unforgettable sight as they spread across the grasslands.
Tennessee | The 20,000-acre Fall Creek Falls State Park on the Cane Creek Gorge is popular for its distinctive rock formations and picturesque waterfalls, like the 256-foot Fall Creek Falls.
Texas | Palo Duro Canyon State Park, close to the historic town of Amarillo, is the ideal place to see the second largest canyon in the country, Palo Duro. Adventurous types can zipline or horseback ride, but everyone should take the opportunity to see the arresting "Lighthouse" rock formation.
Utah | Goblin Valley State Park is famous for its curiously shaped red-rock hoodoos, which make for a surreal landscape, but you'll also find ancient rock art created by Native Americans.
Vermont | Button Bay State Park is situated between New York's Adirondack Mountains and the Green Mountains in western Vermont.
Virginia | The curiously named Hungry Mother State Park comes from a legend about a mother and her child who wandered the area after their home on the New River was destroyed.
Washington | Cape Disappointment State Park overlooks the spot where the mighty Columbia River pours into the Pacific Ocean. Visitors can hike and bike, visit lighthouses or try to spot migrating gray whales.
West Virginia | One of the most photographed sites in West Virginia – and the most photo-worthy – is the Glade Creek Grist Mill in Babcock State Park.
Wisconsin | Amnicon Falls State Park, located in the northwestern part of the state, is perfect for anyone who loves the great north woods. Rivers, rapids and waterfalls run through pristine forest and under an historic and highly photogenic wooden covered bridge.
Wyoming | Sinks Canyon State Park features a truly unusual phenomenon: the Popo Agie river rushes into a cavern (the Sinks from which the park takes its name) and then reappears in the Rise, a pool about half a mile away. Tests have shown that it takes hours for the water to make that journey, but no one knows why it takes so long.