Easy cookies for the holidays – or any day
November 28, 2013 - 3:08 am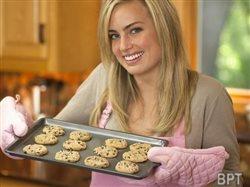 (BPT) – Whether the goodies are for gifts, for parties, or for the family to enjoy, crisp fall and chilly winter days are the perfect time to have the oven on and the house smelling great.
"Cookies are easy, quick, and everyone loves them. With just a few easy basic recipes, you can make so many delicious variations," says Chef Jim Gallivan of The Art Institute of Atlanta.
"The secret to great cookies is top quality ingredients," adds Chef Anthony Mandriota of The Art Institute of Tennessee-Nashville, a branch of The Art Institute of Atlanta. "Use real butter, cane sugar, natural vanilla and other extracts, whole eggs, fresh flour and spices. Your taste buds will know the difference and your friends and family will think you're a genius."
For a party, try refrigerator cookies. You can make them in advance, then slice and bake them during the party. You'll probably end up with guests in the kitchen having a great time baking them. "If you make these with a food processor, it should only take about 10 minutes to mix. And there are so many different ways to flavor these cookies," Mandriota says.
For a gift, try cookie bars. Once baked, you can cut them into small or large shapes, arrange them in a clear bag patterned with holiday designs, and even keep them in the freezer until ready to deliver them into the grateful hands of your friends and co-workers.
For the family, think about classic cookies like chocolate chip or oatmeal raisin. Use an electric mixer to whip these up in just a few minutes. Drop by the spoonful onto a baking sheet – no special shaping or cutting needed.
You'll find excellent basic cookie recipes in classic cookbooks. Stick to recipes that have been tested by the experts unless you are an expert baker yourself. Or try the refrigerator cookie and variations from these two chefs below.
Refrigerator Sugar Cookies
Makes about 72 cookies (2-inch diameter)
Courtesy of The International Culinary Schools at The Art Institutes
Vanilla Cookies
Ingredients:
2 1/2 to 3 cups sifted all-purpose or pastry flour
1 1/2 teaspoon baking powder
1/2 teaspoon salt
1 cup softened butter
1 cup granulated sugar
1 egg, slightly beaten
3 tablespoons heavy cream
1 teaspoon vanilla extract
Directions:
Sift flour, baking powder and salt into mixing bowl. Cream butter and sugar together until light and fluffy. Add egg, cream and vanilla. Blend thoroughly. Shape into a log 1 1/2-inch thick and wrap in waxed paper. Chill in refrigerator for at least 4 hours. When ready to bake, preheat oven to 400 F. Slice dough about 1/4-inch thick and place on ungreased cookie sheets or parchment paper. Sprinkle with plain or colored sugar if desired. Bake for six to 10 minutes, until edges are just barely browned. Remove from pan while still warm and cool on racks. Once formed into logs and wrapped in waxed paper, the dough can be frozen for up to 3 months. Thaw slightly prior to baking.
Variations
Pecan Cookies: Press a pecan nutmeat into each cookie. Or mix 1/2 cup of chopped nuts into the dough before chilling. Substitute 1/2 teaspoon of almond extract for the vanilla if you like. You can add nuts to any of the cookie flavors.
Spice Cookies: Add 1/2 teaspoon cinnamon or cardamom to the sifted ingredients.
Butterscotch Cookies: Use 1 1/4 cup light or dark brown sugar instead of granulated sugar.
Chocolate Cookies: Melt 4 ounces of unsweetened or semisweet chocolate. (If using unsweetened chocolate, increase sugar to 1 1/4 cup.) Cool and add after the egg. You may also add 1 tablespoon of brandy or rum if you like.
Pinwheel Cookies: Take 1/2 recipe each of the vanilla and chocolate cookie dough. Chill and roll out each separately into a rectangle about 1/8-inch thick. Stack the chocolate on top of the vanilla and roll into a log. Then chill, slice and bake as above. You can do this with vanilla and butterscotch if you prefer.
Coconut Cookies: Add 1/2 to 1 cup grated coconut to any of the cookie flavors prior to chilling.
Holiday Cookies: Once vanilla cookies have baked and cooled, they can be decorated with colored icings.